A half-day sit-in ended peacefully in Chicago after as many as 200 protesters packed into City Hall throughout Tuesday and pledged to remain for 28 hours.
Just before 7:30 p.m., however, organizers told The Huffington Post the protesters agreed to leave to avoid arrest. When attendees began filing into the fifth floor outside of Mayor Rahm Emanuel's office Tuesday morning, organizers said they were warned they could face arrest if they remained past closing time at 5 p.m.
Malcolm London, a co-chair of the organizing group, The Black Youth Project 100, said the group had every intention of staying for the full 28 hours, but noted, "We don't want folks who aren't part of our group to get arrested -- we don't want anybody arrested. If we're threatened with arrest, we'll figure it out."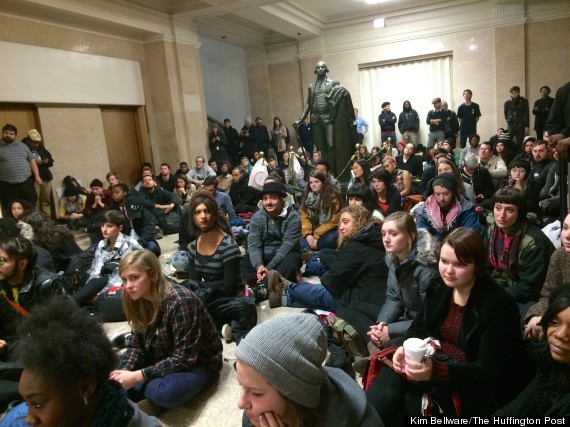 At its peak, more than 200 people gathered for the protest, organizers estimated.
Tuesday's sit-in was the second peaceful protest organized in part by BYP100 and other social justice groups. Following the decision by a grand jury in Ferguson, Missouri, to not indict police officer Darren Wilson in the shooting death of unarmed black teen Michael Brown, BYP100 and others helped organize a Monday night demonstration outside Chicago Police headquarters. Protesters eventually hit the streets, temporarily blocking part of Lake Shore Drive late Monday.
Organizers said the intended duration of the sit-in was a nod to a statistic from the Malcolm X Grassroots Project, that every 28 hours, a black person in the U.S. is killed by law enforcement.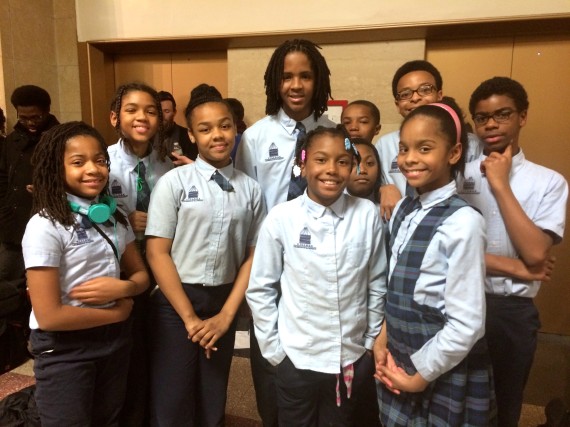 Students from Village Leadership Academy came to the protest with their teacher on Tuesday afternoon.
Attendance ebbed and flowed throughout the day, but BYP 100 co-chair Malcolm London estimated as many as 200 people packed the fifth floor of City Hall during the most robust hours. Several attendees were high school and college students who, following the Ferguson grand jury's decision, said they felt it was more important to be at the demonstration than in class.
Dayo Harris, a teacher at the social justice-oriented Village Leadership Academy, brought several students in grades 5 to 8 to the protest to supplement their classroom curriculum that includes grassroots movements, police brutality and the relationship between mental illness and incarceration.
"I'm always impressed by how much the students see -- the stories they have," Harris told The Huffington Post. "They have stories from their own communities that they witness of classism, racism, gender inequality."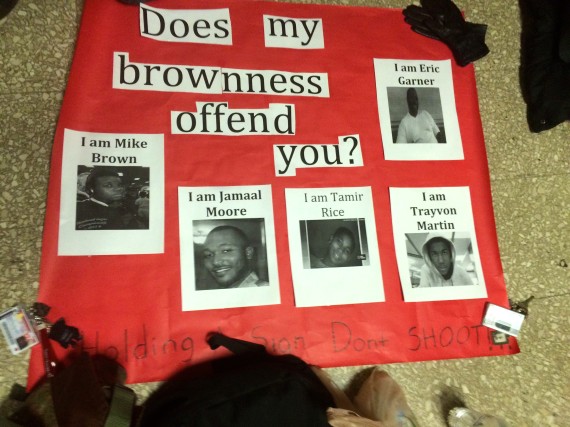 A protest sign on the floor during a lull in activity Tuesday.
Charlene Carruthers, the national coordinator for BYP100, said police aggression toward young black men is a national issue, but one that's long been percolating in Chicago.
"A lot of people believe calling the police is safe," Carruthers said. "But in the last five years alone, 89 people have been killed by police in Chicago."
Police violence against people of color, the militarization of police forces and racial inequality were subjects of essays, songs, poems and speeches throughout the day.
"We need the police to have accountability beyond themselves," said Ash Frost, 20.
Neither Emanuel nor anyone from his office spoke with the protestors. The mayor spent much of the day on the Northwest Side with President Barack Obama, who was in town for an immigration event. The mayor's office released a statement Tuesday:
"The peaceful demonstrations in Chicago reflect our shared work as a community to build a partnership for peace, and the ongoing efforts between government, police, community leaders, faith leaders, and residents to ensure everyone in every neighborhood in Chicago enjoys the same sense of safety. Until we have achieved that important goal, our work together will not be complete."
More On Ferguson From HuffPost:
Photographic Evidence Reveals | 'First Year Law Student Could Have Done Better Job' | 61 Arrested | Ferguson Smolders After Night Of Fires | Protest Locations | Americans Deeply Divided | Police Chief: 'Worse Than The Worst Night We Had In August' | What You Can Do | Darren Wilson Interview | Darren Wilson Could Still Face Consequences | Timeline | Students Protest | Photos Of Darren Wilson's Injuries Released | Shooting Witness Admitted Racism In Journal | Peaceful Responses Show The U.S. At Its Best | Reactions To Ferguson Decision | Prosecutor Gives Bizarre Press Conference | Notable Black Figures React | Jury Witness: 'By The Time I Saw His Hands In The Air, He Got Shot' | Thousands Protest Nationwide |
BEFORE YOU GO
PHOTO GALLERY
Ferguson Protests Around the Country