FERGUSON, Mo. -- Protests, gunshots, fires and tear gas enveloped this small city on Monday night after St. Louis County prosecutor Robert McCulloch announced that a grand jury had returned no indictment for Police Officer Darren Wilson.
Anger erupted outside the police department headquarters when what was long feared by many Ferguson residents was made official: There would be no charges against Wilson, the 28-year-old officer who shot unarmed teen Michael Brown, Jr. to death in August after a confrontation.
Around a thousand protesters gathered on Ferguson's main street, and they were noticeably shaken even before the announcement when Brown's mother called out in agony for her son while on top of the roof of a car.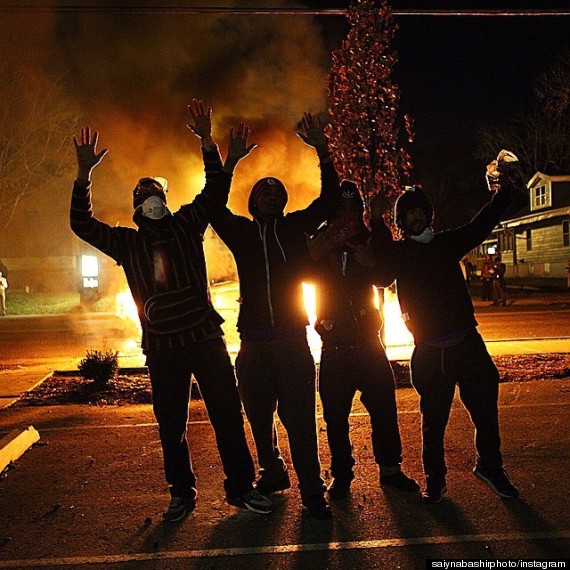 Protestors stand in front of a burning police car in Ferguson, MO. (saiynabashirphoto/instagram)
"Y'all know y'all wrong," Lesley McSpadden shouted at police.
The Brown family had called for peaceful protests in a statement -- but not everyone assembled would heed their wishes. McCulloch's addressed the nation, the police filled the air filled with teargas, sickening protesters and journalists.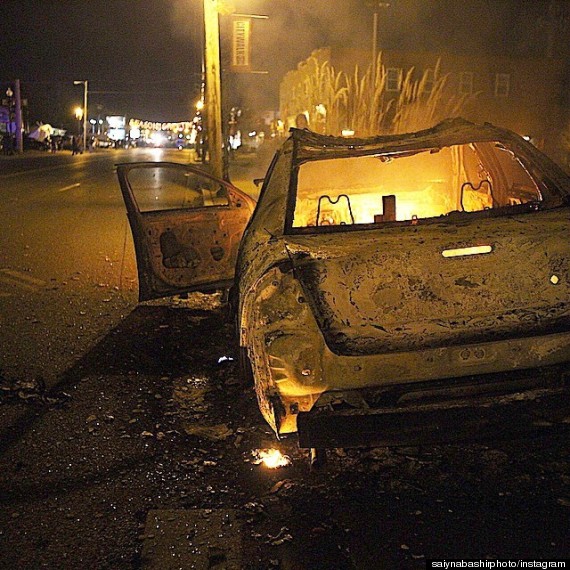 A vandolized police car burns in Ferguson, MO. (saiynabashirphoto/instagram)
Two police cars were soon burning -- the popping sound of exploding ammunition rounds filling the air.
Across the town's railroad tracks on West Florissant Avenue, a street much closer to where Brown was shot that became the focal point of protests in August, police briefly ordered protesters off the streets. As the police left, a handful of protesters smashed the windows of a McDonald's. A beauty supply store was one of the first businesses to go up in flames.
Police responded in full riot gear and in armored vehicles. "They look like they're getting ready to roll into Fallujah," one protester told the Wall Street Journal.
Gunshots filled the air on West Florissant. The situation became so intense that some airplanes were even diverted by the Federal Aviation Administration from the Lambert-St. Louis International Airport, miles away.
"Officers are obligated to protect life and property," the St. Louis County Police Department tweeted from its official account, which throughout the night sent out updates about looting, fires and gunfire.
"I've had police point guns at me twice tonight," tweeted St. Louis Alderman Antonio French, a frequent presence at protests for the last few months. "I pray we get through this night without anyone getting hurt."
BEFORE YOU GO
11/30/2014 3:28 PM EST
Wilson Resigned Over Safety Concerns, Lawyer Says
Reuters reports:
he white police officer who shot and killed an unarmed black teenager in Ferguson, Missouri, this summer, resigned from the force without any severance deal, the mayor of the St. Louis suburb said on Sunday.

The officer, Darren Wilson, announced his resignation late Saturday, saying he feared for his own safety and that of his fellow police officers after a grand jury decided not to indict him in the fatal Aug. 9 shooting of 18-year-old Michael Brown.
11/30/2014 7:27 AM EST
10 People Arrested During Portland's Ferguson Protest
PORTLAND, Ore (AP) — Authorities say 10 people have been arrested in Portland during a protest related to the Ferguson, Missouri, police shooting.
The city police bureau says the arrests came Saturday night "after a large group of protesters laid down in the street and refused lawful orders to clear the roadway."
Earlier, the gathering over the Missouri shooting death of a black man by a white police officer included a speech by the Rev. Jesse Jackson.
The Oregonian reports that Jackson urged nonviolence and said the resignation of the officer was "a step in the right direction," but that much remained to be done to achieve justice for the victim.
Police say that after Jackson left, some protesters marched around downtown and sporadically disrupted traffic.
Officials say some bottles were thrown at officers and a police car was damaged.
The nine adults and one juvenile arrested will face charges that include disorderly conduct.
11/29/2014 9:26 PM EST
Armed 'Oath Keepers' Plan To Protest
The NYT reports that armed members of the group "Oath Keepers" are in Ferguson to offer their help protecting businesses from damage.
From the NYT:
The volunteers, who are sometimes described as a citizen militia — but do not describe themselves that way — have taken up armed positions on rooftops here on recent nights....

But on Saturday, with the county police said to be threatening the Oath Keepers with arrest, the volunteers decided to abandon their posts and instead protest against the authorities. Late in the day on Saturday, a protest was being planned for that night.
Read more here.
11/29/2014 6:56 PM EST
Darren Wilson Resigns From Ferguson Police Department
Darren Wilson has resigned from Ferguson police department.
Read his resignation letter below, via St. Louis Post-Dispatch:
"I, Darren Wilson, hereby resign my commission as a police officer with the City of Ferguson effective immediately. I have been told that my continued employment may put the residents and police officers of the City of Ferguson at risk, which is a circumstance that I cannot allow. For obvious reasons, I wanted to wait until the grand jury made their decision before I officially made my decision to resign. It was my hope to continue in police work, but the safety of other police officers and the community are of paramount importance to me. It is my hope that my resignation will allow the community to heal. I would like to thank all of my supporters and fellow officers throughout this process."
11/27/2014 12:55 PM EST
Murals In Ferguson
The group that's out painting right now also did this mural. It's a block or so from the Ferguson PD pic.twitter.com/tqgIUhR8C0

— Jim Dalrymple II (@JimDalrympleII) November 27, 2014
11/27/2014 11:19 AM EST
Ferguson Library Stays Open Throughout The Protests
MSNBC's Steve Kornacki reports on Ferguson's public library, which has remained open throughout the protests.
Over 50 volunteers helped staff the library, which provided free lunches to children as schools remained closed. The library also offered help to businesses who suffered damage during the protests following the grand jury's decision.
"We have a dramatic setting right now but it is not different than what libraries do every day," library director Scott Bonner said.
--Mollie Reilly