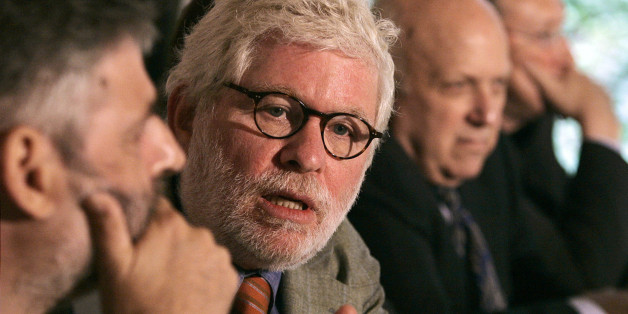 Washington Post columnist Richard Cohen wants to know where the real men are.
The type of men who, aware of repeated rapes at their college fraternity house, would speak out against the crime rather than continuing in a complacent silence. It's a fair question, and timely: Cohen's rhetorical question was prompted by the alleged gang rape of a young woman at the University of Virginia under exactly those circumstances.
"How many [fraternity brothers] learned about the rape afterward?" Cohen asked in a column published Monday. "How many heard about it that night or the next day or the next week? How many knew the names of the rapists and turned them in? How many mocked them as cowards, as unmanly types who actually fear women, or sex, or something? Where in God's name were the men on the University of Virginia campus?"
Valid questions.
Yet, critics at Gawker and Jezebel have taken issue with the declarations of manhood coming from Cohen, who has been the subject of controversy for his published opinions on other rape cases.
As those outlets point out, Cohen is the same columnist who in 2013 tried to link Miley Cyrus' twerking to a rape in Steubenville, Ohio, the previous year. Cohen even seemed to question whether the Steubenville crime -- in which a high school student was stripped, digitally penetrated, and photographed after a party -- should be called a rape, as it was considered under Ohio law. "The first thing you should know about the so-called Steubenville Rape is that this was not a rape involving intercourse," he wrote, adding that the 16-year-old victim was "obviously... sexually mistreated" and "dehumanized."
In 2010, Cohen cheered Switzerland's refusal to extradite director Roman Polanski who, in Cohen's own words, had "sex with a 13-year-old after plying her with booze" in California in 1977 when Polanski was 44.
Cohen himself was once found by the Post to have engaged in "inappropriate behavior" toward a young female colleague, something he called a "personality dispute... nothing to do with sexual harassment as the term applies today."
"...Much as we hate to tell a Real Man what to do," wrote Jezebel's Anna Merlan, "it would also be easier to hear Cohen more distinctly if his head wasn't jammed so frequently and so far up his own ass."
When reached by The Huffington Post Tuesday afternoon, Cohen replied by email that "Frankly... I don't give a damn about Gawker."
He had not responded to a request for additional comment at the time of publication.