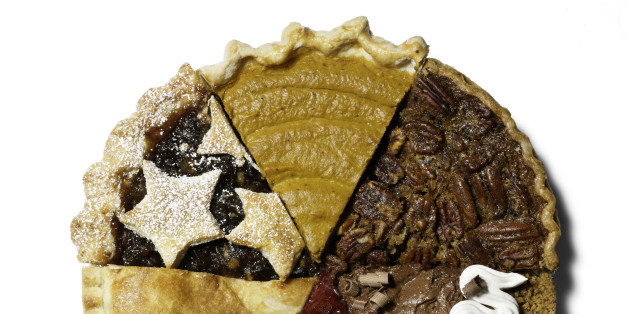 President Obama's job approval rating has declined most rapidly among working class whites. Another poll confirms continuing racial division over the Ferguson shooting. And we take a tour of past poll questions asked about Thanksgiving. This is HuffPollster for Wednesday, November 26, 2014.
OBAMA'S APPROVAL DROPS AMONG WORKING CLASS WHITES - Frank Newport: "President Barack Obama's job approval rating among white non-college graduates is at 27% so far in 2014, 14 percentage points lower than among white college graduates. This is the largest yearly gap between these two groups since Obama took office. These data underscore the magnitude of the Democratic Party's problem with working-class whites, among whom Obama lost in the 2012 presidential election, and among whom Democratic House candidates lost in the 2014 U.S. House voting by 30 points. Obama's overall job approval rating has dropped throughout the first six years of his administration, and this downward trajectory is seen both among white Americans who are college graduates and those who are not. But the gap between his approval ratings among college-educated and non-college-educated whites has grown. It was six points in 2009, when Obama had the overall highest ratings of his administration, then expanded to 10 points in 2010 and to 12 points in 2013. The gap between these two groups is at its highest yet, at 14 points so far this year." [Gallup]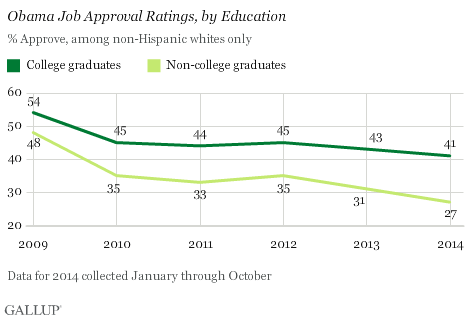 DIVISION OVER FERGUSON SHOOTING - HuffPollster: "Americans are still deeply divided over the shooting of teenager Michael Brown this summer by police officer Darren Wilson in Ferguson, Missouri, according to a HuffPost/YouGov poll taken before a grand jury decision not to indict Wilson was released Monday night. While 28 percent said Wilson was at fault and should be punished, 23 percent said he was fully justified in the shooting of the unarmed 18-year-old, and another 30 percent said both Wilson and Brown made mistakes and it was 'just a tragic accident.' Another 20 percent were undecided. Twenty-two percent had expected Wilson to be punished too harshly, while 26 percent believed he'd get off too lightly. Eighteen percent expected him to receive about the right punishment, and the remaining 34 percent were undecided....In the latest round of HuffPost/YouGov polling, 64 percent of black Americans said Wilson was at fault, compared with just 22 percent of whites. White respondents were more than seven times as likely as blacks to say that the shooting was justified. A majority of black Americans said Wilson would be punished too leniently, with just 2 percent worrying his punishment would be too harsh." [HuffPost]
POLLING THANKSGIVING: A LOOK BACK - With extra time on our hands after the elections, HuffPollster searched the iPoll database maintained by our friends at the Roper Center Public Opinion Archives for questions asked about Thanksgivings past. Here are the highlights:
'Franksgiving?' No, Thanks - In 1939, President Franklin Delano Roosevelt attempted to move the holiday's official date so Thanksgiving would be celebrated a week earlier. As recounted by HuffPost's Sam Stein and Arthur Delaney, Roosevelt was responding to pressure from retail lobbyists worried that a particularly late Thanksgiving would adversely affect Christmas shopping. The Roper Archives shows a poll conducted by George Gallup poll in August 1939 found 50 percent disapproved of Roosevelt's plans and just 30 percent approved.
Thankful war is over - World War II was still very much on the minds of Americans just before Thanksgiving 1946, more than a year after the Japanese surrender marked the end of the conflict. A Gallup poll conducted just before the holiday found nearly a third were thankful that the "war is over, world at peace" (26 percent) or that they or another family member were out of military service (4 percent).
Family trumps cash - Fast forward to 1991, when a "Family Values Survey" conducted by Democratic pollsters Mellman and Lazarus for the Massachusetts Mutual Life Insurance Company found that far more Americans preferred "spending time with your family on Thanksgiving" (79 percent) to "one thousand dollars in cash."
Heart-warmth trumps heartburn - In 1997, a Fox News/Opinion Dynamics poll asked Americans whether the Thanksgiving dinner was more likely to "warm your heart or give you heartburn." Heartburn lost in a landslide, 82 to 12 percent.
Testing the bounds of thankfulness - In 1993, the ABC News/Washington Post poll asked about a long list of things people might be thankful for on Thanksgiving. We present the full list, without further comment (percentage very or somewhat thankful in parentheses):
Your family (99 percent)
Freedom of religion (99 percent)
Freedom of the press (97 percent)
Television (95 percent)
Congress (77 percent)
Home delivered pizza (72 percent)
Professional football (66 percent)
Rock and roll music (64 percent)
Bill Clinton (62 percent)
Hillary Clinton (57 percent)
Ross Perot 49 (percent)
MTV (39 percent)
Michael Jackson (35 percent)
Rush Limbaugh (31 percent)
Rap music (26 percent)
The Beavis and Butt-Head show (15 percent)
Giving new meaning to dysfunctional family Thanksgiving... - In November 1998, with House Republicans weighing whether to impeach President Clinton, ABC News asked Americans who they would rather have as a Thanksgiving dinner guest, Monica Lewinsky or Kenneth Starr. The narrow winner was the volunteered response "neither" (35 percent). Those respondents with a preference divided evenly (32 percent each) between the former presidential intern and the special prosecutor.
We promise there will be no math - Four years ago, in 2010, the Marist Poll used an open-ended question to quiz respondents about the origins of the holiday. Nearly nine out of ten (86 percent) passed, naming pilgrims and indians as the two groups that first celebrated Thanksgiving. Six percent named another group and 7 percent were unsure.
A nation divided over Turkey - Two years ago, CBS News asked Americans to name their favorite Thanksgiving food. Nearly half (45 percent) named turkey, the rest named one of seven other dishes listed (such as stuffing, pumpkin pie, etc). And yes, there was polarization: Turkey was mentioned far more often by conservatives (54 percent) than liberals (38 percent). Liberals were more likely to order off the pollster's menu, opting for "something else" (16 percent) more often than conservatives (7 percent). Hmm.
2014 Epilogue: Upshot takes a bigger data approach - Not to be outdone, our friends at The Upshot compiled the most "unusually popular" Thanksgiving dishes searched for by Google users in each of the 50 states. So if you want to know which state searched for "pig pickin cake" more often than any other, we've got the link for you. [NYT]
HuffPollster will be taking a brief break for the holiday. We'll see you Monday. Happy Thanksgiving!
HUFFPOLLSTER VIA EMAIL! - You can receive this daily update every weekday morning via email! Just click here, enter your email address, and and click "sign up." That's all there is to it (and you can unsubscribe anytime).
WEDNESDAY'S 'OUTLIERS' - Links to the best of news at the intersection of polling, politics and political data:
-Kathleen Weldon reviews historical polling data covering perceptions of the student loan system. [HuffPost]
-More than two-thirds of Americans do not feel safe walking at night in their neighborhood. [Gallup]
-Gallup finds Americans projecting an increase in their holiday spending over 2013. [Gallup]
-Nathan Gonzales says 2014 was an anti-incumbent election mostly for Democrats. [538]
-Annie Pettit offers 11 ways to write the age question wrong. [Peanut Labs]
-The Pew Internet Project quizzes Americans on their knowledge of technology. [Pew]