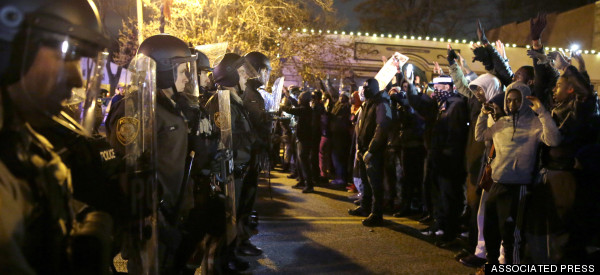 TOP STORIES
FERGUSON ERUPTS AFTER NO INDICTMENT FOR DARREN WILSON "A grand jury has decided not to indict Ferguson Police Officer Darren Wilson for killing 18-year-old Michael Brown, St. Louis County Prosecuting Attorney Robert McCulloch announced Monday. McCulloch said members of the jury met for 25 days and heard over 70 hours of testimony from over 60 witnesses before reaching their decision. He confirmed Wilson had fired 12 shots at Brown, who was unarmed." Here's a visual interpretation of the witnesses' accounts of events, and all of the testimony and evidence from the case is available online. While the grand jury has decided not to indict, a potential civil lawsuit looms and a Justice Department investigation is ongoing. Despite widespread calls for peaceful protests, police described the fires and looting in Ferguson following the announcement as much worse than anything they'd seen in August. The St. Louis Post-Dispatch has compiled a map of the damage. [HuffPost]

ACROSS THE COUNTRY, A WAVE OF PROTESTS "Thousands of people across the nation turned out Monday night to show solidarity with the protesters in Ferguson, Missouri, after a grand jury decided not to indict the officer who shot Michael Brown. Crowds of people gathered in Times Square, outside the White House gates and in downtown Philadelphia. Many protesters were shouting, 'Hands up, don't shoot' -- a phrase that has become linked to protests over the Aug. 9 shooting of Brown, an unarmed African-American teenager, by Ferguson police officer Darren Wilson." More protests are expected throughout the country today. Check out today's front pages. [HuffPost]
THE NEXT DEFENSE SECRETARY After Defense Secretary Chuck Hagel resigned under pressure yesterday, here are the leading contenders for his job. [WSJ]
IRAN NUCLEAR TALKS EXTENDED After failing to reach an agreement by yesterday's deadline, nuclear talks with Iran have been extended for another seven months. [NYT]
UVA SCHOOL OFFICIALS TO MEET TODAY TO DISCUSS RAPE ALLEGATIONS After a Rolling Stone article detailing a horrific gang rape at a fraternity party was published last week, the University of Virginia's governing body is meeting today to discuss how the school handles sexual assault. All fraternal activities have been suspended until January 9. [USA Today]
CAN'T AVOID CALORIE COUNTS MUCH LONGER The Food and Drug Administration will mandate restaurants with over 20 locations, movie theaters, amusement parks, convenience stores, and some grocery stores to disclose the calorie content on prepared food and some alcoholic beverages. So much for being woefully ignorant of what that jumbo popcorn was costing you. [NYT]
NOR'EASTER LOOMS ON LARGEST TRAVEL DAY OF THE YEAR Snow and sleet are expected to cause significant travel delays for the East Coast on Wednesday as the storm hits. [WaPo]
THE SEARCH FOR MH370 CONTINUES "Disagreements among investigators over where to look for Malaysia Airlines Flight 370 are complicating an already difficult effort to recover the missing jetliner. A search of the southern Indian Ocean seabed for the plane-which disappeared on March 8 after veering sharply off course en route to Beijing from Kuala Lumpur-resumed almost two months ago. So far it has faced technical glitches and foul weather. But now there is an even bigger concern: ongoing differences of opinion between five teams of experts that include Boeing Co. and the Australian military have led to search vessels being deployed in two different priority search areas. These zones overlap in some places but in others are hundreds of miles apart, highlighting how efforts to solve one of modern aviation's biggest mysteries remain little more than educated guesswork." [WSJ]
WHAT'S BREWING
THE BIEBS IS DOING JUST FINE Haven't heard about Justin Bieber recently? Don't worry, he made $80 million from June 2013 to June 2014, topping Forbes Top Celebrity Earners Under 30 list. [Forbes]
TRUE DETECTIVE FINALIZES CAST All of your Rachel McAdams and Taylor Kitsch dreams have come true. [Variety]
WANT AD-FREE INTERNET ACCESS? Google launched Contributor, an ad-free experience users would pay up to $3 for. [Marketing Magazine]
FORGET MILEY AND CHRIS MARTIN "Hunger Games" stars Jennifer Lawrence and Liam Hemsworth could be dating. [Perez Hilton]
THIS MOM OF FIVE IS A QUADRUPLE AMPUTEE After losing her limbs to sepsis, this mom fought her way back to teaching her aerobics class at her local YMCA. [People]
PUT A PEN ON YOUR THANKSGIVING TABLE "Just this small stunt -- the physical action of jotting down a couple of things you're happy to have in your life -- has been shown to reinforce happy thoughts. Our brains have a tendency to focus on the negative, so this action helps to stop our thoughts from going down a dark path and bring them back on a happy trail. The whole essence of this November holiday is gratitude (OK, and wildly phenomenal food), so why not make the most of gratitude for all its many benefits?" [HuffPost]
ON THE BLOG
DAVID WOOD: 'BUT WHAT'S THE WAR STRATEGY?' "The abrupt change of command at the Pentagon, with Defense Secretary Chuck Hagel resigning under pressure Monday, is more than a change of faces. It marks the final disillusionment with the two war-fighting strategies the United States has relied on for 13 years in Iraq and Afghanistan: the 'hearts and minds' counterinsurgency formerly defined and pursued by Gen. David Petraeus, and the costly 'train and equip' effort to build self-sustaining security forces in both countries." [HuffPost]
BEFORE YOU GO
~ You're not the only one hearing "lonely Starbucks lovers" in T-Swift's new single.
~ How to tweet like Anna Kendrick.
~ The Philae spacecraft may not be dead quite yet.
~ Meet the hipster business name generator.
~ Saks on Fifth Avenue is worth almost $4 billion dollars, which is quite a lot of Jimmy Choos.
~ We're jealous of the salaries of these tech interns.
Send tips/quips/quotes/stories/photos/events/scoops to Lauren Weber at lauren.weber@huffingtonpost.com. Follow us on Twitter @LaurenWeberHP. And like what you're reading? Sign up here to get The Morning Email delivered to you.