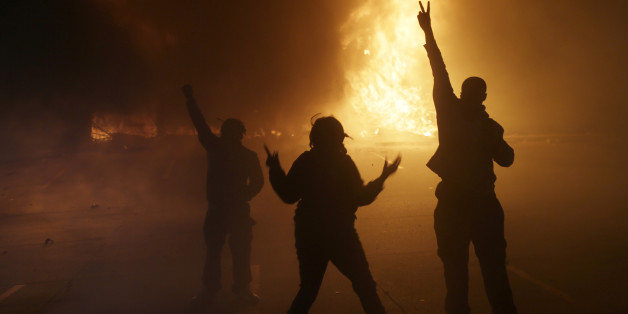 In the wake of the decision not to indict Darren Wilson in the killing of 18-year-old Michael Brown, a Harvard professor and former federal judge said we should expect more of the same.
"Although many are saying that the decision may have to do with race, it is more likely that Wilson is not facing charges because courts have decimated the law that holds officers accountable for excessive force, rulings that make incidents similar to Ferguson all the more likely," Nancy Gertner writes in a Boston Globe op-ed.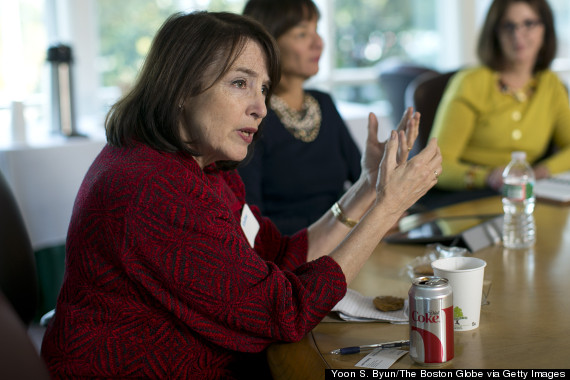 Nancy Gertner, judge & Harvard Law professor speaks during a CEO Roundtable in October of 2013. Credit: Boston Globe / Getty Images
Gertner notes that, two months before Brown's life was ended, the Supreme Court ruled in Plumhoff v. Rickard that police deserve special protections when they kill someone in the line of duty.
"In Plumhoff, the Supreme Court gave special deference to the officer's version of what happened, because officers make split second judgments, under tense circumstances," Gertner writes. "The message: Shoot first, think later, and you can count on being exonerated."
It is notoriously difficult to indict and convict police for killing suspects.
A look at recent successful convictions of police who killed while on the job shows it takes damning physical evidence, unanimous witness testimony or a fellow officer contradicting the accused cop's version of what happened.
It's tough to catalogue and track incidents in which police kill while on duty and similarly difficult to determine what punishments, if any, police faced. But Five Thirty Eight reports that, according to a database of police misconduct accusations maintained by the Cato institute, when an indictment takes place, there is a 33 percent chance the officer will be convicted and only a 12 percent chance the cop will be incarcerated.
Those numbers are much lower than the 68 percent of civilian defendants who are convicted after being indicted and the 48 percent of them who are locked up after being convicted, based on Bureau of Justice statistics.
11/30/2014 3:28 PM EST
Wilson Resigned Over Safety Concerns, Lawyer Says
Reuters reports:
he white police officer who shot and killed an unarmed black teenager in Ferguson, Missouri, this summer, resigned from the force without any severance deal, the mayor of the St. Louis suburb said on Sunday.

The officer, Darren Wilson, announced his resignation late Saturday, saying he feared for his own safety and that of his fellow police officers after a grand jury decided not to indict him in the fatal Aug. 9 shooting of 18-year-old Michael Brown.
11/30/2014 7:27 AM EST
10 People Arrested During Portland's Ferguson Protest
PORTLAND, Ore (AP) — Authorities say 10 people have been arrested in Portland during a protest related to the Ferguson, Missouri, police shooting.
The city police bureau says the arrests came Saturday night "after a large group of protesters laid down in the street and refused lawful orders to clear the roadway."
Earlier, the gathering over the Missouri shooting death of a black man by a white police officer included a speech by the Rev. Jesse Jackson.
The Oregonian reports that Jackson urged nonviolence and said the resignation of the officer was "a step in the right direction," but that much remained to be done to achieve justice for the victim.
Police say that after Jackson left, some protesters marched around downtown and sporadically disrupted traffic.
Officials say some bottles were thrown at officers and a police car was damaged.
The nine adults and one juvenile arrested will face charges that include disorderly conduct.
11/29/2014 9:26 PM EST
Armed 'Oath Keepers' Plan To Protest
The NYT reports that armed members of the group "Oath Keepers" are in Ferguson to offer their help protecting businesses from damage.
From the NYT:
The volunteers, who are sometimes described as a citizen militia — but do not describe themselves that way — have taken up armed positions on rooftops here on recent nights....

But on Saturday, with the county police said to be threatening the Oath Keepers with arrest, the volunteers decided to abandon their posts and instead protest against the authorities. Late in the day on Saturday, a protest was being planned for that night.
Read more here.
11/29/2014 6:56 PM EST
Darren Wilson Resigns From Ferguson Police Department
Darren Wilson has resigned from Ferguson police department.
Read his resignation letter below, via St. Louis Post-Dispatch:
"I, Darren Wilson, hereby resign my commission as a police officer with the City of Ferguson effective immediately. I have been told that my continued employment may put the residents and police officers of the City of Ferguson at risk, which is a circumstance that I cannot allow. For obvious reasons, I wanted to wait until the grand jury made their decision before I officially made my decision to resign. It was my hope to continue in police work, but the safety of other police officers and the community are of paramount importance to me. It is my hope that my resignation will allow the community to heal. I would like to thank all of my supporters and fellow officers throughout this process."
11/27/2014 12:55 PM EST
Murals In Ferguson
The group that's out painting right now also did this mural. It's a block or so from the Ferguson PD pic.twitter.com/tqgIUhR8C0

— Jim Dalrymple II (@JimDalrympleII) November 27, 2014
11/27/2014 11:19 AM EST
Ferguson Library Stays Open Throughout The Protests
MSNBC's Steve Kornacki reports on Ferguson's public library, which has remained open throughout the protests.
Over 50 volunteers helped staff the library, which provided free lunches to children as schools remained closed. The library also offered help to businesses who suffered damage during the protests following the grand jury's decision.
"We have a dramatic setting right now but it is not different than what libraries do every day," library director Scott Bonner said.
--Mollie Reilly
BEFORE YOU GO
PHOTO GALLERY
Ferguson Protests Around the Country