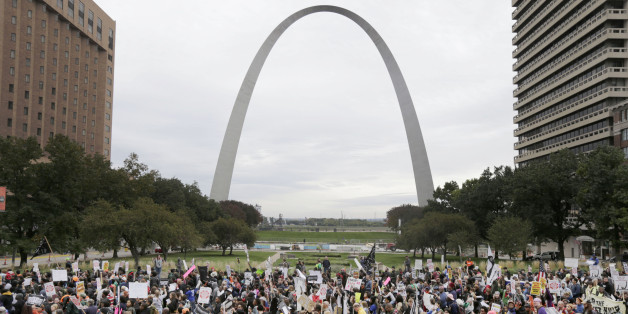 Two men arrested last week allegedly planned to bomb the St. Louis Arch and kill Ferguson's police chief and the prosecutor in charge of Darren Wilson's case, the St. Louis Post-Dispatch reported Wednesday.
Brandon Orlando Baldwin and Olajuwon Davis were arrested Friday on federal charges of making false statements when attempting to buy pistols in Hazelwood, Missouri, according to court documents. The two men had purchased pipe bombs during an undercover FBI operation, a source told CBS News.
Baldwin and Davis, both members of the New Black Panther Party, are in police custody and have waived their right to make a case for bail on the gun charges. They pleaded not guilty on Tuesday.
The men's plans included placing a bomb at the top of the arch's famous observation deck and killing Ferguson Police Chief Tom Jackson and St. Louis Prosecuting Attorney Robert McCulloch, sources told the Post-Dispatch. Additional charges reflecting the plot were expected to be filed, the newspaper reported.
Ferguson has been rocked by protests since Monday night, when McCulloch announced in a bumbling press conference that a grand jury had decided not to indict Wilson for fatally shooting unarmed teenager Michael Brown in August. Similar demonstrations followed Brown's killing.
Thousands of protesters across the country, from New York City to Los Angeles, have taken to the streets this week in solidarity with Brown's family. While some of the demonstrations have been marred by violence and looting, most have been peaceful.
Wilson defended his actions, saying he "just did what I was paid to do," in a widely publicized interview with ABC's George Stephanopoulos Tuesday.
The New Black Panther Party, a controversial organization that has been accused of encouraging violence against white people, Jews and law enforcement, has taken an active role in the Ferguson protests since August, and Davis denounced Wilson's actions at a rally in a Ferguson church last month. "This is not the first Mike Brown, and it won't be the last, if we do not unite," he said at the time. "Divided, we lose brothers and sisters. If you do not unite, put aside your differences and unite, you can expect no changes in the future."
For more on Davis and Baldwin's thwarted plot, visit the St. Louis Post-Dispatch.
BEFORE YOU GO
PHOTO GALLERY
Ferguson Protests Around the Country