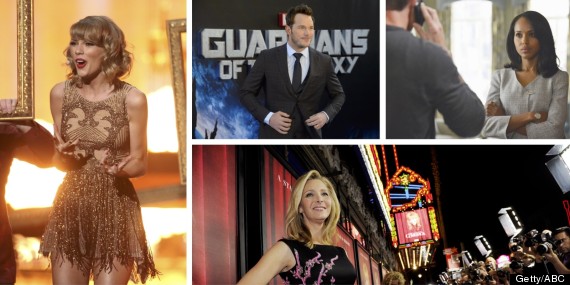 Thanksgiving is a time to reflect on the past year and give thanks to all that was good. It's no different in the entertainment world, where your trusty HuffPost Entertainment editors have compiled a list of random, excellent and bizarre pop culture moments from 2014 that we simply couldn't live without. Happy Thanksgiving!
Taylor Swift's "1989"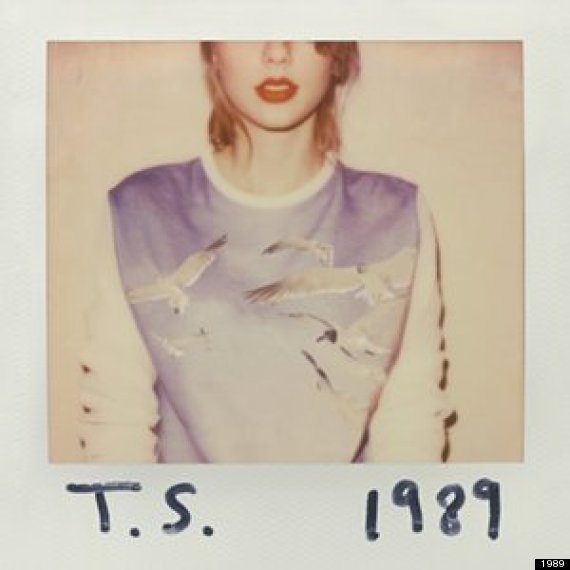 What else is there to be thankful for in entertainment besides the greatest pop album of the year? Taylor Swift took a trip back to the '80s, cut her last ties to country and released "1989," a non-stop, synth-heavy party. The record still has everything we love about Swift's earlier albums -- honest, interesting lyrics, grandiose hooks and a special brand of bizarre -- but is a segue into a new era of Swift. Sure, there are a few duds (cough "Shake It Off"), but hits like "Style" and "Blank Space" will undoubtedly have longevity. I plan on playing it on loop at my family Thanksgiving, though I dread the moment I'll have to tell my mom, "It's not 'Starbucks lovers.'" -- Jessica Goodman
All The Haters
This Thanksgiving, I am thankful for all the haters out there doing their thing. If not for the people who proclaim they don't care about various celebrities, only to later spout off venom about those same celebrities, there are so many stories that would not have been written. (And if you think about it, the haters basically inspired the majority of Taylor Swift's "1989," so without all that negativity, she could be without a platinum-selling album. So I'm thankful for that.) To everyone who took time out of their day to dig deep and embrace their negativity, so a celebrity could respond to it, thus ensuring prolonged relevance: thank you. After all, it's not the fans, but the haters who really keep these people famous. -- Stephanie Marcus
Rogelio De La Vega On "Jane the Virgin"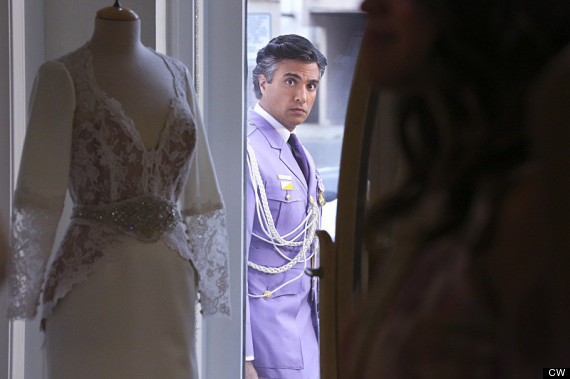 "Jane the Virgin" is by far the best new show of the fall, but it's hard to choose what's greatest about it. Is it the show's witty narration? Is it the winning array of characters? Sure, all of that is wonderful, but I can't lie: Rogelio De La Vega has stolen my heart. He's the famous telenovela star who turned out to be Jane's father, and Jaime Camil, the actor who plays him, manages a neat trick: He makes Rogelio's arrogance hilarious, but he also makes viewers care about his heartfelt desire to build a relationship with his newly discovered daughter. This fizzy, sweet show is a nearly perfect confection, and Rogelio is the cherry on top. -- Maureen Ryan
Shondaland Thursdays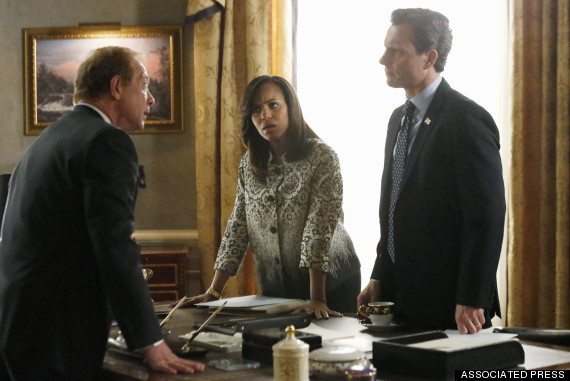 Thank you, thank you, thank you, world, for Shondaland Thursdays. Rhimes' "Greys Anatomy" and "Scandal" have for years featured racially diverse casts and some of the most compelling depictions of female friendships and same-sex relationships to ever hit prime time. Newcomer "How To Get Away With Murder" doesn't shy away from the sex either and -- in what might be the most arresting two minutes of TV this season -- took on the Western beauty myth to perfection. Refreshingly, the shows never present these components as fodder for "Very Special Episodes," but just as the reality that they are. If only for three hours each week, Rhimes makes sure network television is the right side of history. -- Lily Karlin
Dragons. Just Dragons
From "Game of Thrones" to "How to Train Your Dragon 2," the best thing about this year has definitely been dragons. Dragons just make everything instantly better, and Hollywood should take note. For example, just look at Zac Efron's critically panned "That Awkward Moment." You know the most awkward moment of all? No dragons. Or take into account box office flop "A Million Ways To Die In The West." Clearly, one of the ways to die was boredom from the lack of dragons. Now, with Smaug's upcoming appearance in "The Hobbit: The Battle of the Five Armies," it's clear that, for dragons, 2014 is the one year to rule them all. -- Bill Bradley
"Tuesday" by ILOVEMAKONNEN (feat. Drake)
As a weekend editor here at HuffPost Entertainment, I know the importance of a good weeknight turn-up. This year, I'm thankful that two men who go by the names Drake and I Love Makonnen (yes, his stage name is a complete sentence) gave me a club anthem for this very purpose. In 2011, Drake reminded us all that we only live once. And in 2014, he taught us that you really don't have to wait for the weekend to rage. You can make the club go up any night you choose, if you put your mind to it. Tuesday is the new Saturday. Thank you, Drake. -- Lauren Zupkus
All Mindy Kaling Everything
While everyone wants to talk about Mindy Kaling's size, skin color and gender, Mindy Kaling wants to talk business. The brilliant writer and actress rose from "The Office" to her own Fox series, now in its third season. She created it from scratch, reviving the rom-com in the process. She produces. She acts. She's writing her second book. She is ridiculously funny. Why would we ever want to talk about her size, skin color and gender? This year, I am thankful for the fierce, painfully self-aware and unapologetic wonder that is Mindy Kaling. May we all find out inner Beyonce Pad-Thai. -- Liat Kornowski
Seth & Blair Got Married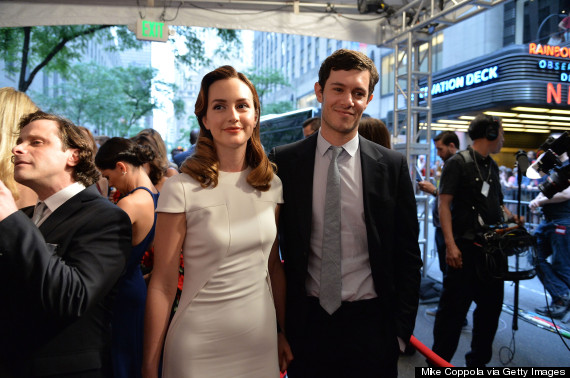 After hearing about their engagement announcement, it was my 2014 resolution to attend the wedding of Seth Cohen and Blair Waldorf. Unfortunately, I never received an invite. (That oversight prevented me from shouting, "California, here she comes!" as the future Mrs. Cohen walked down the aisle.) Crestfallen, I went to the mirror and looked into the eyes of Sandy Cohen, his face emblazoned on my t-shirt. He seemed to suggest I get a bagel. "Spotted: Lonely boy eating a bagel in Brooklyn. Did his wedding invite get scooped out of the mail? XNoXNo," I thought. Or something like that (after all, I'm not Gossip Girl). I can only hope Captain Oats didn't suffer a similar fate. -- Todd Van Luling
The Best Ice Bucket Challenge
This year -- like every other year -- I am thankful for Hollywood's most lovable, down-to-earth couple: Ben Affleck and Jennifer Garner. These two make me smile with their "just like us" attitude, proving every day that although they're A-list stars, they're also people who are focused on their marriage and raising their three children. But what solidified their ranking on my "most thankful for" list was their charming ALS Ice Bucket Challenge video, which gave fans a glimpse into their seemingly-perfect personal life. In the video, after Jen pours the ice water on Ben's head, he pushes her into the pool as their kids squeal with delight. I meaaaaaannnnn??? This adorable moment cemented Bennifer 2.0's status in my eyes, although I'm not going to lie, it was hard for me to put Chris Hemsworth's Sexiest Man Alive crowning at my No. 2 spot. Hey, priorities, amiright? -- Leigh Blickley
My Boyfriend's Parents' HBO GO Password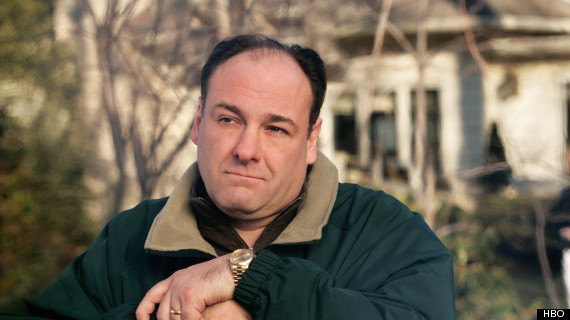 This Thanksgiving, I am thankful for my boyfriend's parents' HBO GO password. Without being given SallyKat82 (the password created in homage to their dead cat), I would not have been able to binge watch the "Sopranos" or "The Comeback" on the elliptical. I would have to just wait for E! to air weird marathons of "Sex and the City" (seriously, one time they did a "Miranda and Steve" one). Most of the time the only thing on is really old episodes of the Kardashians, and who can burn more than 300 calories watching that? So, thank you, boyfriend's parents and also Sally the dead cat (RIP). My calves would be slightly less defined without you. -- Lauren Duca
Instagram's Best Star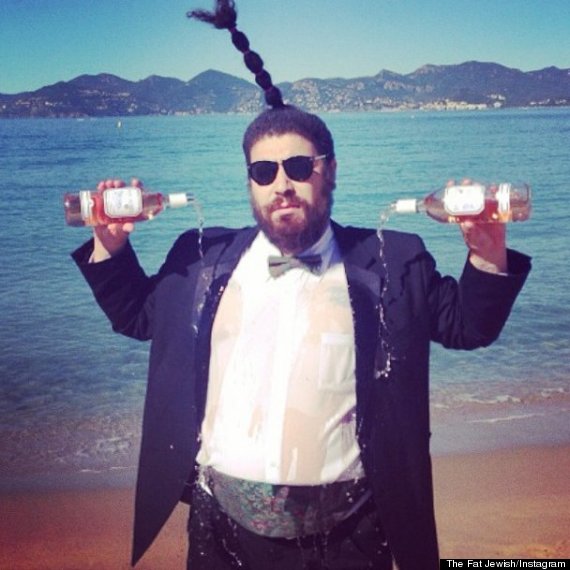 While the name of this Instagram star may be rather offensive, it merely serves as a disclaimer for the type of photos he's become known for posting. The Fat Jew, whose real name is Josh Ostrovsky, is a 30-year-old Instagram sensation who posts some of the funniest, most random photos that will make any stoner or culturally-aware viewer laugh to tears. His regrams, paired with hilarious captions (take this one for instance) some of which he apparently gets paid up to $2,500 for, range from the silliest fails to relatable mom texts to some of the finest cultural criticism. This year, I'm thankful for Fat Jew because without him I (likely) would never have known about the Jewish Steve Carrell/Ryan Gosling mash-up. I never would have been so intimidated by a carrot. I also probably never would have found joy without seeing this photo. Thank you, Fat Jew.-- Erin Whitney
Music's Risk Takers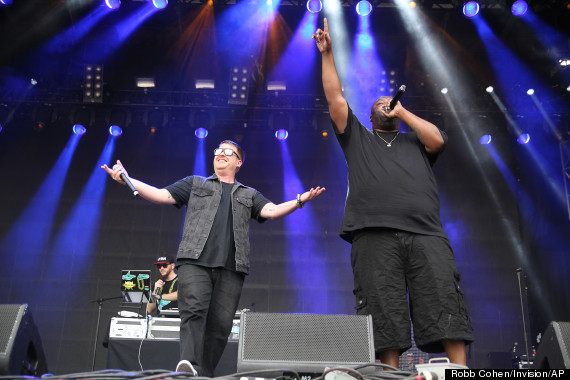 I am thankful for artists like Beck, who continue to write amazing music after two decades and inspires other artists to become exceptional singer-songwriters like himself. I am thankful for artists like Polyenso, who not only constantly challenge themselves to grow their musical abilities and redefine their art with each release, but also push the collective musical sphere to be more innovative. I am thankful for artists like Run The Jewels, whose words constantly spread socio-political messages that force humanity to reexamine itself, sharing their personal shortcomings and heartbreaks when few others will. -- Ryan Kristobak
The Comeback Of "The Comeback"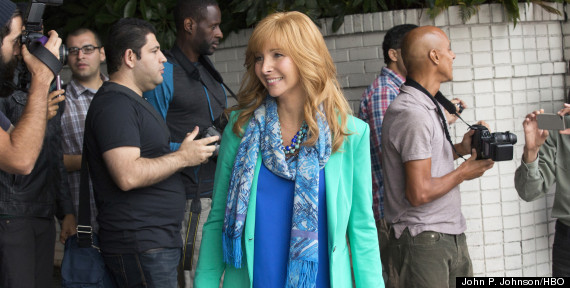 Resurrecting short-lived shows is in vogue right now, but it's especially thrilling to see "The Comeback" return a whopping nine years after its premature departure. HBO axed the single-season comedy in 2005, but the fame-chasing Valerie Cherish and her hapless attempts at a career renaissance gained a defining cult audience in the years that followed. Little has changed almost a decade later, including Lisa Kudrow's idiosyncratic brilliance. If anything, the show's meta reflections on the state of reality television, ephemeral fame and Hollywood misogyny feel even timelier. So far we've seen an Andy Cohen cameo, Academy Award envy and a fake Seth Rogen blow job -- and that's only three episodes in. We're cringing along the way, and then demanding instant repeats so as to catch the show's sharp nuances. As it turns out, we really do want to see that. -- Matthew Jacobs
Steve Carell's Nose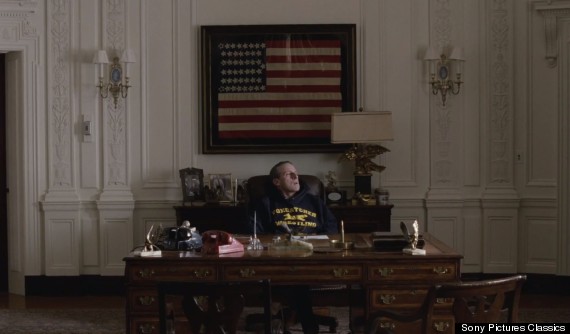 "Foxcatcher" is not a feel-good movie, and that's shocking because it stars Channing Tatum. It's creepy, tragic, eerie and mostly true. Steve Carell, Mark Ruffalo and Tatum's performances are some of the best we've seen all year, as they draw us into the world of elite wrestling, expansive mansions and the complex splintering of ego, identity and masculinity. But there is one true star of "Foxcatcher" and that is Carell's prosthetic nose. It's the only thing you can look at when he's on screen (runner up: his tiny teeth) and the watershed moment where we actually get to watch Brick from "Anchorman" snort a mess of cocaine through a giant nose while on a helicopter wins for the most important scene of the year in cinema. -- Sasha Bronner
Chris Pratt Is Our New Movie Star
Whoever decided Chris Pratt should be a gigantic movie star deserves a medal. Pratt was everywhere in 2014, starring in "The LEGO Movie" and "Guardians of the Galaxy," rapping, doing the ice bucket challenge, rapping again and just basically being the best. (He even rode a motorcycle with raptors.) "Attitude is contagious," Pratt told HuffPost Entertainment in an interview this past summer. We're glad his is so awesome. -- Christopher Rosen
BEFORE YOU GO
PHOTO GALLERY
Celebrity News & Photos