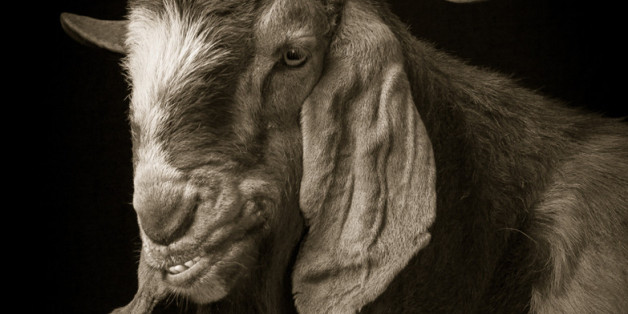 What do you do when your neighbors are goats and sheep? Turn them into a photography project, naturally.
When photographer Kevin Horan moved from Chicago to Whidbey Island, Washington in 2007, he found himself surrounded by goats and sheep. They used to send up a chorus of "baaas" every time he came home, Horan told The Huffington Post, and because their voices were all so different, he thought they would make for good individual portraits.
This year, he unveiled his goat and sheep portraits series, "Chattel."
"Many of them are from New Moon Farm Goat Rescue and Sanctuary; some are dairy goats; and some are pets," Horan explained of his wooly subjects. "It's kind of like photographing people -- you pick the good ones. The ones that seem to have some personality. They've lived a life and earned their faces ... the sheep and goats are an apt analog to the human face."
As for whether other barnyard animals will ever make it into the mix, Horan says he hasn't ruled it out.
"I've tried horses, and while I've made some nice pictures of them, they just don't seem to work here. Is it the long face? I'm looking around for some good pigs, though. Very optimistic."
BEFORE YOU GO
PHOTO GALLERY
Goats, Llamas & More Debut At O'Hare