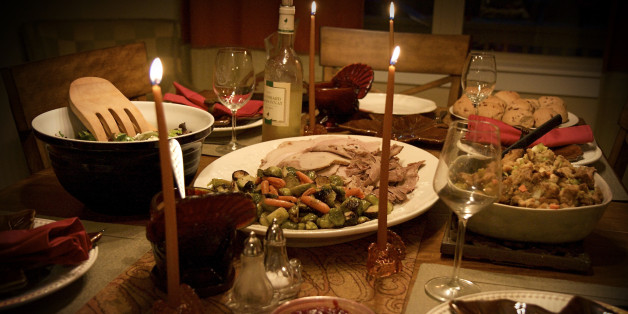 When he was a child, Eduardo Samaniego sat down with his family every year in his hometown of Zacatecas, Mexico, to eat a Thanksgiving meal.
But in his heart, he was dreaming of America.
Día de Acción de Gracias, as his family called it, was a day to give thanks to God for a good harvest. But by the time the holiday arrived, the beans and apples Samaniego worked all summer to grow had been sold. While his grandmother led the family in prayer, the little boy would look past the small plates of tamales and tostones on the table and fix his eyes on the most prized dish: a whole turkey that relatives in the United States had shipped across the border.
This year, Samaniego, now 22, is celebrating Thanksgiving with friends at Hampshire College in Massachusetts. He's bringing Mexican food, while classmates from China, Pakistan, France, Italy and Brazil are adding dishes from their home countries.
As Americans prepare for a festive Thanksgiving meal, millions of undocumented immigrants in the U.S. like Samaniego still aren't wholeheartedly welcomed at the table. They often are the busboys, waiters, cooks, maids, farmhands, janitors, and store clerks working behind the scenes to make the holiday happen.
President Barack Obama's executive order last week promised deportation relief and working rights for an estimated 4.4 million undocumented immigrants. But Samaniego is among the millions not covered by the action.
Samaniego has been in the U.S. for five years, but he was a few months older than 16 when he came -- and a result, he still faces deportation.
Still, he said he has much to be thankful for this year. One of the biggest blessings on his list is education. He said his parents would never have been able to afford sending him to college. In America, he's gotten the opportunity to study on a scholarship.
"For me, honestly, Thanksgiving is a reminder that everything is possible in the United States, as long as you work for it," Samaniego told HuffPost, his voice trembling with emotion over the phone. "Even though it took a long time for me to be here, on Thanksgiving I'm going to have something real and I'm going to be here in my college celebrating. Six years ago, I could never have imagined myself doing this."
Samaniego had the courage to come forward and share his story, but others that HuffPost contacted said they were afraid to speak for fear of deportation.
Some congregants who worship at the Second Avenue Church, an evangelical Spanish-speaking congregation in New York City, are "living in the shadows" as undocumented immigrants, according to the Rev. Michael A. Rivera, the pastor. And they will likely be at work during the holiday this year, Rivera added.
"Many are saddened at such a time, because they have no family to celebrate with. Their families are thousands of miles away," Rivera said. "To many, our church 'family' is all they have."
The Pew Research center estimated that in 2011, 83 percent of America's 11.1 unauthorized immigrants were Christian. The church is often the first place where they are introduced to the spiritual aspect of Thanksgiving.
Faith based-organizations, like the National Hispanic Christian Leadership Conference and the United States Conference of Catholic Bishops, have applauded Obama's move toward immigration reform. But many religious leaders say there is much left to be done.
Bishop Leopold Frade of the Episcopal Diocese of Southeast Florida told HuffPost that Congress still needs to act swiftly to pass a comprehensive immigration bill.
"It's better late than never," Frade said of the president's announcement. "But being late causes thousands of people to suffer and families to be separated."
Frade, a Cuban native, vividly remembers his own arrival in America back in 1960. He was a teenager then, already certain of a calling to serve God. The Cuban revolution had just swept through his home country, however, and the church was being persecuted.
"I myself was a refugee in this country," Frade recalled. "And God had it that now I'm the bishop of Southeast Florida."
He insisted his success story is common.
Immigrants "are hard-working, they're in construction, in the markets, doing anything they can to feed their families," Frade said. "These are people who will provide a future for America and strengthen America.
"What I'm hoping is that for the first time in years, many undocumented people will be able to have a Thanksgiving without fear," Frade added.
After arriving in the U.S., Frade's family incorporated Cuban traditions into their Thanksgiving celebrations. Their table would have a traditional turkey, but there would also be black beans, rice, yuca and pork.
The same mixing of cultures will happen this Thanksgiving in the homes of members of Ekklesia Miami, a church in Florida that serves many unauthorized immigrants. Senior pastor Christian Garcia has watched the immigration system tear children in his church away from their parents. But he said congregants have embraced this quintessentially American holiday. His church hosts a yearly Thanksgiving service.
Garcia said his community has much to be grateful for this year.
"There's an atmosphere of joy, celebration, and gratitude here," Garcia told HuffPost.
The Rev. Ryan Eller, executive director of Define American, said the immigrants he works with have accepted Thanksgiving so easily because giving thanks is a predominant part of many faith traditions.
But when he thinks back to the first Thanksgiving, things get a bit complicated. The holiday's history is tainted by decades of oppression and mistreatment of Native American people.
"Reconciliation is often painful and we don't always treat each other with love and respect," Eller told HuffPost. "Thinking back on our immigrant heritage while embracing the diversity of the future is an act of faith."
BEFORE YOU GO
PHOTO GALLERY
Thanksgiving Prayers