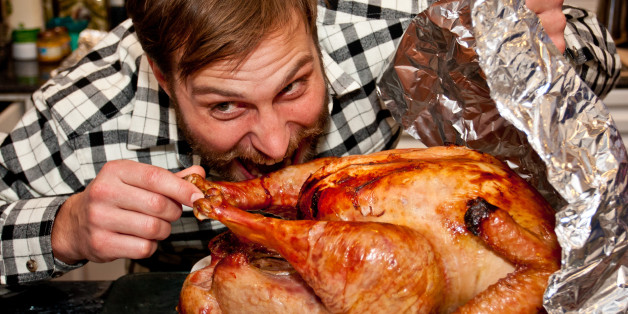 Thanksgiving is a time for family, feasting and food comas -- that's a fact. But it's also time for funny tweets. If you can't use Twitter as therapy for when your mom serves a blackened turkey, what is it really good for?
That's why we couldn't help but comb through some of our favorite celebs' Twitter feeds. Kevin Roose entertained us with a beautiful picture of his "bae" (canned cranberry sauce, of course), Jimmy Fallon gave thanks for alcohol (we're with ya, Jimmy) and Megan Amram showed us the sexiest "thigh gap" ever.
Scroll to see who had the best turkey tweets and -- as always-- Bon appeTWEET!
Thank you, Thanksgiving, for being a time for family. And thank you, football and alcohol, for making that tolerable. #ThankYouNotes

— jimmy fallon (@jimmyfallon) November 28, 2014
Still life of bae. pic.twitter.com/Aj45VJnAaO

— Kevin Roose (@kevinroose) November 27, 2014
My thigh gap is looking fresh as hell pic.twitter.com/LyCH5Sw1aO

— Megan Amram (@meganamram) November 28, 2014
(Said like the hunger game announcer) Let the passive aggressive games begin!!!! #ThanksgivingThrowdown

— Amy Schumer (@amyschumer) November 27, 2014
Can't understand why thanksgiving dinner changes the time of regular, normal human being dinner time.

— christine teigen (@chrissyteigen) November 27, 2014
Celebrate this Thanksgiving the way the pilgrims intended: by arguing with your family about Obamacare.

— Ronan Farrow (@RonanFarrow) November 27, 2014
I'm so stuffed I feel like a bunch of people in matching outfits should be parading me down Fifth Avenue.

— Ellen DeGeneres (@TheEllenShow) November 28, 2014
PLEASE remember not to ruin everyone's Thanksgiving by being a dick and putting raisins or fruit in your stuffing

— Ike Barinholtz (@ikebarinholtz) November 26, 2014
This year I'm gonna sit down for Thanksgiving and say "Actually, I'm juicing" and see which of my relatives tells me to go fuck myself first

— Emmy Blotnick (@emmyblotnick) November 26, 2014
On a scale of 1-10 I'm bloated.

— andy lassner (@andylassner) November 28, 2014
Want to read more from HuffPost Taste? Follow us on Twitter, Facebook, Pinterest and Tumblr.
BEFORE YOU GO
PHOTO GALLERY
Things You Don't Want To Hear On Thanksgiving