As part of our Blended Family Friday series, each week we spotlight a different stepfamily to learn how they successfully blended their two families. Our hope is that by telling their stories, we'll bring you closer to blended family bliss in your own life! Want to share your own story? Email us at divorce@huffingtonpost.com.
It's fair to say Christian music star Sandi Patty and her husband Don are blended family pros at this point: The pair have a total of eight kids together and they've been a family unit for two decades.
It hasn't always been easy, though. Below, Sandi, the author of Life In A Blender, tells us a little more about what's gone into making her blended family as strong as it is today.
Hi Sandy. Please introduce us to your family.
When Don and I got married in August of 1995, I had four kids and he had three. The following February in 1996 we adopted an infant son together. That brought our grand total of kids to eight: Anna, John, Jenn, Donnie, Alyssa, Erin, Mollie, and Sam. They're all grown now.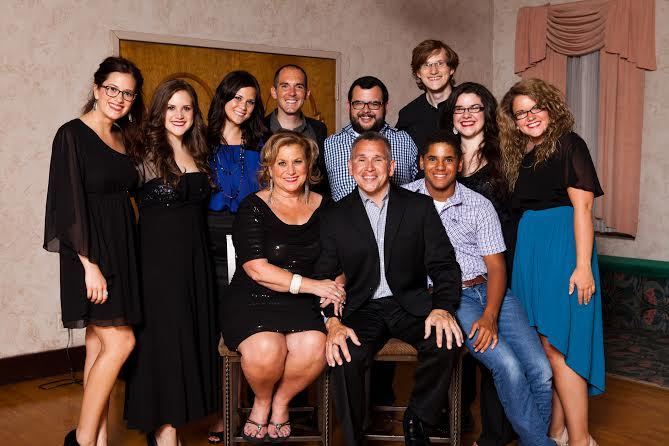 Photo courtesy of Sandi Patty
What are some of the biggest challenges of blended family life?
The biggest lesson we have learned is that every blended family is born out of loss. Whether it is a death of one of the parents or a divorce, there is a loss. That doesn't mean its destined to fail, but it does mean it is its own unique family structure.
You have to understand that blending takes time. Be patient with yourself, your spouse and all the children -- and decide discipline early on: Who does it? How does it come down? We have found that the biological should be the "heavy" while the stepparent or "bonus parent," as we like to say, can be the advocate for the child.
Don and I both realized early on that we were the only two who chose this life. We decided to marry, so we allowed the kids to not be OK with it every second. They may have had permission to not like how things were going, but they had to respect and follow some simple household rules.
What's the best thing about being part of a blended family as big as yours?
There was never a dull moment. The closeness of the siblings now, after 20 years, is one of the greatest joys of our lives. They truly are brothers and sisters in every way.
What makes you proudest of your family?
The thing that makes Don the proudest is seeing how the kids really love one another. They are best friends. And then to see them live out the qualities of our crazy blended family. By no means has it always been this way. There were times we thought they would literally kill each other -- or at least inflict bodily harm. There was definitely a lot to learn about boundaries and personal space.
It had to get stressful with eight kids living under one roof. How did you deal with it?
Early on we began having weekly family meetings. This established a forum for good and healthy conversation. It wasn't always easy conversation and at times it was confrontational. But it was important to us that we learn how to communicate. We also worked very hard to have dinner together as a family every night. Between dance class, baseball, show choir and work, dinner could happen at 3:45 p.m. or 10 p.m. Dinner was whenever we had a majority present!
What advice do you have for other blended families struggling to really connect?
It must be acknowledged that every blended family is born out of loss. You really can't pretend otherwise. The parents in the relationship must make each other a priority. You two are the only ones who chose this family. You are the anchor and the bond must be strong.
For the stepparent, remember, you are not the parent. The kids will be more than happy to remind you of that. But we think a successful stepparent is more like a mentor or a teacher that you really love. Over time, it's been wonderful to watch the kids come to see us as "bonus parents."
In general, don't be afraid to ask for help, whether it be in the form of counseling, blended family conferences, a grandparent, a nanny or a friend. It's tough. We all need all the support we can get!
And lastly, be patient with yourself. It's a journey. Just keep aiming in the right direction -- and remember to love one another. It's the secret sauce that will make your blended family stick.
PHOTO GALLERY
Meet Sandi And Don's Family
Keep in touch! Check out HuffPost Divorce on Facebook and Twitter. Sign up for our newsletter here.
BEFORE YOU GO
PHOTO GALLERY
Blended Family Friday