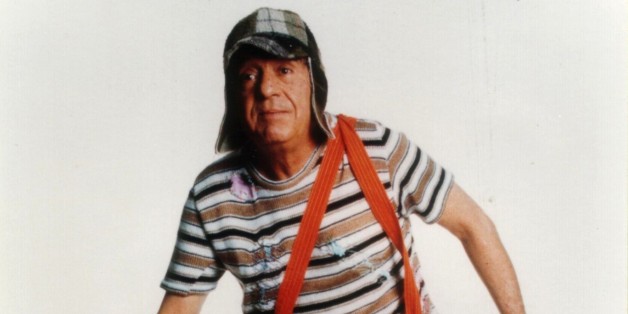 In an outpouring of love and respect for a comedic legend and Latin American icon, fans mourned the death of Roberto Gómez Bolaños on twitter.
Bolaños died of unspecified causes in Cancún on Friday. He was 85. In a matter of minutes, #Chespirito, as the comedian was known, became a worldwide trending topic.
UPDATE: 11/29/14, 2:03 a.m. -- Univision reports Bolaños suffered a cardiac arrest around 2 p.m. in his home. The star died accompanied by his wife and former co-star Florinda Meza.
Voto Latino co-founder Maria Teresa Kumar recalled the power that the actor had in uniting the Spanish-speaking world like little else in history.
Who United a people and gave us orgullo #Latino? #Chespirito. #EsoEsoEso gracias! @votolatino pic.twitter.com/lUMDfa4MRK

— María Teresa Kumar (@MariaTeresa1) November 29, 2014
Fans illustrated pictures of the Mexican actor as one of his most beloved character, El Chavo, and his friends from the show who had passed away already. Most notably actor Ramón Valdés who starred in the children's show as Don Ramon.
Many were filled with sadness at the news and gave rise to tweets like the following, in which Don Ramon says his famous quote "Not yet, Chavito."
#Chespirito im crying this isint real he cant be dead pic.twitter.com/M3Y4y0aoKU

— ❱❱❱❱ (@ziams_ahs) November 28, 2014
Sobs RT @Cory_Forever_: This made me cry, thanks for the amazing childhood. #Chespirito #DEPRobertoGomezBolanos pic.twitter.com/3UqbTBExvA

— Adrian Carrasquillo (@Carrasquillo) November 28, 2014
In one of these El Chavo is depicted with angel wings and the other his friends are waiting for him with a table full of his favorite snack: a ham sandwich.
_RIP )= #Chespirito
I Cry :'( pic.twitter.com/xQdyCsRb6s

— Yessika Y.Cieza (@YeCieza) November 28, 2014
Good Night #Chespirito pic.twitter.com/SQcl7pKpEM

— MAURICIO HENAO (@mauriciohenao) November 29, 2014
#Chespirito makes me cry harder my heart hurts pic.twitter.com/twUc8BeUFz

— ❱❱❱❱ (@ziams_ahs) November 28, 2014
A huge legend was lost in the Latin American television community today. Que en Paz descanses #Chespirito pic.twitter.com/QPiNnnx5u9

— Rodriguez (@RRWWE) November 29, 2014
Others shared pictures and memes based on Bolaños' other characters to honor the actor.
"Is it true that to die is to cease to exist?" Here's our beloved #Chespirito 's response:http://t.co/2WskP4MZxx #RGB pic.twitter.com/ElpAtnvoW6

— Fr. Manuel Dorantes (@TweetingPriest) November 28, 2014
#Chespirito #RobertoGomezBolanos passed away today. Thank you for all the laughter and the joy. Siempre y gracias 😥 pic.twitter.com/49Fjj622ms

— Jay Torres (@MrJayTorres) November 28, 2014
Sad to hear #Chespirito, a Mexican legend, has passed: http://t.co/PlivlKBm8o One of the funniest ever. #chiripiorca pic.twitter.com/FHuxHSlspn

— DC (@costadaniel) November 29, 2014
#Chespirito forever and always in my heart. pic.twitter.com/jt7eHLXCLZ

— ALE JAN DRO (@G_oordy) November 29, 2014
Check out more heartfelt reactions below:
PHOTO GALLERY
The World Mourns #Chespirito