When this big rescue dog joined a new home, she probably didn't expect to find a furever friend in a pooch half her size.
Douglas Pittsley, 27, of San Diego, served in the U.S. Marine Corps for eight years and was deployed a few times over the course of his military career. In 2010, Pittsley, who dealt with anger and depression after his deployments, adopted a large German shepherd mix whom he named Dixie to help him with his stress.
While Dixie found a best friend in Pittsley, he wasn't the only one she had a connection with. The pooch ended up having an special bond with another dog, Minka, that Pittsley and his family adopted earlier this year. As a team, the two have been a great source of comfort for the veteran.
"They know when he's had a rough day at work and a rougher night of sleep from terrors, they will barrel into the room and lay by his side and play with him," Pittsley's wife, Mindy, told The Huffington Post in an email. "Minka will cuddle with him and nibble at his nose while Dixie will sit on one side with a paw on his shoulder like she's hugging him."
Pittsley and his wife were surprised at the friendship that formed between the two dogs, as they were different breeds. However, Dixie gravitated toward Minka the day she was brought home.
"Dixie and Minka have an odd relationship seeing that there is a size difference," Mindy said. "Minka cannot be without Dixie and wherever Dixie goes Minka is sure to follow. They constantly cuddle and snuggle with each other and Dixie is super gentle with Minka."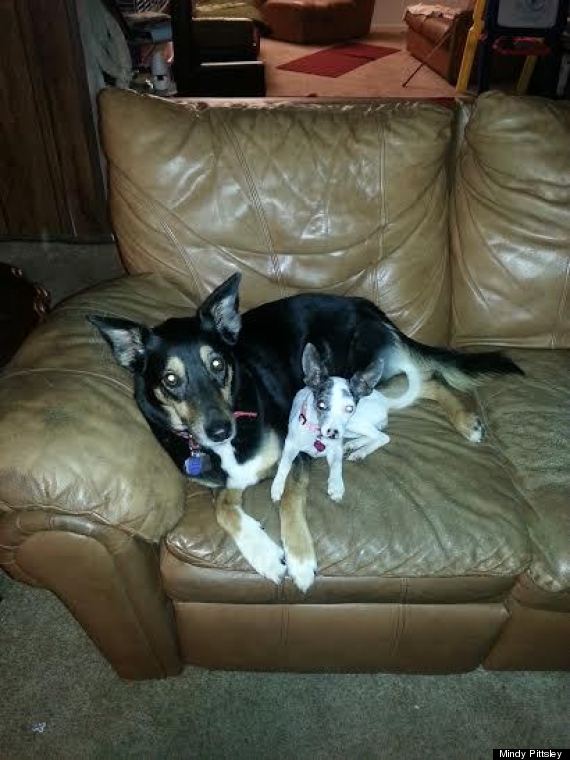 While the canines may look like an odd pair, Mindy says they both exhibit incredibly compassionate qualities, and were both able to provide loving support to her husband after his deployment. Dixie gave Pittsley "the opportunity to focus on something other than the stresses of life after deployments."
Minka, on the other hand, was immediately attentive to the former Marine the moment she entered the household.
"When we arrived at home that night Minka curled up into Doug's neck and slept with him the whole night through," Mindy said.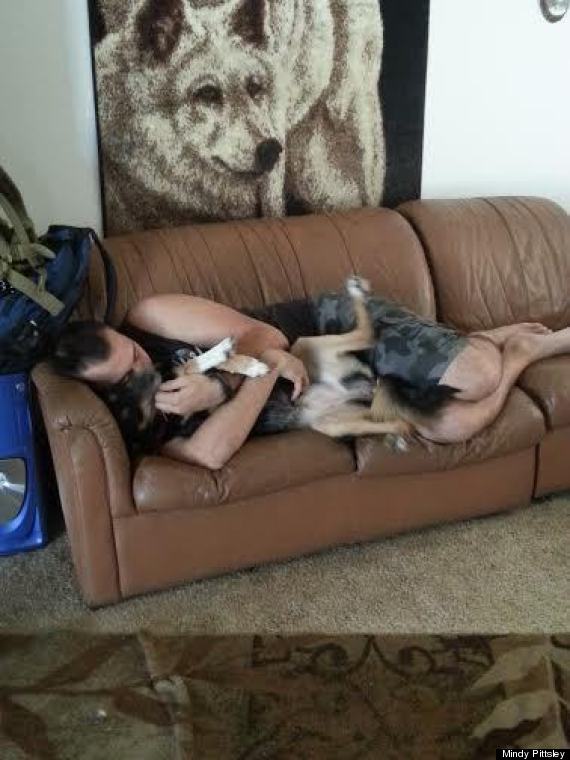 While the doggy duo spends a lot of their time being great comforts to Pittsley, they also enjoy many silly moments together.
"Dixie and Minka like to run around the backyard and chase the birds that fly above, thinking they may catch one," Mindy said.
As the pair continue to be support systems for the veteran, their owners hope that they'll continue to look out for one another as well.
"Minka enjoys sneaking underneath Dixie at breakfast time to eat together even though they have separate bowls," Mindy told HuffPost. "They are inseparable."
BEFORE YOU GO
PHOTO GALLERY
Girl Rescued By Puppy