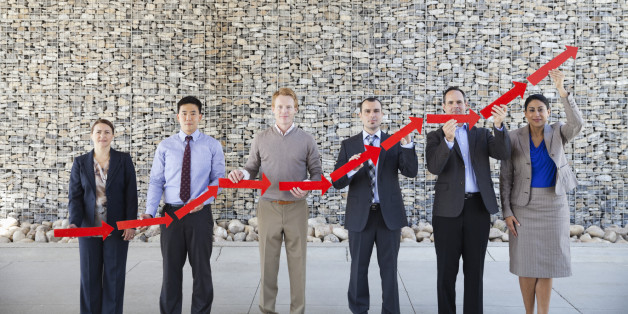 The percentage of Americans who say things are 'going well' continues to rise. Obama's executive action boosts his rating on immigration among non-whites and younger Americans. And Nate Cohn decodes the internal GOP polling numbers shared via Twitter. This is HuffPollster for Monday, December 1, 2014.
MAJORITY OF U.S. NOW SAYS THINGS 'GOING WELL' - Alexandra Jaffe: "For the first time since 2007, a majority of Americans think things are going well in the nation, a new CNN/ORC International poll found. It's a slim majority — just 52 percent of Americans said things are going well, while 48 percent said things are going badly — but it's the most positive appraisal of the state of the nation that the poll has found since January of 2007. And it marks consistent improvement in the mood of the nation over the past few months, despite a series of national security crises and continued gridlock in Washington. In September, 50 percent of respondents said things were going well." [CNN]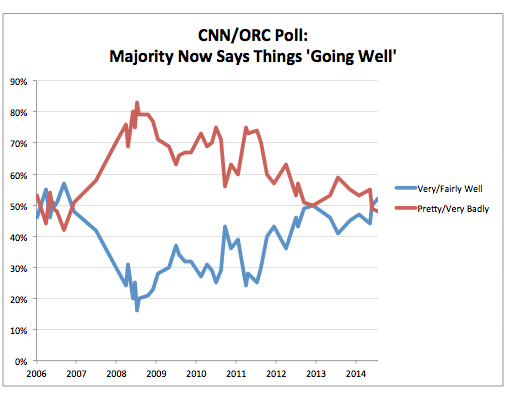 GALLUP: COST STILL BARRIER TO MEDICAL TREATMENT - Rebecca Rifkin: "One in three Americans say they have put off getting medical treatment that they or their family members need because of cost. Although this percentage is in line with the roughly 30% figures seen in recent years, it is among the highest readings in the 14-year history of Gallup asking the question...Last year, many hoped that the opening of the government healthcare exchanges and the resulting increase in the number of Americans with health insurance would enable more people to seek medical treatment. But, despite a drop in the uninsured rate, a slightly higher percentage of Americans than in previous years report having put off medical treatment, suggesting that the Affordable Care Act has not immediately affected this measure." [Gallup]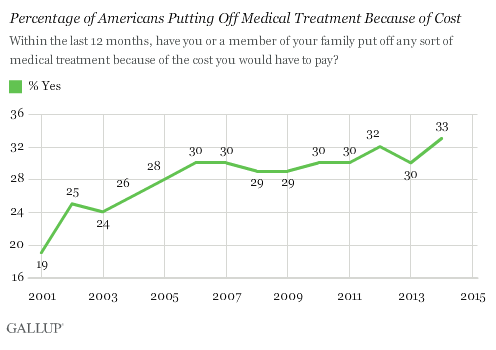 IMMIGRATION: OBAMA POLICY POPULAR, METHOD NOT - Eric Bradner: "President Barack Obama's policy of halting deportations for the undocumented parents of children born in the U.S. is popular -- but his method for implementing it is not. Only 26% of Americans think Obama's plan for those immigrants goes too far, while 50% called it about right and 22% said it doesn't go far enough, according to a CNN/ORC poll out Wednesday of 1,045 adults, conducted Nov. 21-23 and with a margin of error of plus or minus 3 percentage points. However, when asked for their stance on Obama using an executive order to make those changes, just 41% said they favor the move, while 56% said they oppose it....Obama, meanwhile, got a boost from young people and minorities for his handling of immigration after he announced his executive order last week. Approval of his handling of immigration jumped to 65% from 50% in September among non-whites, and from 39% to 52% among those between ages 18 and 34. His overall marks on immigration also jumped, with 34% of Americans approving of how he's handling the issue in September and 44% approving after last week's announcement." [CNN]
SECRET GOP DATA DECODED - Nate Cohn tries to decode the secret internal polling polling results shared by Republican political operatives via Twitter: "Decoding most of the meaning of the tweets is possible by identifying races with distinctive characteristics, like New York's 19th District, in the mid-Hudson Valley and Catskills, where the Republican incumbent Chris Gibson won easily over Sean Eldridge. The result was all but assured, but it was a district that voted for President Obama. Two West Virginia districts were among the few competitive races where Mr. Obama's approval rating was sure to be in the 20s....Using this method, the tweets appear to offer sets of data, each separated by a hyphen. First is the state, indicated by its postal code. Then come two ballot tests, the first being of an unknown character (perhaps the generic ballot, a generic re-elect question or perhaps the incumbent's approval rating) and the second being the head-to-head result. What follows seems to be the favorability ratings for the two candidates, the president's approval rating and the congressional district. If the findings after the first set of numbers are indeed the results, they were more accurate than the public polls, though not by much. On average, the findings from October differed from the results by 5.9 percentage points, compared with 6.6 points from 58 House telephone polls recorded on The Huffington Post's Pollster page for top House races. The polls were biased toward Democrats by an average of 1.85 points, but there were three polls (all in Massachusetts) where Democratic chances were understated by at least 10 points." [NYT]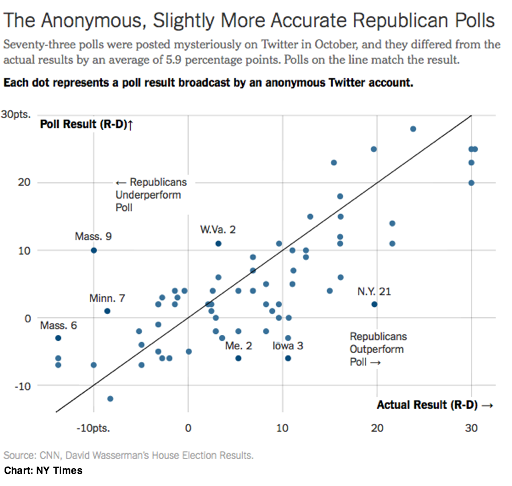 VIA TWITTER - 'THE BEST PIE CHART EVER':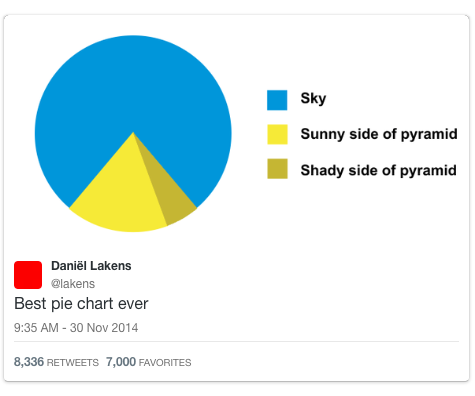 HUFFPOLLSTER VIA EMAIL! - You can receive this daily update every weekday morning via email! Just click here, enter your email address, and and click "sign up." That's all there is to it (and you can unsubscribe anytime).
MONDAY'S OUTLIERS' - Links to the best of news at the intersection of polling, politics and political data:
-The Field Poll's Mark DiCamillo explains why California is the exception in a nation voting increasingly Republican. [Opinion Today]
-Philip Bump explains how Facebook will enable individually targeted political advertising. [WashPost]
-The 2014 election accelerated a trend of straight-ticket voting. [Bloomberg]
-John McTague and Melissa Deckman offer a theory for why the Democrats' "war on women" narrative failed in 2014. [WashPost]
-Emily Ekins reviews the racial divide on in perceptions of law enforcement and why it matters. [Reason]
-An academic exit poll sheds light on voter attitudes in Ferguson, Missouri. [WashPost]
-The NewsHour turns Ferguson witness statements into data. [PBS]
-The Census Bureau ponders a new way of asking about Hispanic ancestry. [538]
BEFORE YOU GO
PHOTO GALLERY
Political Potty Mouths