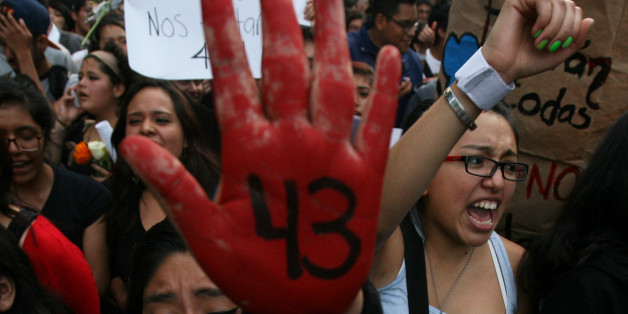 It's been over two months since the tragic events in Iguala, Guerrero, where local police clashed with protestors leaving six dead and 43 students missing.
Amidst heavy criticism, the Mexican government's lack of transparency concerning the disappearance and alleged murder of the students have prompted many to take to the streets in protest. The search for the 43 students shed light on the numerous mass graves that exist in Mexico and the tens of thousands that have disappeared in the last decade.
In mid-November, the government reported that gang members had confessed to incinerating and disposing of the bodies, though the identity of the remains have yet to be verified.
President Enrique Peña Nieto has since announced a series of measures to avoid a similar event from occurring in the future, though many doubt his administration would do much to curb corruption and violence in Mexico.
Mexicans and others around the world have joined their voices to demand answers. Take a look at 43 protests that make it impossible to forget the 43 missing students.
1 - Argentina: Students protested in front of the Mexican consulate in Buenos Aires.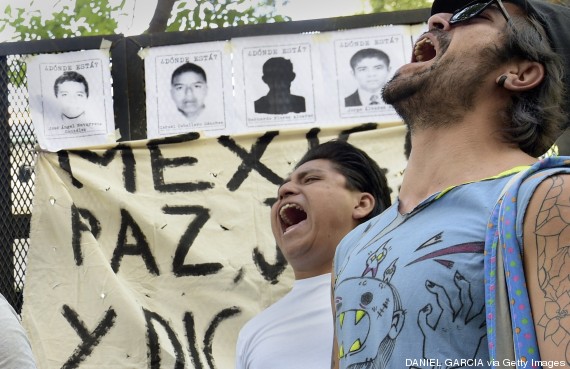 2 - Brazil: Brazilian activists had a symbolic protest in front of the Mexican consulate in Sao Paolo on November 27.
3 - National Autonomous University of Mexico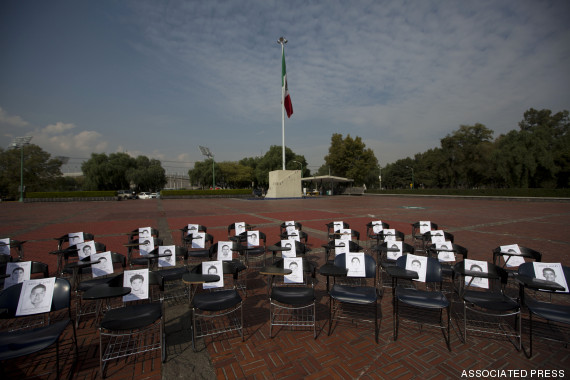 4 - Bolivia: The Strongest fans protested.
"@RicardoBajo: #AyotzinapaNoSeOlvida hinchada d the strongest reclamó esta noche x los 43 estudiantes normalistas. pic.twitter.com/7AUKGCGpVz"

— Jenaro Villamil (@jenarovillamil) November 27, 2014
5 - United States: During the Latin Grammys, Puerto Rican hip-hop duo Calle 13's René donned a t-shirt during his performance in protest.
René de Calle 13 se manifestó en solidaridad con normalistas de #Ayotzinapa en entrega del Grammy pic.twitter.com/Aiw56Jbl5k

— El Universal (@El_Universal_Mx) November 21, 2014
6 - Mexico: Protests during a match between Pumas and América
📷 Foto: Ayotzinapa presente en Ciudad Universitaria http://t.co/juYl3X9w8q pic.twitter.com/E6ENqCQ4rB

— La Afición (@laaficion) November 27, 2014
7 - Holland: Protesters yelled "Justice, Justice!" during a friendly soccer game between Holland and Mexico
8 - Mexico City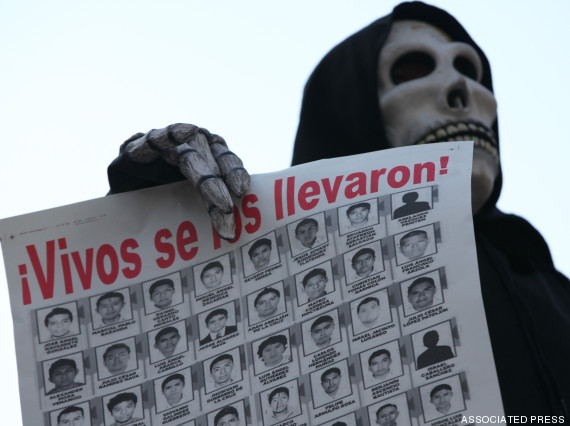 9 - India: Students in New Delhi lit candles for the 43 students in Mexico.
RT SergioMossad: RT Misael_Mora_T: Más solidaridad con #Ayotzinapa ¡DESDE NUEVA DELHI, INDIA! #AyotzinapaSomosTo... pic.twitter.com/HCT8JbyTzr

— Noticias Ayotzinapa (@AyotzinapaFeed) November 24, 2014
10 - New Zealand: #AcciónGlobalporAyotzinapa made it to Auckland and Christchurch
Auckland y Christchurch en Nueva Zelanda. #Ayotzinapa.#AcciónGlobalporAyotzinapa #20NovMx pic.twitter.com/lvDLszOrZ9

— Desinformémonos (@Desinformemonos) November 21, 2014
11 - El Salvador: Salvadorian students showed their solidarity.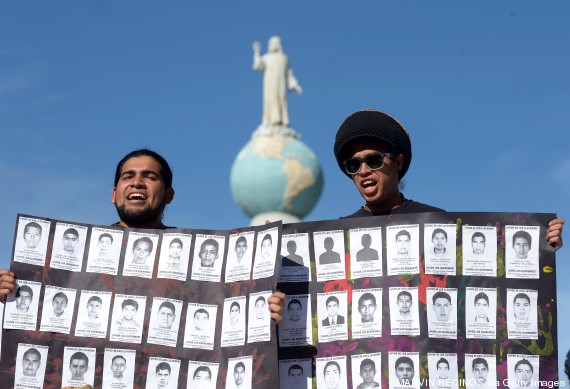 12 - Washington D.C.
Aquí estamos, Washington DC #accionglobalporayotzinapa en Washington DC #20NovMx #Yamecansé http://t.co/o1LiDcwguD pic.twitter.com/FLhQlWwuOx

— Sopitas (@sopitas) November 21, 2014
13 - Munich, Germany
#AccionGlobalporAyotzinapa Desde Múnich exigen justicia y paz. #yamecansé pic.twitter.com/pProfnRkjG

— Lalo (@soylalo) November 20, 2014
14 - Lille, France
RT @Multiversalista "México, el mundo te está viendo!" Flash mob en Lille Francia por #Ayotzinapa #20NovMx #YaMeCanse pic.twitter.com/0l4dBfCfHQ

— gabriela martinez (@gaby_martinez84) November 20, 2014
15 - Eduardo Herrera, player for the Pumas of UNAM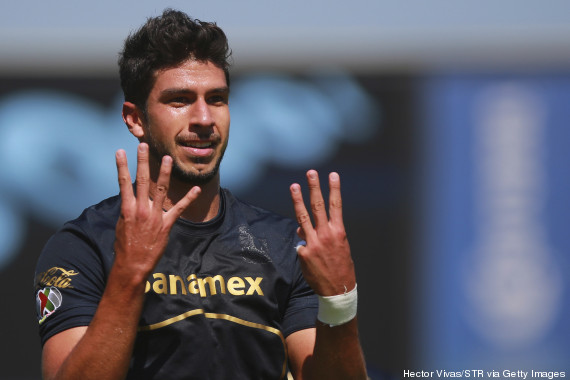 16 - Moscow, Russia
Rusia se une a las protestas por la masacre de Ayotzinapa. pic.twitter.com/Jm7lFQYiis

— compa Víctor Álvarez (@vicmaltor) November 20, 2014
17 - Helsinki, Finland
18 - Fin del Mundo Plaza in San Salvador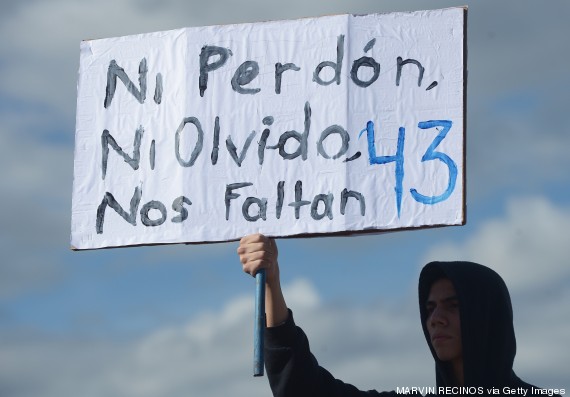 19 - Denmark
Por caso #Ayotzinapa medios daneses se interesan en México: @deviraf http://t.co/aA2ZSw6H68 #AsíVeoMx pic.twitter.com/ifceMsZUwu

— La Silla Rota (@lasillarota) November 20, 2014
20 - Peter Gabriel dedicates a message to 43 missing students.
21 - Mexico City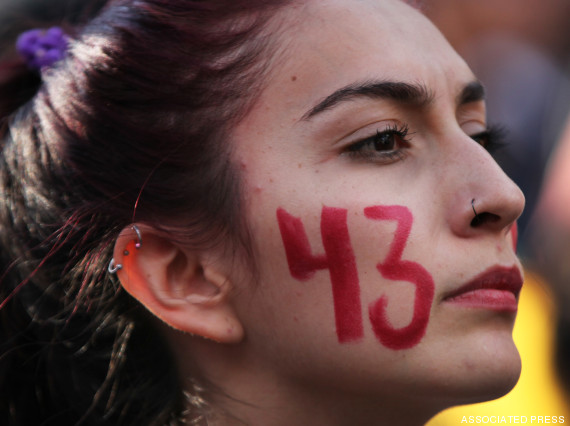 22 - Australia and Thailand
#AsíVeoMx #20NovMx Fotos de @HonchoLopez y @BarbieEco desde Australia y Tailandia http://t.co/hvBtQdtch1 pic.twitter.com/QnGWxVwV3s

— La Silla Rota (@lasillarota) November 20, 2014
23 - New York
Ahora en vivo por el Consulado de México en #NY para los #43 #yamecanse http://t.co/tolXRgaSc1 #Ayotzinapa pic.twitter.com/KwX0OKDDlC

— StopMotionsolo (@StopMotionsolo) November 20, 2014
24 - Acapulco, Guerrero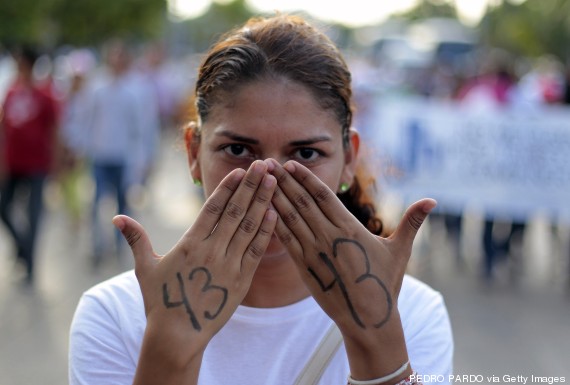 25 - Chile
En #Chile Estudiantes secundarios de la @IzquierdaPopul toman Liceo por #Ayotzinapa #AccionGlobalPorAyotzinapa pic.twitter.com/laE8YV7qw4

— buitre.mx (@albertobuitre) November 20, 2014
26 - Italy
Activistas de Bolonia, Italia, se movilizan por los desaparecidos de #Ayotzinapa #AccionGlobalporAyotzinapa #20NovMx pic.twitter.com/yeHHVSh4uN

— Revolución Real Ya (@RRYrevolucion) November 20, 2014
27 - Czech Republic
Desde la República Checa. #AccionGlobalporAyotzinapa #YaMeCanse pic.twitter.com/QPkds8DuVR

— 132Global (@Global132) November 20, 2014
28 - Panamanian singer Rubén Blades
Rubén Blades rompió el silencio sobre estudiantes desaparecidos en México: #YaMeCansé http://t.co/nxYlA9fsKM pic.twitter.com/s7ytFr0DhT

— KarisewerID (@karisewerID) November 26, 2014
29 - Saúl Hernández, singer of Caifanes
30 - Buenos Aires, Argentina
Women in Buenos Aires Argentina holds a poster (all are ayotzinapa) by 43 students missing in Guerrero. #YaMeCansé pic.twitter.com/TxQJmuv6gv

— Israel T Fuentes (@Israeltfuentes) November 27, 2014
31 - Alejandro Sabella, former coach for the Argentine national soccer team.
Dice Alejandro Sabella, ex técnico de Argentina, que #TodosSomosAyotzinapa. http://t.co/71FlWropmU

— juanfutbol (@juanfutbol) November 27, 2014
32 - Grand Central Terminal, New York
U.S. Latinas share why they stand with #Ayotzinapa. http://t.co/HchEETRmnI #YaMeCanse pic.twitter.com/QCHw57ahaC

— Alanna Nunez (@alannaknunez) November 24, 2014
33 - Guadalajara, Mexico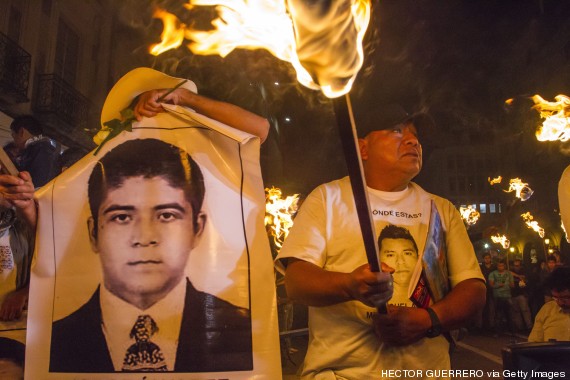 34 - Baja California
Desde Tijuana, Baja California, mural pintado en el Boulevard 2000.
#Ayotzinapa #AccionGlobalporAyotzinapa pic.twitter.com/YVkWpqMlb1

— Proyecto Ambulante (@proamboax) November 26, 2014
35 - Redwood City, California
Redwood City California #20deNov #Ayotzinapa #FueraPeña @molotovmx @RegeneracionMx pic.twitter.com/0iU1MHsHsj

— Mr. Magazo (@Mr_Magazo) November 21, 2014
36 - Rural Isidro Burgos school in Ayotzinapa, Guerrero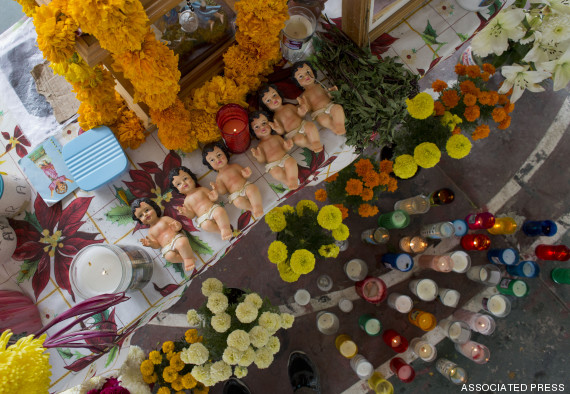 37 - Mom, if I disappear where do I go?
38 - The White House, Washington, D.C.
#Nov20Mx Washington DC solidarity with #Ayotzinapa #YaMeCanse p/v @rafafoso pic.twitter.com/Q9QmzIZtlC

— Revolution News (@NewsRevo) November 20, 2014
39 - The Complutense University of Madrid
40 - Madrid, Spain
RT Kamogama: RT ori_no_co: Hundreds march in #Madrid in solidarity with #Ayotzinapa students ... pic.twitter.com/qSpxAEgASQ

— Noticias Ayotzinapa (@AyotzinapaFeed) November 22, 2014
41 - Chilpancingo, Guerrero, Mexico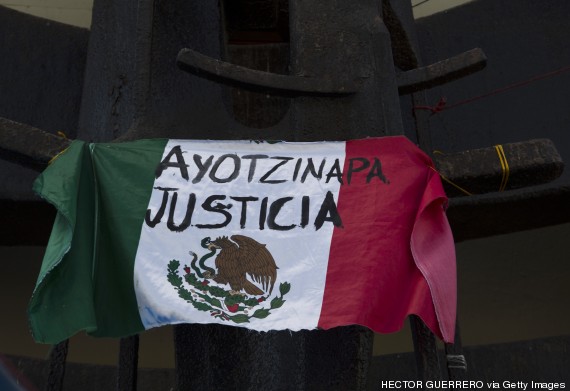 42 - Mexico City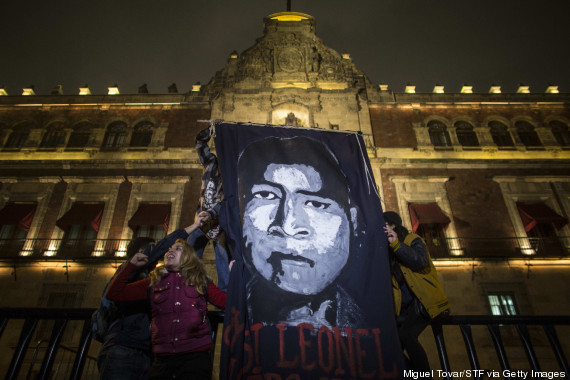 43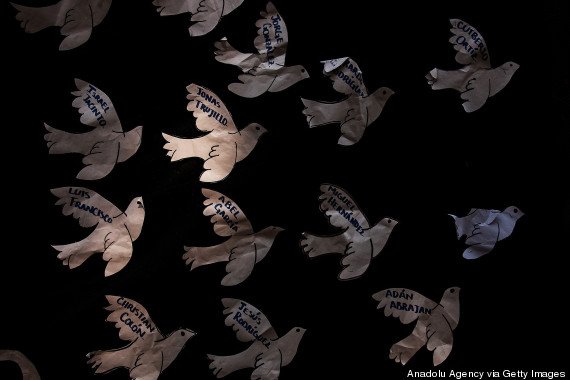 CORRECTION: An earlier version of this article incorrectly described Rubén Blades as Puerto Rican, the singer is Panamanian.