Polling and early voting patterns are bleak for Mary Landrieu in Louisiana. Gallup finds a post election bump in Republican party identification. And a new 2008 2016 poll finds Mitt Romney leading the GOP field. This is HuffPollster for Wednesday, December 3, 2014.
EARLY RUNOFF TURNOUT IN LOUISIANA FAVORS CASSIDY - Scott Bland: "Louisiana's Senate runoff is Saturday, but voters have already been casting ballots, and the early returns look ugly for Mary Landrieu. Early-voting rates are down across the board, in almost every demographic group and almost every parish, compared with the early-voting period before the November all-party primary. But that decline has been most acute among groups the Democrat incumbent needs if she is to pull off a victory against challenger Bill Cassidy. With Landrieu's Senate career on the line, women, registered Democrats, and especially African-Americans were more likely than others to drop out of the runoff's early electorate, according to voting statistics released by the Louisiana secretary of state." [National Journal]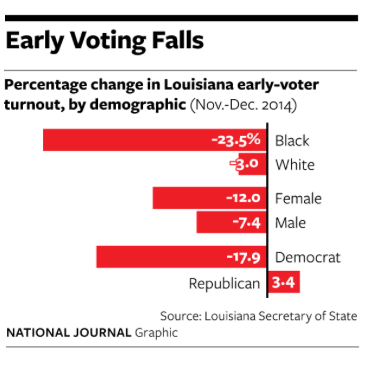 Cassidy expands lead in recent automated polls - Four automated, recorded voice telephone polls -- three conducted either by Republican pollsters or with pro-Cassidy sponsorship -- all give Cassidy double digit leads over Landrieu. The HuffPost Pollster poll tracking model rates the probability of a Cassidy victory in the runoff as a near certainty. [Pollster Chart]
GOP GAINS ON PARTY IDENTIFICATION - Jeffrey Jones: "Since the Republican Party's strong showing on Election Day last month, Americans' political allegiances have shifted toward the GOP. Prior to the elections, 43% of Americans identified as Democrats or leaned toward the Democratic Party, while 39% identified as or leaned Republican. Since then, Republicans have opened up a slight advantage, 42% to 41%, representing a net shift of five percentage points in the partisanship gap. The pre-election results are based on Gallup Daily tracking interviews with 17,259 U.S. adults, conducted between Oct. 1 and Nov. 4. The post-election interviews are based on 12,671 interviews conducted Nov. 5-30. There have been similar "bandwagon" effects for the winning party in the past, including after the 1994 and 2002 midterm elections, when Republicans benefited, and after the 2006 election, when Democrats made gains....It is not clear how long these good feelings toward the GOP will last. That could be influenced by what Republicans do with their enhanced power. While they are unlikely to achieve many of their major policy objectives with a Democratic president in office, how they and the president navigate the key issues facing the nation over the next two years will go a long way toward determining where each party stands heading into the 2016 presidential election." [Gallup]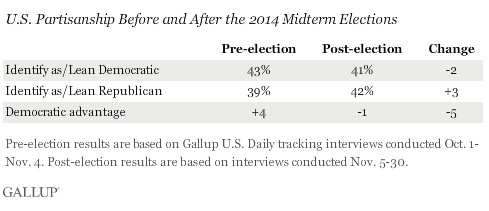 Watch the house effect... - Charles Franklin, pollster for Marquette University Law School, notes via Twitter that Gallup's results include independents who say they "lean" to a party, a measure which he describes as "more volatile" than the initial party question without the "how do you lean" follow-up question. His chart of party identification without the leaners shows that Gallup typically finds a closer party identification result, with more independents, than other live interviewer polls. [@PollsAndVotes]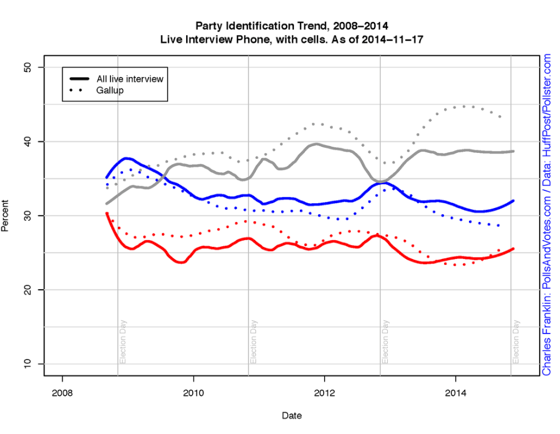 ...but GOP has closed favorability gap - Franklin also notes that the gap between the net favorable rating of the Republican and Democratic party as measured by all national polls has been "narrowing," but remains "underwater" for both parties. "2015 will be interesting," he tweets." [@PollsAndVotes]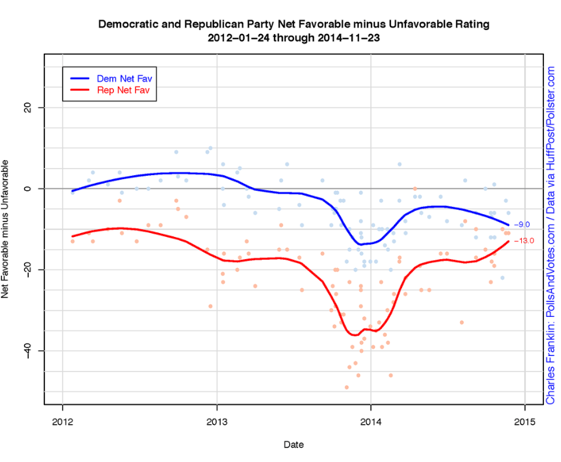 WHY REPUBLICANS SHOULDN'T WANT A SHUTDOWN - Washington Post pollster Scott Clement reports that Republican members of congress "would be very wise to listen to their leaders" who "seem to have ruled out a partial government shutdown" over President Obama's executive order on immigration: "Check out the chart below that uses Washington Post-ABC News polls to track disapproval of Obama and congressional Democrats and Republicans in the fall of 2013. Disapproval of Republicans grew from 63 percent immediately before the shutdown to 70 percent during its first week and 74 percent the following week. Congressional Democrats and President Obama started off with lower negative ratings, and they increased less during that same period. By mid-October, disapproval of Republicans was 13 percentage points higher than Democrats and 21 points higher than Obama. After the shutdown, a separate Post-ABC poll found 53 percent saying that Republicans in Congress were mainly responsible for it, compared with 29 percent who blamed Obama. The results were almost identical to a Post-ABC poll following the 1995-96 partial government shutdown, which found the public blaming Republicans more than President Bill Clinton by a margin of 50 percent to 27 percent." [WashPost]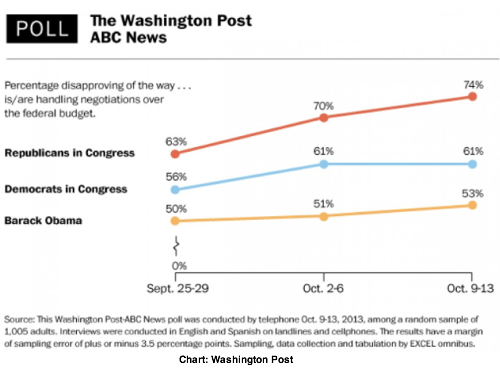 HUFFPOLLSTER VIA EMAIL! - You can receive this daily update every weekday morning via email! Just click here, enter your email address, and and click "sign up." That's all there is to it (and you can unsubscribe anytime).
WEDNESDAY'S 'OUTLIERS' - Links to the best of news at the intersection of polling, politics and political data:
-A new 2016 CNN/ORC poll finds Mitt Romney the GOP frontrunner.
[CNN]
-Aaron Blake lists five reasons Hillary Clinton might not run for president. [WashPost]
-Sean Trende says the economy points to a "reasonably close election" in 2016. [RCP]
-Gallup's U.S. economic confidence index climbs to a 17-month high. [Gallup]
-Philip Bump notes that partisanship is as important as race in driving the political divide over Ferguson. [WashPost]
-The 2014 Senate elections featured the most straight-ticket voting in decades. [538]
-Americans are split on whether presidents should issue executive orders. [YouGov]
-Mark Mellman (D) reviews what polling says about reactions to President Obama's executive action on immigration. [The Hill]
-Pollster Marjorie Connelly announces she will be leaving the New York Times. [@MarjConn]
-Todd Rehm reports on how Republican pollster John McLaughlin helped Gov. Nathan Deal (R-Ga.) win reelection. [Town Hall]
-More than half the 50 states are now reporting official or certified results. [@ElectProject]
-The Roper Center looks forward to its transition to a "new base of operations." [Roper]
BEFORE YOU GO
PHOTO GALLERY
2014 Election Results: Winners & Losers