Look below and you'll see a stunning contemporary photograph by Angela Strassheim, dubbed "Untitled (Janine Eight Months Pregnant)," depicting a nude pregnant woman outstretched on a sofa, currently on view at MOCA Jacksonville.
The Connecticut-based artist is known for capturing transitional life moments in her works, fleeting points that separate childhood, adolescence and adulthood. The portrait of Janine hangs alongside similarly truthful depictions of youth and time's passage, at once extraordinary and mundane.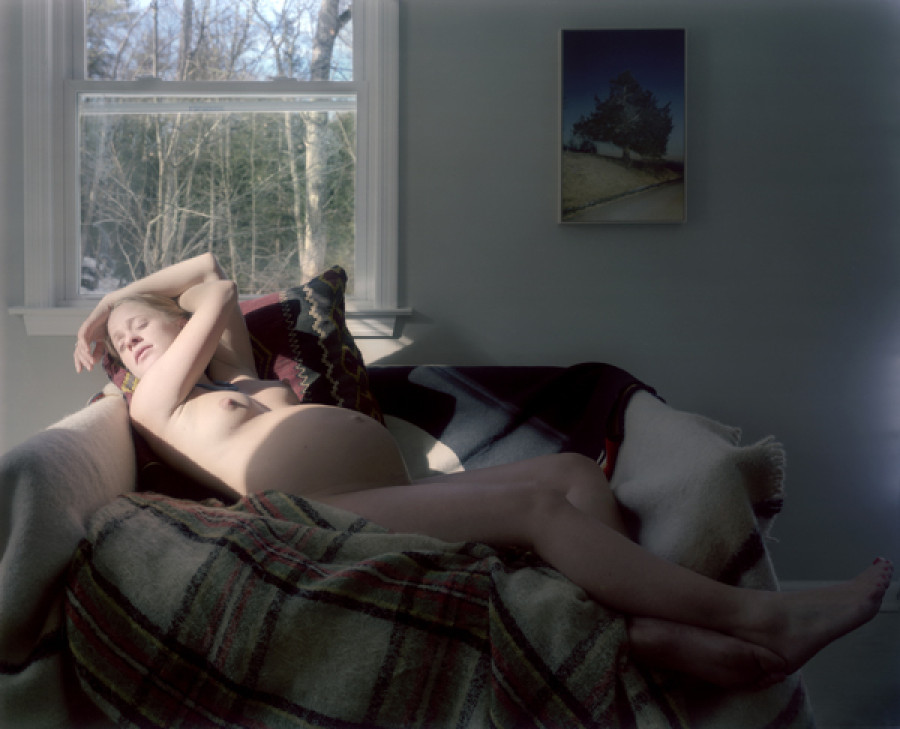 Angela Strassheim: Untitled (Janine Eight Months Pregnant), 2013. 50 x 60 inches. Archival pigment print mounted to aluminum composite board. Courtesy of the artist and Andrea Meislin Gallery. "Project Atrium: Angela Strassheim" installation images at MOCA Jacksonville at the members' preview on Nov. 21. Photos by Thomas Hager for MOCA Jacksonville.
Last week Clay Yarborough, the president of Jacksonville's city council, dubbed the work "pornography," requesting the mayor, Alvin Brown, defund a $230,000 grant given to the museum. In 2014. Yup.
Yarborough specifically objected to the work's prominent placement in the museum's atrium, which must be passed through on the way to Café Nola, the museum restaurant. The implied problem: innocent children unaware of the pains of childbirth will be forced to bear witness to a pregnant lady if they're en route to the restaurant without wanting to visit the museum.
"While we may all differ on the definition of art," Yarborough, a Republican, explained in a statement, "the real question is should an adult and/or children who wish to eat at Café Nola be forcibly exposed to the picture upon entering the public, taxpayer-owned building if they do not wish to see it? As a parent of young children, I support parental choice and believe no parent should be put in the position of having to answer awkward questions that could arise from their child seeing a picture like that."
Strassheim told the Jacksonville Daily Record she was "quite shocked" at the commotion caused by the image. "I see an intimate moment of a nude, very pregnant woman basking in the last bit of afternoon sunlight as she waits for the birth of her child. She is not affected by the cold of winter outside her window."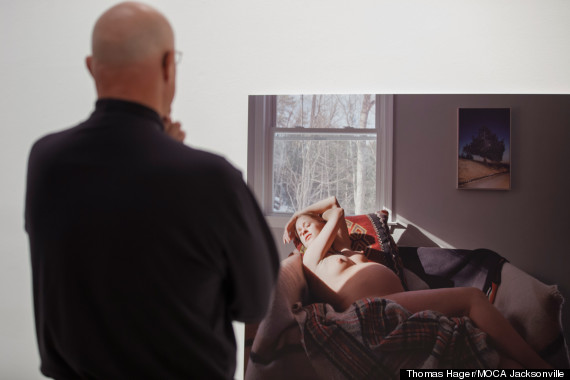 Since Yarborough made his objections to the work public, the reaction has been split regarding the potentially harmful nature of the artwork. The Jackson Cultural Council weighed in favor of Strassheim, saying it "stands ready to defend the artistic and curatorial choices of our cultural service grantees." Added Republican Councilman Richard Clark: "I think we need to support the arts more, not less."
However, Councilman Don Redman, also Republican, felt differently, stating: "I think that a nude body to a young child is pornography, yes."
On Tuesday, December 2, Democratic Mayor Brown responded to Yarborough's request: "After thoughtful consideration of your request and the First Amendment issues involved, I will not seek to pull any of the funding that City Council appropriated to the Cultural Council of Greater Jacksonville in the current budget." He added: "Everybody will have their own opinion but I don't think it's pornography. It's contemporary art."
This is far from the first incident of art censorship sparking controversy, and it's surely far from the last. However we remain hopeful that one day an expectant mother's body won't be deemed explicit by any stretch of the imagination. A protest on Yarborough's stance and rally for the Strassheim's work will take place on December 3 during the monthly Jacksonville Art Walk. Strassheim's exhibition is on view at the Museum of Contemporary Art Jacksonville until March 1, 2015. See more works from the exhibition below.

PHOTO GALLERY
Pregnant Nude Painting Censored
BEFORE YOU GO