A hot tub threesome in Spartanburg, South Carolina got heated with two men scuffling over who is the higher paid escort.
The melee happened early Nov. 30 after Austin Adams, 18, and Michael Gordon, 33, met Douglas Tench, 21, at a gay nightclub, and decided to use the hot tub at a home where Gordon was dog-sitting.
At first, the trio was having a good time "kissing and touching each other."
But the fun ended when Adams and Tench allegedly began discussing their separate careers as escorts, according to The Smoking Gun.
Police said when Tench said he was paid more for his services, Adams reportedly became angry and punched and kicked him.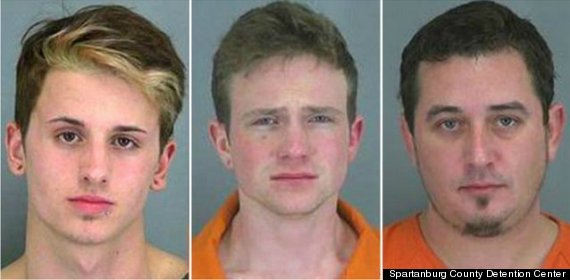 From left: Austin Adams, Douglas Tench and Michael Gordon
Although Adams told police that Tench threatened him with a knife, he was unable to describe it and cops did not find a weapon, according to the New York Daily News.
Gordon managed to separate Adams and Tench, allowing Tench to run to another house and call 911, according to the Metro.
Adams was charged with simple assault while Tench and Gordon were issued summonses for providing alcohol to a minor, CountOn2.com reports.
Like Us On Facebook |

Follow Us On Twitter |

Contact The Author
BEFORE YOU GO
PHOTO GALLERY
Dumb Criminals: Mugshot Gallery