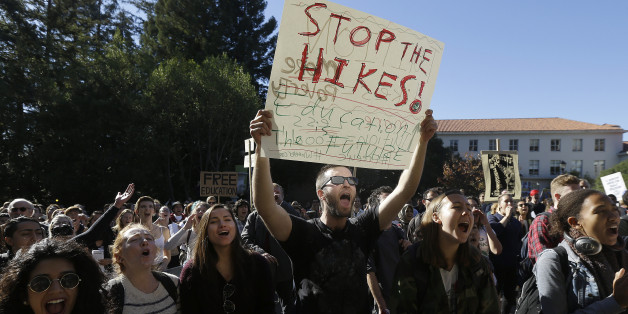 By Sharon Bernstein
SACRAMENTO, Calif., Dec 2 (Reuters) - A group of California lawmakers has proposed gutting a much-touted middle-class scholarship program for students at California's two public university systems, the latest salvo in tense negotiations over funding.
Democrats in the state Senate on Tuesday proposed shutting down the scholarship program and using the money to avoid controversial tuition hikes approved for the prestigious University of California, increasing funding for that system as well as the California State University.
"Today's proposal provides an alternative to raising University of California tuition and fees for California students," said Kevin de Leon, the top Democrat in the Senate, said at a news conference at the state Capitol in Sacramento.
A bill developed by de Leon and introduced by Democratic Senator Marty Block of San Diego would use savings from ending the middle-class scholarship program along with other sources to increase grants and state funding for the two university systems by about $250 million above what is already planned.
It would raise tuition for out-of-state students, using the money to fund more places for California applicants, and offer additional grants to students who graduate in four years.
The bill raised eyebrows in Sacramento, where the leader of the Assembly was a key supporter of the middle-class scholarship program when it passed last year.
Assembly Speaker Toni Atkins, a San Diego Democrat whose plan to avoid the tuition hike would expand the scholarship, said DeLeon briefed her on his proposal, but did not say it would eliminate the scholarship.
"It does concern me," Atkins said. "We just got up and running and gave assistance to more than 73,000 students this last year."
The two university systems have been asking for additional money for the past year, but California Governor Jerry Brown, a fiscally moderate Democrat, has opposed it.
He pledged to increase funding for the systems by 4 percent a year, but only if tuition is frozen.
In a move widely seen as a challenge to Brown, UC President Janet Napolitano released a plan, approved last month by the Board of Regents, to raise undergraduate tuition by 5 percent annually for five years if the state does not increase funding by $100 million over Brown's pledge.
Napolitano praised de Leon's proposal, calling it a "promising first step" while declining to comment on the details.
Brown declined to comment, saying he would release his budget plan in January. (Editing by Eric Walsh)
BEFORE YOU GO
PHOTO GALLERY
People Who Paid Off Their Student Debt Super Fast