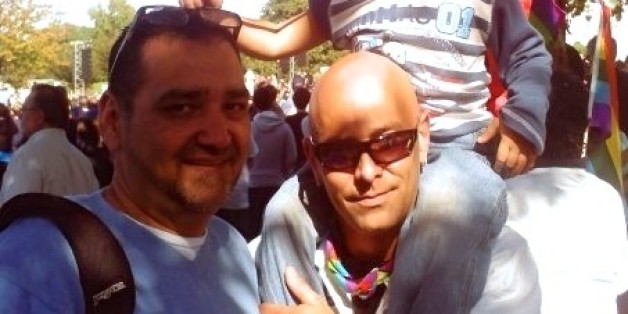 Today's "Let Love Define Family™" series installment is written by RaiseAChild.US contributing writer, David Humiston of Pittsburgh, Pennsylvania. Here is David's special story about a recent visit with an old school friend and his surprise to find the two-dad family living peacefully in a very small town.
In rural Pennsylvania they still give school days off to hunt whitetail deer, the local Wal-Mart is a hub of activity and fathers forbid their sons from playing soccer because it's not a man's game. Small-town charm and neighborliness notwithstanding, it's not the type of place you expect to see Dennis Biancuzzo and Gary Hornbeck, partners of 14 years, running a bar/restaurant and jointly raising an adopted son.
I stopped by Dennis and Gary's place on a stretch of road between Curwensville, population of about 2,500, and Grampian, Pennsylvania. Curwensville is one of those one towns with one traffic light, tucked into the hills of former lumber and coal country that speaks more of fading glory than future promise. Dennis and Gary's bar/restaurant, the Place of the Rocks Roadhouse, is somewhat of a local mecca for good food. Dennis makes the pasta by hand, most of the recipes are hand-me-downs from his Italian roots and he has published several cookbooks featuring his departed mother's recipes. Place of the Rocks is also the only place within hundreds of miles known to host entertainment that includes riotously popular drag queen shows -- an anomaly in a place where pool, darts and wing nights are the major draws.
Having spent most of my youth in a nearby town -- I have known Dennis since third grade -- I remain pleasantly but still cautiously surprised at the overwhelmingly positive support for this hotspot and the couple who own it and together raise a bright and engaging son, Gary Jr., or "Little Gary" as he is sometimes called. Little Gary was given the name Patrick at birth, but at his own request had it changed during the adoption process to honor one of his soon-to-be fathers.
Empathetic and committed to responsible social stewardship, Dennis and Gary first took in troubled teens, acting as foster parents for many years. They still consider themselves open to more foster parent options. While fostering, Gary, in particular, longed to raise a younger child. The two of them already had a strong connection with Little Gary -- he is the son of Dennis's biological daughter and Dennis was a frequent babysitter/caretaker. Little Gary's biological father had spent some time in jail and his biological mother got caught in the trap of drug abuse. Dennis and Gary did their best to shield Little Gary from the worst of things, and so it was no surprise really when Gary, the more excitable of the pair, began asking the quieter Dennis to consider adoption. Because of their foster parent roles, both men had an ongoing relationship with the courts in Harrisburg where they lived at the time. Dennis had enough previous paralegal training that he was able to complete all of the necessary paperwork by himself. Dennis told me that even though he and Gary were readily accepted in rural Central Pennsylvania, the adoption process would likely have been a good deal more difficult there and he was fortunate to have started it in Harrisburg.
Despite the fact that same-sex marriage became legal in Pennsylvania in 2014, Dennis and Gary remain unmarried partners. They opted for a single guardian adoption, choosing Dennis as the legal guardian, and have not chosen to bother with pursuing the secondary adoption. Both feel the process is not necessary for them at this point, as Gary is already biologically related to the boy. They have been committed and content to just have Little Gary in their lives permanently.
Little Gary is prematurely wise and somewhat tenderhearted for a boy of only nine. As Dennis told me, "At his age, his willingness to care and be socially aware is something I'm proud of." No doubt the issues he has faced and the plain-speaking and open-hearted manner in which he is being raised contributes to his social gifts. He recently gave money he had brought to school for his own use to a classmate who wanted to buy books but could not afford them. His elementary school principal sent a letter home praising Little Gary's kindness and lauding his proud parents for raising such a fine boy.
Living just above the bar/restaurant in the nicely furnished second floor apartment, Little Gary's exposure to his parents' work and social environment seems to broaden his perspective on people and on human interactions. The family does wish there was more time to connect him with friends his own age and they wish the business did not get in the way of their own family time, but these are not uncommon desires for rural homeowners or for families with two working parents. Little Gary does sometimes pine for his biological sister whom he wants Gary and Dennis to adopt so that they can all be together.
So, how is this idyllic arrangement possible in a town where old prejudices die hard and locals at the bar are still scolded for using the "N" word and asked to leave if they won't? Well, believe it or not, there are few issues. Dennis and Gary contribute to all of the local charities and even host a number of charity events themselves. Dennis recently led a section of the Halloween parade at Little Gary's elementary school and noted, "I was just another parent there. One person recognized my face but couldn't place it until they came back into the restaurant and saw me again." The "live and let live" mantra seems readily acceptable to most citizens there, young and old. There are some who have told Dennis that, while they like him and they would love to try the food at Place of the Rocks (everyone does rave about it!), their religion keeps them from coming. But still, the dialogue and the feeling is promising, and I can only attribute it to the shear likeability of this couple and their son. While I expressed my concerns to them, I am very pleased that Dennis and Gary have been roundly welcomed and continue to bend the expectations of the local citizens. A fellow bar patron told me on the day that I visited that she has heard some say that they "never much cared for gay people, but those boys up there are alright." Indeed.
Tonight, Wednesday, December 3rd, RaiseAChild.US is hosting a free event for prospective foster and adoptive parents at The Ricardo Montalbàn Theatre in Hollywood, CA. RSVP and information at www.RaiseAChild.US. We hope you will join us and learn about the advantages of building a family through fostering and adoption.
RaiseAChild.US is a national organization headquartered in Hollywood, California that encourages the LGBT community to build families through fostering and adopting to serve the needs of the 400,000 children in the U.S. foster care system. Since 2011, RaiseAChild.US has run media campaigns and events to educate prospective parents and the public, and has engaged more than 2,500 prospective parents. For information about how you can become a foster or fost/adopt parent, visit www.RaiseAChild.US.
PHOTO GALLERY
Dennis & Gary