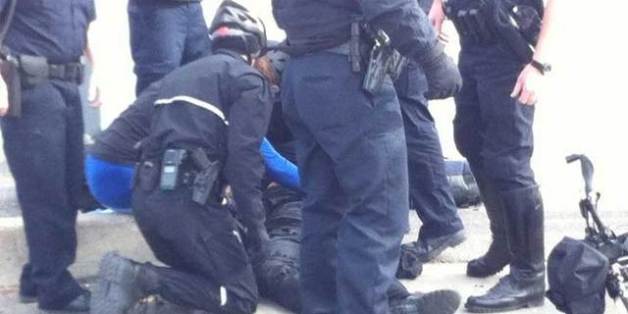 A bloody scene unfolded at a Ferguson protest in Denver Wednesday after a car drove up on the curb and hit four police officers.
Four mangled bicycles littered the north side of Colfax Avenue between High Street and Williams Street, where the car struck the officers. The Denver Post reported that a nurse on the scene was covered in blood, and a wide area was cordoned off by police.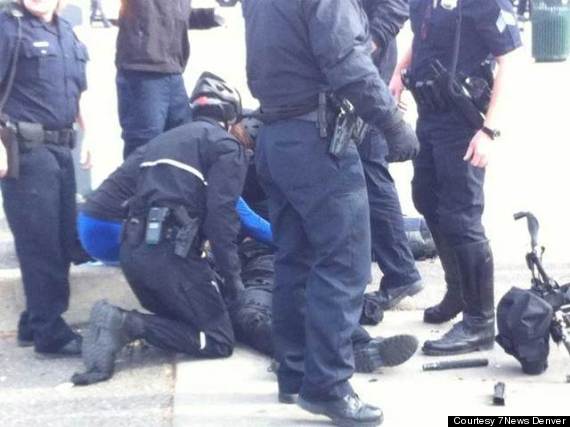 A Denver police officer on a bicycle was hit by a motorist while escorting East High School protesters on Colfax Ave. on Wednesday, December 3, 2014 (Photo courtesy 7News)
The cops were taken to a local hospital with injures following the incident, and one of them was listed in serious condition. Two have since been released. The Denver Police said that the driver of the car experienced a medical emergency.
UPDTE: One officer in critical condition in surgery now, 1 in stable condition, and 2 released from hospital. #Denver

— Denver Police Dept. (@DenverPolice) December 3, 2014
#BREAKING UPDATE: Around 12PM, while assisting w/a march, 4 officers were struck by vehicle. Driver experienced medical emergency. #Denver

— Denver Police Dept. (@DenverPolice) December 3, 2014
The incident occurred during a demonstration by high school students protesting the decision not to indict Ferguson police officer Darren Wilson in the death of Michael Brown. The cops who were hit by the car were among those escorting students from East High School down Colfax Avenue.
At least four Denver Police officers are hurt after being hit by a car while escorting Ferguson protesters today. pic.twitter.com/HtdxvHkbXH

— NewsRadio 850 KOA (@850KOA) December 3, 2014
Students on the move again, protesting #Ferguson. They're headed toward Colorado's capitol. http://t.co/0xdCUrOcVh pic.twitter.com/GMpKxhj93R

— 7NEWS Denver Channel (@DenverChannel) December 3, 2014
Jerald Adams, who was walking with the protesters, told the newspaper that a black Mercedes drove onto the sidewalk and struck the officers. Adams said it looked like the driver was targeting the officers.
The car then crashed into a Taco Bell just beyond where it struck the officers.
More protests are expected tonight following a grand jury's decision not to indict NYPD officer Daniel Pantaleo in the death of Eric Garner, a black man who died after Pantaleo put him in a chokehold.
This is a developing story.
Like Us On Facebook |

Follow Us On Twitter |

Contact The Author