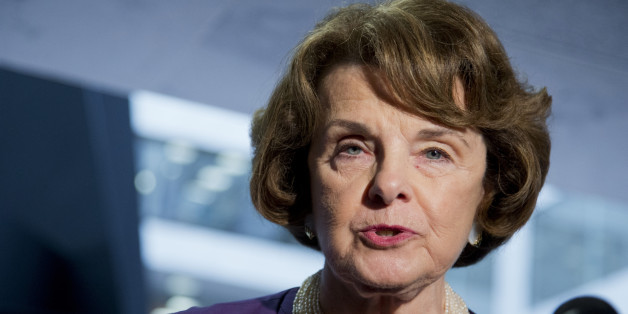 WASHINGTON -- It may be the 11th hour, but it looks like the intelligence community can breathe a sigh of relief: The nation's spies will likely get themselves a 2015 funding bill before the Senate leaves Washington for the holidays.
"I think we've cleared all the problems," said Sen. Dianne Feinstein (D-Calif.) on Wednesday. The outgoing Senate Intelligence Committee chair added that she expects the measure to pass the Senate before the upper chamber departs from Capitol Hill, probably next week.
The intelligence authorization bill is just one in a heaping pile of mundane but annually imperative funding measures that Congress neglected to confront during the last 11 months of this session. Lawmakers are scrambling to push these out the door by the end of next week. In the wake of heftier appropriations bills -- including the overall funding package that keeps the government open -- quieter appropriations like the intelligence bill have appeared to take a backseat.
The office of Senate Majority Leader Harry Reid (D-Nev.) confirmed that the intelligence authorization bill was moving through the upper chamber and had been sent around to Senate offices. The House has already passed its intelligence funding bill for 2015.
The annual authorization bill is generally considered the only true leverage that lawmakers hold over the intelligence community, shielded as it is by classification boundaries and state secrets. Pulling on the purse strings, Congress can publicly convey its approval or disapproval of covert leaders and agencies.
This year's funding bill illustrates use of that leverage, linking the intelligence community's funding to new rules governing the massive collection of Americans' communications data by the National Security Agency and others. A primary provision of the bill, which passed Feinstein's committee in July, orders the nation's spies to adopt new guidelines in handling Americans' information and requires the agencies to dump any data that does not fall into certain specific categories within five years.
The new rules will also require intelligence community leaders to present a solid case to Congress if and when they determine that the data should be kept longer than five years.
Other provisions slipped into this year's bill include one encouraging the White House, along with NATO, to assist Ukraine in intelligence efforts and another requiring the U.S. director of national intelligence to brief Congress on political prison camps in Ukraine.
Feinstein has been able to pass an intelligence authorization bill through her committee and Congress every year since taking the reins of the Senate panel in 2009. It appears she'll end her tenure with a full sweep.
BEFORE YOU GO
PHOTO GALLERY
U.S. State Capitol Buildings