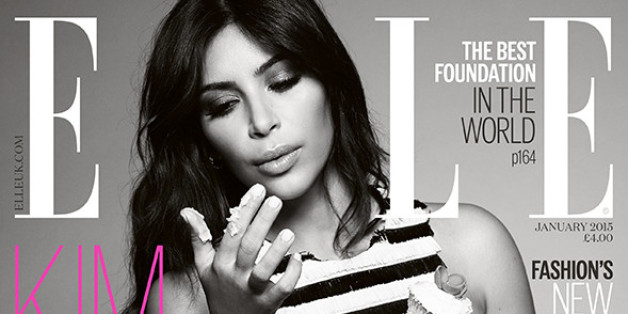 Back in September, Kim Kardashian was one of the many celebrities to fall victim to hackers who leaked private nude photographs online.
Today, as she graces three different covers of Elle U.K. for its Confidence issue, the 34-year-old reality star speaks out about the stolen photos for the first time.
"I feel violated because these are private pictures. I didn't choose for them to be out there," Kardashian told the magazine. "But I'm also realistic. I'm on covers of magazines practically naked, so I can't go crazy about it. The only choice I can make is to not let it shake me up. I'm not having that choice taken away from me."
Indeed, Kardashian has taken her clothes off for the cameras on occasion. Perhaps you recall her recent attempt to "break the Internet," with a full-moon Paper magazine cover, and full-frontal photo spread.
"I did it as an art project that was going to make me feel confident and feel good. And it taught me to do what you want to do," Kardashian said. "Everyone should do what they they are comfortable with, and I'm never one to preach, but I felt really positive and really good about myself."
Kardashian has taken a lot of heat for posing nude, but her choice to do so seems like a celebration of her body confidence.
"It's taken me a long time to be happy with my body and for my confidence to grow to what it is today. I grew up when the body to have was the tall, slim, supermodel one, like Cindy Crawford's. No one looked like me. It's good to break the mould and recreate one," she told Elle U.K. "I'm an Armenian girl, I have shape, and it turned out people liked that. That makes me feel good about myself and about other women for being so supportive. I am a confident woman, but I didn't just arrive confident -- it has built over the years and that is a big part of who I am now."
For more with Kim Kardashian, pick up a copy of Elle U.K., on newsstands Dec. 4.
BEFORE YOU GO
PHOTO GALLERY
Kim Kardashian's Hottest Moments