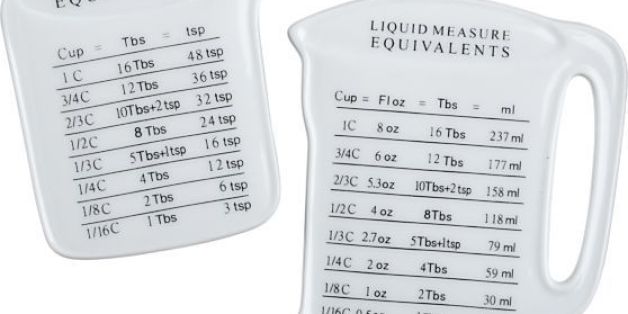 The holidays are a time for joy and excitement. It's the season for loads of sweets and extravagant gifts. But no matter how much the loved one in your life wants a diamond necklace or the latest iPhone, what you should really give them is a kitchen conversion magnet. We know what you're thinking: HOW BORING.
You are not wrong, these magnets are boring. They embody the very essence of dullness. But they're also 100 percent practical, which means they will be the most used gift you've ever given, which in turn -- one day -- will mean that they are the most appreciated. Which eventually will mean that the kitchen conversion magnets are actually the best gift ever given.
Yes, these practical magnets will go down in gifting history. They will be one of the rare gifts that stick around longer than a year -- their use can even span multiple decades. Because, think about it: these magnets mean the end of grabbing a smart phone with dirty fingers to look up how many tablespoons are in a cup when in the middle of a recipe. These boring ol' magnets will be waiting on the fridge in plain, simple, practical sight to tell the world that there are in fact 16 tablespoons in a cup.
And that's why kitchen conversion magnets are the best holiday gift that nobody knows they want. Also, they're cheap. You can get cute ones (pictured above) from Crate and Barrel for $8.95 or check out Amazon for tons of other options. If stainless steel fridges (and their hatred of magnets) are an issue, Etsy has some great prints (like this one and this one) with the same info that can be framed and hung in the kitchen.
Want to read more from HuffPost Taste? Follow us on Twitter, Facebook, Pinterest and Tumblr.
BEFORE YOU GO
PHOTO GALLERY
Cooking Gifts For Kids