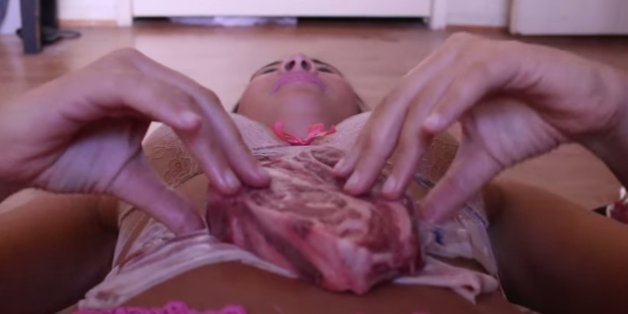 In 1964, artist Carolee Schneeman stripped down to her undies with a bunch of similarly dressed individuals and engaged in what can only be referred to as a meat orgy. The piece, called "Meat Joy," was excessive, erotic, joyful and grotesque. Naked flesh cavorted with raw fish, chickens, sausages with wild abandon. The piece was, for many, a revelation in sexual liberation.
In 2014, we have "Meat Beat." It's a YouTube video in which an unidentified woman clad in lingerie proceeds to go all "STOMP" on her body parts with the help of some raw butchery. It's as impressive as it is horrifying.
We're not sure when or how exactly one stumbles upon such a talent, and we can't exactly say we want to know either. But we can't help but think this bizarre YouTube gem may be the "Meat Joy" of the internet age, or something. Take a look at the video above and let us know if you're moved to tears or slightly nauseated in the comments. You're welcome -- or we're sorry -- depending on your reaction.
BEFORE YOU GO
PHOTO GALLERY
Art History's Most Erotic Artworks