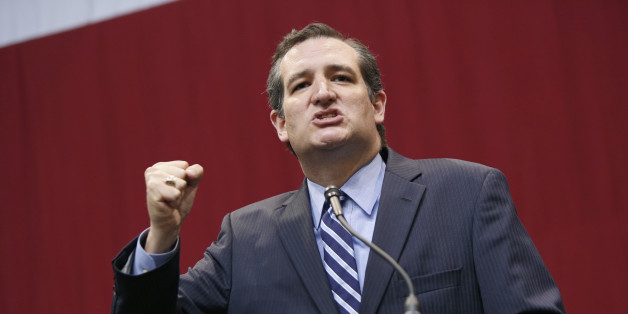 WASHINGTON -- Republicans who vote to fund the Department of Homeland Security without measures to end the president's executive actions on immigration are betraying their principles and their oath to uphold the Constitution, Rep. Steve King (R-Iowa) said Wednesday at a press conference-turned-rally outside the Capitol.
"We're presented with this proposal that we ought to fund the president's lawless, unconstitutional act," King said.
"No!" people in the crowd yelled. "Shut it down! No!"
"I can look at this thing as I have throughout the Thanksgiving break and try to conclude how it is that anybody can step into the House or the Senate chambers January 6 and take an oath to uphold this constitution ... having voted to fund the president's lawless, unconstitutional act," King continued. "That crosses a line that can't be tolerated. And anybody that would vote to fund it can't sincerely take this oath next January."
King was joined at the hourlong press conference by Sen. Ted Cruz (R-Texas) and Reps. Michele Bachmann (R-Minn.), Louie Gohmert (R-Texas) and Tim Huelskamp (R-Kan.). They began with a rather political prayer -- "We are rapidly becoming a lawless nation," Pastor Dan Cummins from Bullard, Texas, said during it -- and were surrounded by riled-up protesters holding signs about Obama's actions. "Obama is NOT an emperor," read one, with the words flanked by crossed-out pictures of Obama with a crown Photoshopped on his head. "Stop Obama's 'New Democrat' Voter Order," read another sign. A man dressed as a Revolutionary War soldier held a sign reading "Obama CANNOT Make Law, Obama MUST Uphold and Enforce Laws."
All of the speakers agreed that Obama lacked the authority to take the executive actions on immigration that he announced last month, which could lead to deportation relief for up to 5 million people.
Their fellow Republicans agree with that point as well. But at issue is how they should go about blocking it, and whether it's possible to do so now or better to leave those efforts until Republicans take control of the Senate in January.
House Republican leadership appeared on Tuesday to be leaning toward a two-part plan: a bill to fund the Department of Homeland Security until March and a separate vote that would voice disapproval of Obama's immigration actions. Such a move would be an acknowledgment that, for now, with the Senate still led by Democrats, efforts to defund or otherwise block the immigration programs aren't likely to make it to the president's desk (where they would almost certainly be vetoed anyway).
The House Rules Committee, which sets the ground rules for debate on a bill before it hits the House floor, will meet Wednesday afternoon to work on a bill from Rep. Ted Yoho (R-Fla.) called the Executive Amnesty Prevention Act of 2014. That legislation could give House Republicans a chance to vote against Obama's new policies, and keep the issue separate from government funding.
But a group of conservatives is attempting to derail the two-part approach, saying any funding bill for DHS absolutely must include language blocking the immigration executive actions.
Cruz said at the press conference that Republicans need to remember they told their constituents on the campaign trail that they would block Obama's actions.
"Do what you promised," he said. "And doing what you promised doesn't mean, as it so often does in Washington, sending a really stern letter and having a meaningless show vote."
King told reporters after the press conference that he didn't have an exact count of members who agree that such a measure must be included, but said he thinks it could be as many as 50.
The irony, though, is that if enough GOP members refuse to vote for government funding for DHS, House Republican leaders could turn to Democrats for help getting the bill passed. That could run the risk of taking legislation to the left -- something conservatives certainly do not want.
King said, though, that it is a risk they might have to take in standing up for their values.

"We have a constitution to defend, and that doesn't allow for negotiating," he told reporters after the press conference. "It's a matter of principles."
BEFORE YOU GO
PHOTO GALLERY
11 Ways Immigration Reform Helps The Economy