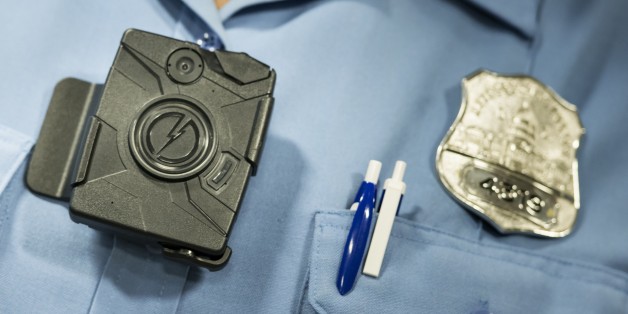 Following news that the Chicago Police Department will soon be outfitting some of its officers with body-worn cameras in a pilot program, and President Barack Obama pushing for federal funding to purchase thousands of cameras for officers nationwide, some have heralded such initiatives as a possible fix to police violence.
Others, however, aren't too convinced -- particularly in light of a grand jury's decision not to indict New York City police Officer Daniel Pantaleo, who placed 43-year-old Eric Garner in a fatal chokehold that was caught on video in July.
Monica Trinidad, a 28-year-old member of the We Charge Genocide activist group, remains skeptical of the impact of Chicago officers wearing cameras.
"This disregard for Black lives is systemic and cannot be solved by officers wearing cameras, as we clearly saw today," Trinidad said in a statement Wednesday, following the grand jury decision in the Garner case. "Body cameras will not stop Black people from being tragically killed by police officers, and will sadly only give us more horrific footage to view, and more evidence that power needs to be taken away from them."
One issue with the use of body cameras in Chicago and other police departments, Trinidad said, is the question of who will store and review the footage. Trinidad fears that, without a truly independent mechanism employed to fulfill such duties, the footage could be altered, destroyed or otherwise not properly stored.
Chicago Police Superintendent Garry McCarthy offered little detail on the pilot program when he discussed it Monday. Key details have yet to be ironed out -- specifically the storage issue -- but the Fraternal Order of Police union is already on board. The program, which was first publicly discussed in early September following the fatal shooting of 18-year-old Michael Brown, is not set to begin until some 60 days from now.
News of the body cameras comes at a tense time at the Chicago Police Department, which has continued to face community criticism over its long history of abuse allegations, a "code of silence" and a deep-seated culture of complicity when it comes to misconduct that often targets black victims.
On Wednesday, Chicago police Detective Dante Servin appeared in court on charges connected to the fatal shooting of Rekia Boyd, a 22-year-old unarmed black woman. When Servin's trial begins in January, it will mark the first time in more than 17 years that a CPD officer is tried for a shooting death.
The news also comes following the United Nations Committee Against Torture specifically calling out the department in its latest report on U.S. state violence.
"The Committee is particularly concerned at the reported current police violence in Chicago, especially against African-American and Latino young people who are allegedly being consistently profiled, harassed and subjected to excessive force by [CPD officers]," the UN report read.
Craig Futterman, a clinical professor of law at the University of Chicago Law School and founder of the school's Civil Rights and Police Accountability Project, noted that given the "pervasive distrust" that exists between communities of color and the police in Chicago, body cameras will not be a "panacea" solution to that problem.
Their success, Futterman told The Huffington Post, will depend on how the cameras are actually put to use in the field. In a best-case scenario, he sees them as one tool toward rebuilding community trust, protecting officers who are doing their jobs correctly and helping police leadership train and supervise the force, learning from what makes everyday police interactions with the public go well and what makes them go poorly.
"If they indeed use the cameras in accountable ways that can be effective and will help build trust and confidence," If they don't, it's yet another tool that costs a heck of a lot of money and doesn't do any good. It's a waste of time if it's nothing more than a PR plot that's designed to alleviate public pressure at a time of crisis."
The Chicago Police Department did not respond to a request for comment for this story. A department spokesman said last month that the number of misconduct complaints they received were down 18 percent this year, compared to the same time last year, and that police-involved shootings in Chicago were "on pace" to decrease for the third year in a row.
BEFORE YOU GO