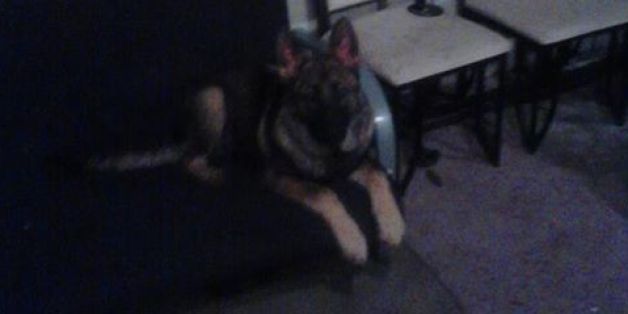 A German shepherd was killed last week while saving his human family from gunfire in a road rage-shooting.
Witness Hobart Austin was a passenger in a car driving in Atlanta on Friday afternoon when another driver almost hit the vehicle he was in, according to the Atlanta Journal-Constitution. Austin told police he and the other driver then got into an argument that escalated into the other driver whipping out a gun and opening fire.
The shooter missed Austin's vehicle and hit a nearby SUV driven by Kidon Martin, who had his wife, three children, and dog with him. At least three bullets hit the back of the SUV, with one going directly into the back seat, NBC 11 reports.
Martin's dog, a German shepherd named Noah, jumped in front of the family to protect them and took a bullet in the neck in the process.
"The dog took the bullet for the kids so the kids would be safe," a witness told NBC 11.
Noah then leapt from the vehicle and chased after the shooter before collapsing and dying of his injuries.
Martin posted a tribute to Noah — and a graphic photo of the dog's injuries — to Facebook on Saturday:
"Click to reveal image (WARNING: Image may be disturbing)"
The shooter, who police say was driving a gray Ford Taurus, has still not been located. Anyone with information can call 404-577-TIPS (8477) or visit www.crimestoppersatlanta.org
Like Us On Facebook |

Follow Us On Twitter |

Contact The Author