If you ever happen to have both a Ferrari and a wakeboard sitting around, we beg you to not try this at home.
While holding a rope tied to the spoiler of a Ferrari F50, Jorge Gill -- a 19-year-old professional wakeboarder from London -- was towed down a rural roadside waterway at top speeds reported at 84 mph, according to the Lincolnshire Echo, a local paper for the county where the stunt took place.
Gill's ride ends when he appears to hit a muddy bump, causing him to skid across the shallow water. A camera attached to his person captures the sound of him giggling underwater, which makes the wipeout seem a little less painful.
The stunt, filmed by Tax the Rich, a YouTube channel that produces "supercar footage in the most unlikely manner," caught the attention of the Lincolnshire police in England, where the filming took place. The video, according to a police spokesperson, is currently being investigated by a traffic sergeant. "This is not something we can look at and make an immediate decision," the spokesperson told the Echo.
With everything that could've gone wrong, we're glad to see that the world champion wakeboarder walked away from the high-speed stunt relatively unscathed. He even posted this awesome photo to his Instagram: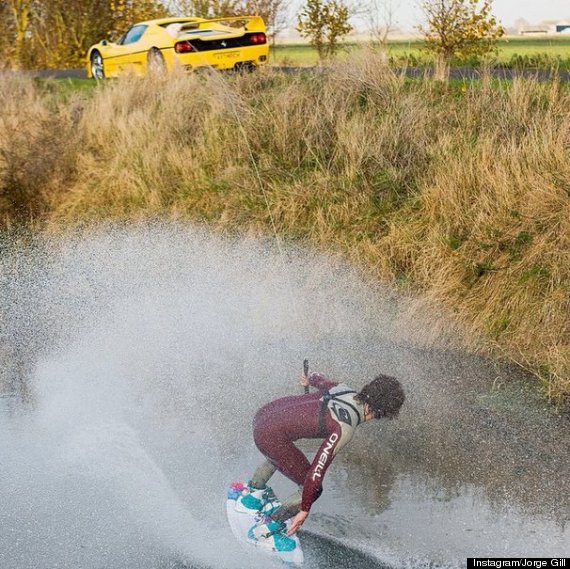 H/T Daily Mail
BEFORE YOU GO
PHOTO GALLERY
Wooden Ferrari Boat Takes To The Seas