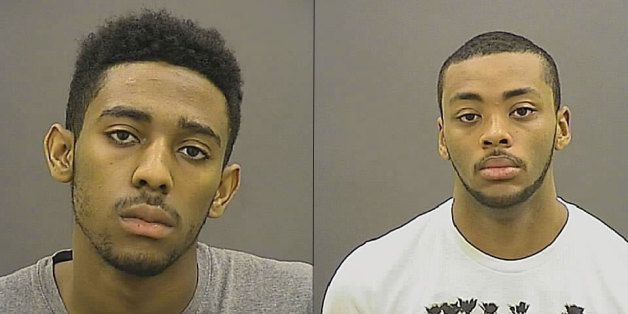 Baltimore police said Wednesday that two men have been arrested for the alleged rape of an underaged teenager at a Johns Hopkins University fraternity party in November.
Chaz Haggins, 20, and Ethan Turner, 19, are charged with the rape of a 16-year-old girl at a fraternity party on Nov. 2, according to police. Both men are accused of rape in the first and second degree, and conspiring to commit rape, in addition to other sexual misconduct charges.
The victim reported that during a party at Sigma Alpha Epsilon, the two males raped and sexually assaulted her while she was in the bathroom.
The minor called police after the alleged attack and went to the hospital where she was tested with a blood alcohol level of 0.11. She later identified Haggins and Turner as the suspects, police said.
Police announced the arrests on Dec. 3, and said both men are being held at the Baltimore City Detention Center without bail. Neither is a JHU student.
The university said in a statement that it's pledging its full cooperation with police, and has initiated its own investigation of the fraternity based on reports of underage drinking and other possible violations of university policy. SAE is currently on interim suspension. The chapter did not return request for comment.
"We also have been working with the leadership of all Johns Hopkins fraternities to implement their interim plan for enhancing the safety and well-being of attendees at their social events," said JHU spokesman Dennis O'Shea in a statement. "Our Intrafraternity Council has done good work in responding to this issue."
Following the alleged rape at SAE, fraternities agreed to make parties invitation-only.
JHU is one of 88 colleges and universities under federal investigation for potential Title IX failures related to sexual violence. The university came under scrutiny after it was first revealed by The Huffington Post that it knew about an alleged gang rape at another fraternity, Pi Kappa Alpha, but did not inform students, even as the house continued to hold parties. The university has since pledged to improve how it responds to acts of sexual violence on campus and among students.