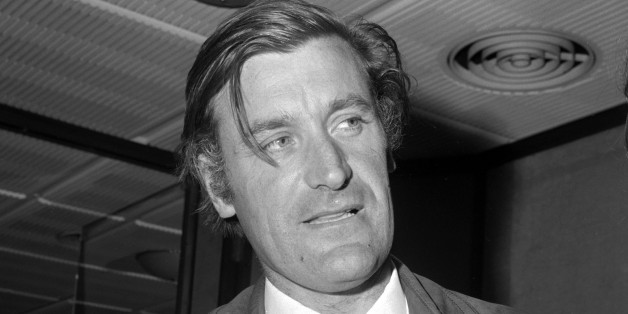 Ted Hughes was both the husband of Sylvia Plath, the beloved poet and author of The Bell Jar, and an important poet in his own right. Their marriage crumbled shortly before Plath's tragic suicide in 1963, but their literary and romantic partnership remains iconic; it produced two children and fostered both of their writing careers. After Plath's death, Hughes became her literary executor, overseeing future editions of her work, as well as continuing his own remarkable career until his death in 1998.
This month, Hughes' brother Gerald has published a memoir, Ted and I, recalling their boyhood together and his perspective on the poet Hughes became. Now residing in Australia, Gerald Hughes spent much of his adult life across the world from his younger brother, but the childhood vignettes and excerpts of letters exchanged throughout their lives offer a domestic view of the famous, and sometimes controversial, poet. Below, we've excerpted a passage of the new book, in which Gerald Hughes looks back on Ted and Sylvia's move back to England and the birth of their daughter, Frieda:
Ted was hankering after a return to England, where he now had a growing reputation following the publication of his first book, The Hawk in the Rain. Apart from his literary life, he clearly missed his family and wrote regularly to our parents –- urging me also to do the same and give them lots of news. Sensitive as always, he told me, "When you write, make sure you include Dad in your audience. He doesn't write, I know, but he's very hurt if the letter's directed to Ma, and in answering her letters one tends to write to her only. But she's writing for him. Don't forget."
Ted and Sylvia, who was now pregnant, left America in December 1959 on the Queen Elizabeth and arrived back in time to join our family for Christmas. How we would have loved to have been there.
With the birth of their daughter Frieda imminent, Ted and Sylvia were glad to find a flat near Regent's Park in London, tiny though it was. It was a wonderful spring for Ted -– his first book winning the Somerset Maugham Award and his second volume of poems, Lupercal, winning the Hawthornden Prize. This book also received a rave review from the influential critic A. Alvarez in The Observer. As always, we received copies, signed and with a warm note included, with cryptic poems. For Ted and Sylvia, the arrival of Frieda, born on I April 1960, set the seal on a perfect homecoming.
From Sylvia, a little while later, came a joyous account of Frieda's early months, included with a letter from Ted ("Ted had already sealed up your letter in his secretive way, but I made him open it again to let me gossip for a bit"):
The baby is so funny –- singing, making faces, cuffing her teddy bears, giggling at our oafish attempts to amuse her. I put her on 3 meals a day at 5 months, so feel to have acres of time now that the 6.10.2.6.10 schedule is over. She eats like a pig. Following after her ma. Her eyes are an astounding blue, which neither of us gave her: she gets it from her two grandfathers. Already little boys hang around her carriage acting up for a smile. Every time I leave her to go inside a shop I find somebody or other kootchy-kooing over her and she looks out at everybody and is very curious.

This afternoon I took her on one of my favourite walks in Regent's Park by the Scotchman's Zoo –- where you can see a lot of animals without having to pay to go in. I attracted a large white camel from the zoo-goers at the opposite outdoor cage by making sly squeaking noises and got the camel bending over Frieda's carriage eating grass from my hand: she was amazed and amused. I think she thought it was Ted in an overcoat.
Her letter was not all delightful baby talk and included reference to a play Ted had expressed self-doubts about in his letter: "Don't believe a word Ted says about his one-act play,' she wrote. 'The play is superb... full of brilliant, colourful, speakable poetry. Some of the scenes are killingly funny."
Clearly her mind, like Ted's, was back in the literary world and her letter concludes: 'We popped out for a couple of hours to a literary cocktail party in posh Kensington -– at John Lehmann's, editor of The London Magazine. He's a regular publisher of our stuff. So we cultivate him ... Lehmann was serving champagne .... And I managed with my usual sleight-of-hand to enjoy a good bit of it. ... Frieda says 'ba!' which means she sends her love. So do I.'
TED AND I. Copyright © 2012 by Gerald Hughes
BEFORE YOU GO
PHOTO GALLERY
10 Amazing Nonfiction Books