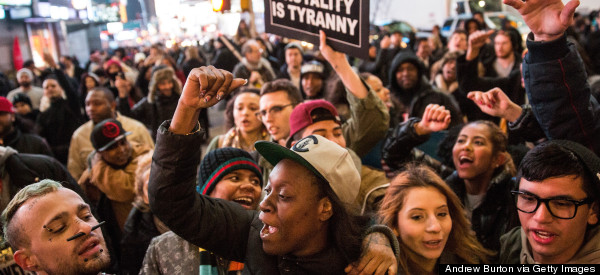 TOP STORIES
NATIONWIDE PROTESTS ERUPT AFTER ERIC GARNER GRAND JURY VERDICT "New York City residents took to the streets on Wednesday after a grand jury said it would not bring charges in the death of Eric Garner, a Staten Island man who died in July after a police officer placed him in a chokehold. Garner, 43, was being arrested for selling loose, untaxed cigarettes on July 17 when New York City Police Officer Daniel Pantaleo placed him in an illegal chokehold. The medical examiner ruled Garner's death a homicide, but the grand jury said Wednesday it would not indict Pantaleo." Protests broke out nationwide, and Attorney General Eric Holder announced the Justice Department would be opening a criminal rights investigation. And The New York Times compiled the "most notable" fatal police encounters in New York City since 1990. [HuffPost]

AL QAEDA THREATENS TO KILL U.S. HOSTAGE AFTER YEMEN RESCUE ATTEMPT After U.S. forces attempted to free American Luke Somers in a rescue operation last week, the Al Qaeda affliate holding him captive has released a video threatening to execute him. [WaPo]
U.S. MILITARY SEXUAL ASSAULT CASES ON THE RISE Reported cases increased by 8% this year. [AP]
THE SUPERBUGS KILLING INDIA'S NEWBORNS "A deadly epidemic that could have global implications is quietly sweeping India, and among its many victims are tens of thousands of newborns dying because once-miraculous cures no longer work. These infants are born with bacterial infections that are resistant to most known antibiotics, and more than 58,000 died last year as a result, a recent study found. While that is still a fraction of the nearly 800,000 newborns who die annually in India, Indian pediatricians say that the rising toll of resistant infections could soon swamp efforts to improve India's abysmal infant death rate. Nearly a third of the world's newborn deaths occur in India." [NYT]
PUTIN: ANNEXING CRIMEA 'A NECESSARY CONDITION FOR SURVIVAL' The Russian President added: ""If for many European countries, sovereignty and national pride are forgotten concepts and a luxury, then for the Russian Federation a true sovereignty is an absolutely necessary condition of its existence ... I want to stress: either we will be sovereign, or we will dissolve in the world. And, of course, other nations must understand this as well." [AP]
HONDA MOVES TO RECALL VEHICLES WITH TAKATA AIRBAGS After Japanese auto parts manufacturer Takata refused to issue a recall for its faulty air bags yesterday, Honda decided to issue a recall nationwide for vehicles with the air bags that will affect millions of vehicles. [WaPo]
THE WORD TORTURE WON'T BE IN THE CIA TORTURE REPORT "The summary [of the impending CIA torture report] is expected to reignite the debate over whether the CIA's coercive interrogation techniques in the first years of the war on terror amounted to torture. Although the summary report is said to not use the word 'torture,' officials said it would describe practices that any layman would understand as torture. 'We tortured some folks,' President Barack Obama said in July. 'We did some things that are contrary to our values.'" [Bloomberg]
THE ARMY WANTS A NEW GUN They're in the market for a contract that's not the classic Italian-made Beretta. [CNN]
KERRY: IRAN FIGHTING ISIS 'POSITIVE' "The U.S. would be happy to have Iran's help in fighting the Islamic State, Secretary of State John Kerry said Wednesday in response to the news, first broken by The Huffington Post Monday night, that the U.S. has been aware of Iranian airstrikes in Iraq since at least last week. 'I think it's self-evident that if Iran is taking on ISIL in some particular place and it's confined to taking on ISIL and it has an impact, it's going to be –- the net effect is positive,' Kerry … said. He emphasized that the U.S. was not cooperating with Iran, which is a top regional rival for most U.S. Middle Eastern allies and has not had diplomatic relations with Washington since 1979." [HuffPost]
WHAT'S BREWING
JIMMY FALLON WELCOMED A BABY GIRL! Nancy Juvonen and the comedian welcomed Frances Cole Fallon via surrogate early yesterday. [HuffPost]
BILL COSBY TWEETS ABOUT SEXUAL ASSAULT The comedian spoke out for the first time to thank Whoopi Goldberg for her implied support. [Access Hollywood]
SPOTIFY'S 2014 RECAP From Ed Sheeran to Coldplay, what we all listened to in 2014. [Spotify]
SO IT LOOKS LIKE KANYE'S TOURING NEXT YEAR Rihanna accidentally spilled the beans on a Yeezus world tour. [Billboard]
'GANGNAM STYLE' BROKE YOUTUBE Psy's hit song has more views now than YouTube can count. [WaPo]
ABC FAMILY REBOOT IN WORKS "ABC Family might look for new graphics, new programs and even a new name in 2015 as part of a proposed reboot that would make it more appealing to its millennial audience, according to a person with knowledge of the Walt Disney property's plans." [Variety]
THE AB EXERCISES YOU NEED TO BE DOING Because everyone wants some peppermint bark this holiday season. [HuffPost]
ON THE BLOG
TOO MUCH SALT "The Food and Drug Administration is going from a world leader to a world laggard in at least one area of public health: reducing sodium consumption, mostly from salt. While nations from the United Kingdom to South Africa to Australia to Argentina and many in between mount sodium-reduction initiatives to reduce the burden of heart attack and stroke, the United States lags far behind, having yet to enact any such initiatives." [HuffPost]
BEFORE YOU GO
~ You should probably read The New York Times' top ten books for 2014.
~ A complete history of Reddit.
~ Allison Williams knows you're going to hate-watch NBC's live-production of "Peter Pan" tonight.
~ Sorry ladies: Rupert Friend is off the market.
~ Rappers on Etsy.
~ One size fits all is a lie.
~ Melanie Griffith has confirmed she will not be seeing her daughter in "Fifty Shades of Gray" because that would be a zillion times worse than accidentally watching a movie with your parents with a sex scene.
~ You may soon be able to draw on your coffee.
~ You can peel garlic without smelling like it.
~ DJ Earworm released his 2014 mash-up.
~ And Eric Matthews will appear on "Girl Meets World."
Send tips/quips/quotes/stories/photos/events/scoops to Lauren Weber at lauren.weber@huffingtonpost.com. Follow us on Twitter @LaurenWeberHP. And like what you're reading? Sign up here to get The Morning Email delivered to you.