Most of the mourners gathered outside a German mosque Wednesday never met Tugce Albayrak when she was alive. But hundreds of them came out anyway to pay their final respects to the 23-year-old college student, who was killed after she stepped forward to defend two teenage girls from harassment.
"I didn't know her," one mourner told the BBC when asked why he'd come to Albayrak's funeral in the town of Waechtersbach. "It's just so sad. She was such a beautiful young girl."
(Story continues below.)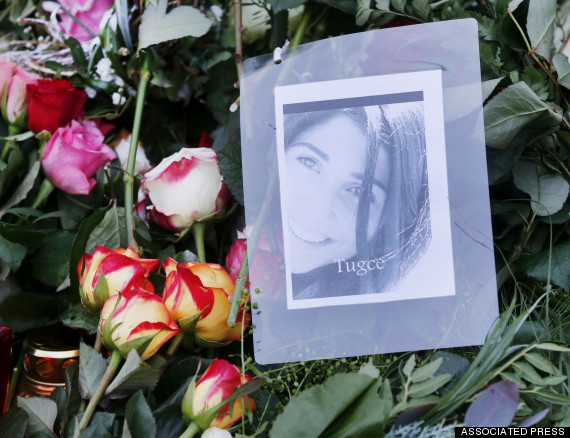 Flowers and a picture cover the grave of Tugce Albayrak on Wednesday, Dec. 3, 2014.
According to The Guardian, an estimated 1,500 mourners stood outside the Waechtersbach mosque, many with a photo of Albayrak pinned over their hearts. Others were seen carrying flowers and banners.
"We quickly forget those who make us cry. We always remember those who made us smile," read one homemade sign, per the BBC.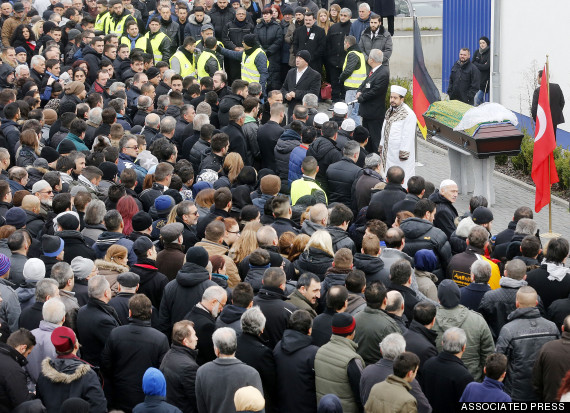 Mourners surround Tugce Albayrak's coffin outside a mosque during a funeral ceremony in Waechtersbach, Germany, Wednesday, Dec. 3, 2014.
Last month, Albayrak had been at a McDonald's in Offenbach when she heard cries for help coming from the public restroom. When she entered, she reportedly found two teenage girls being harassed by men, and she promptly intervened.
Surveillance footage reportedly shows one of the men later confronting Albayrak in the restaurant's parking lot and hitting her in the head. Albayrak is said to have then fallen to the ground.
The young woman was in a coma for two weeks. Her parents chose to take her off life support on Nov. 28, her 23rd birthday, reports The New York Times.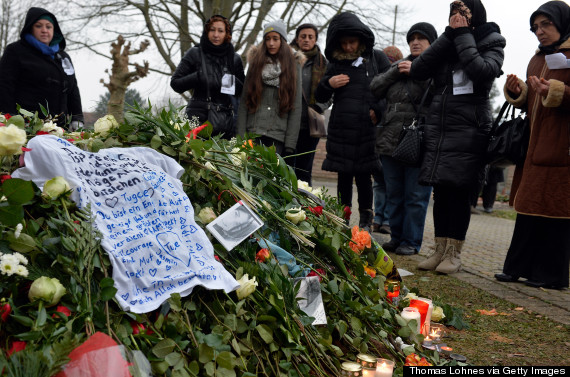 Mourners stand at the grave of Tugce Albayrak, on Dec. 3, 2014. The university student died after she was attacked in a McDonald's restaurant parking lot.
Since the attack, Albayrak, who was of Turkish descent, has become a national hero in Germany. Her death has triggered an outpouring of emotion and sympathy, as well as national "soul-searching" on the issues of immigration and multicultural integration -- questions that have in recent years proved incredibly divisive in Germany.
As of Thursday, more than 185,000 people had signed a petition calling for Albayrak to be awarded the country's highest civilian honor. The award is reportedly not given posthumously, but President Joachim Gauck has said that he will consider making an exception in this case.
Gauck has praised the young woman as being a "role model," writing in a recent letter to her family, "Where other people looked away, Tugce showed exemplary bravery and civil courage and stood up for victims of violence."
BEFORE YOU GO
PHOTO GALLERY
Germany Mourns Tugce Albayrak