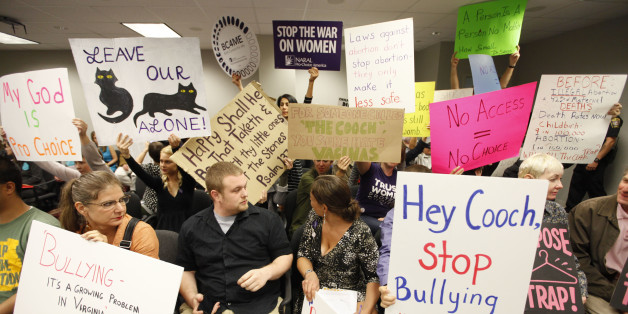 Virginia's Board of Health voted Thursday to begin a process of revising tough restrictions on abortion clinics, in a setback for abortion opponents.
Both abortion rights advocates and opponents had rallied in Richmond, Virginia, ahead of the decision, which was set in motion with the election of Democratic Gov. Terry McAuliffe last year. The board voted 13-2 to move ahead with the Notice of Intended Regulatory Action, as six new McAuliffe appointees joined seven other board members to amend the current rules that single out such clinics from those performing other outpatient procedures.
The regulations pushed by former Republican Gov. Bob McDonnell and Attorney General Ken Cuccinelli were a part of a wave of so-called "TRAP Laws," or Targeted Regulation of Abortion Providers, advanced by Republican legislators in a number of states. Such laws require abortion clinics to comply with the same construction standards as new hospitals. Five clinics had already been forced to close in Virginia because of the prohibitive cost to expand hallways and parking lots and install locker rooms, janitors' closets and ventilation systems.
Reproductive rights proponents say that such regulations are medically unnecessary and aim to restrict access to the procedure, while abortion opponents say they're instead meant to make the procedure safer for patients. The Virginia Department of Health estimated that complying with the regulations could force each of the state's 18 remaining abortion clinics to spend over $2.5 million each.
The board met to reconsider the rules under the direction of Virginia Health Commissioner Dr. Marissa Levine, who announced in October that, in her view, the regulations ought to be amended "to be aligned more accurately with medical best practices." Of the 14,279 public comments the state's health department received ahead of its decision, more than 10,000 requested that the regulations be repealed.
NARAL Pro-Choice Virginia hailed the board's decision to move ahead with amendments to the regulations after the vote.
"We are absolutely thrilled with the Board's vote to move forward with amendments to medically-inappropriate restrictions on women's health centers," the group's executive director, Tarina Keene, said in a statement. "The Board's decision today is a first, crucial step towards ensuring that these politically-motivated restrictions are revised, and that our safe, trusted women's health care centers can remain open and accessible for Virginia's women and families."
McAuliffe also commended the board in a statement Thursday.
"These clinics provide essential preventive care and cancer screenings to many women and families and unfortunately were facing closure due to onerous regulations that were the result of politics being inserted into the regulatory process," he said.
Existing rules dictating clinic architectural and operational requirements will remain in place for up to two years as the state's executive branch, health department and board of health consider specific amendments.
According to the Guttmacher Institute, 22 states require facilities where abortion services are provided to meet ambulatory surgical center standards, even though less than 0.3 percent of abortion patients experience complications that requires hospitalization.
BEFORE YOU GO
PHOTO GALLERY
The Faces Of Military Sexual Assault