This pup's holiday season got a little warmer after being rescued from an icy lake.
Linda Park of Waterboro, Maine took her dog, Dakota, on a walk Wednesday morning when she let him run free, WMTW reported. Thinking he had been under her deck, taking a nap -- a habit the pooch had -- Park was shocked when a neighbor knocked on her door to tell her otherwise, according to WHDH.
"My neighbor had come running over and knocked on my door telling me Dakota had gone through the ice," the worried owner told WMTW of the moment she knew that her pooch had fallen through the frozen lake in front of her house. "I couldn't believe it, I was worried about how in the world am I going to get him out of there."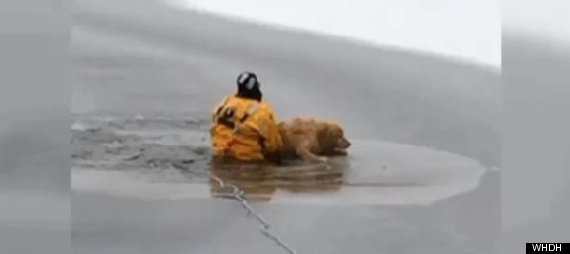 After a neighbor called 911, the Waterboro Fire Department came to the rescue. Captain Tom Langevin, wearing an ice rescue suit and attached to a rope, set out onto the icy lake to retrieve Dakota, according to ABC News.
"Yeah I was able to walk out maybe about 50 feet and the last 25-30 feet or so I crawled out and I eventually went through and I got in the water with him and was able to get him out from there," Langevin told WMTW.
The rescue was thankfully a success and the pup is now warm at home -- which apparently took a little time.
"The dog got out, shook off and went home and spent about an hour in front of the wood stove heater." Fire Chief Matt Bors told ABC News.
BEFORE YOU GO
PHOTO GALLERY
Puppies And Kittens Rescued From Dump