Every week, we bring you one overlooked aspect of the stories that made news in recent days. You noticed the media forgot all about another story's basic facts? Tweet @TheWorldPost or let us know on our Facebook page.
The state of Palestine was declared to great fanfare. People set off fireworks. Government stationery was embossed with the new state's moniker, and new passports were promised.
This is not a far-off dream cooked up by lawmakers in Europe, where a string of parliaments have voted to recognize a Palestinian state in recent months. This already happened, two years ago.
On Nov. 29, 2012, the United Nations General Assembly voted to give Palestine "non-member observer State status." Palestinian President Mahmoud Abbas called the U.N. resolution the "birth certificate of the reality of the state of Palestine." But while the U.N. statehood resolution had symbolic and legal weight, nothing changed on the ground. Today, Palestinians still only control fragments of territory, and are no closer to reaching a peace deal with Israel about where the borders of a future state will be.
Now, Europeans' push for recognition seeks to inject new momentum into the Palestinian effort to establish a sovereign state.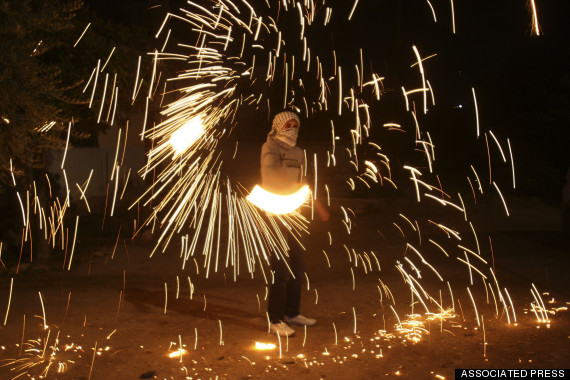 A Palestinian youth plays with fireworks in the West Bank city of Nablus during the statehood vote at the U.N., Nov. 29, 2012. (AP Photo/Nasser Ishtayeh)
In October, Sweden's government became the first major country in Western Europe to recognize a Palestinian state, followed by parliamentary votes recommending a similar move in Britain, France, Spain and Ireland. Belgium and the European Parliament are expected to follow suit soon.
But yet again, these moves are expected to have little practical impact. Analysts note the parliamentary votes are just recommendations and won't rewrite Europe's foreign policies.
"These are symbolic steps, but symbolism does matter, especially in politics," Matt Duss, president of the Foundation for Middle East Peace, told The WorldPost. Europe is taking an increasingly active role in trying to push for a two-state solution, Duss notes.
The U.S. and Israel oppose recognizing Palestinian statehood. Washington insists that a peace deal is the only way a Palestinian state will ever be born. The Israeli government accuses Palestinian leaders of pursuing international recognition in order to bypass the hard business of negotiating and to blame Israel for the impasse.
Duss suggested that recognizing a Palestinian state is part of Europe's efforts to put pressure on Israel, or "playing bad cop to the U.S.'s good cop."
Following the collapse of another fruitless round of peace talks in April, Europe has grown increasingly frustrated that no peace talks are on the horizon. "We're not going to wait forever," one senior European official told The Wall Street Journal.
Amid the impasse, European politicians hope to encourage proponents of a peaceful resolution to the conflict, especially amid recent outbreaks of violence in Jerusalem and Gaza. "It is important to support those who believe in negotiations and not violence," Swedish Foreign Minister Margot Wallstrom explained to Al Jazeera regarding her country's move.
But some Palestinian critics say the whole project of winning recognition is too little, too late. They warn that empty talk of statehood just gives the illusion of progress, and could end up prolonging an unacceptable status quo.
"These European moves may have been beneficial if they had happened ten years ago, but now it's just a symbolic gesture," Noura Erakat, a Palestinian-American scholar and activist, told The WorldPost, citing the diminishing prospects of a two-state solution to the conflict.
Most Palestinians have never been under any illusion about the gulf between the rhetoric and reality of their state. In fact, the state of Palestine was declared even earlier, when Yasser Arafat's Palestinian government-in-exile issued a Declaration of Independence on Nov. 15, 1988. Palestinians still celebrate the date each year -- with considerable irony -- as as their national independence day.
Dozens of sympathetic countries in the Middle East, Africa, Asia and Eastern Europe recognized a Palestinian state following the declaration, decades ahead of the recent European votes.
"Before Sweden, 134 countries had already recognized Palestine ... this is not very radical," Erekat said. "But this is a bit of an awakening in Europe."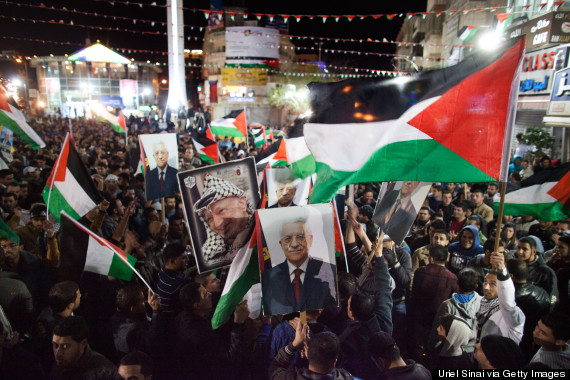 Palestinians celebrate the U.N. vote on the streets of Ramallah, West Bank, on Nov. 29, 2012. (Uriel Sinai/Getty Images)
On Tuesday, Jordan vowed to take another resolution to the U.N. Security Council before Christmas to set a deadline for Palestinian statehood. European powers are preparing a separate U.N. initiative on a deadline for a negotiated settlement that may be more likely to get U.S. support at the Security Council.
But as the Palestinian statehood issue returns to the U.N., there is a palpable sense of déjà vu all over again. It might not be time to pull out the next set of fireworks just yet.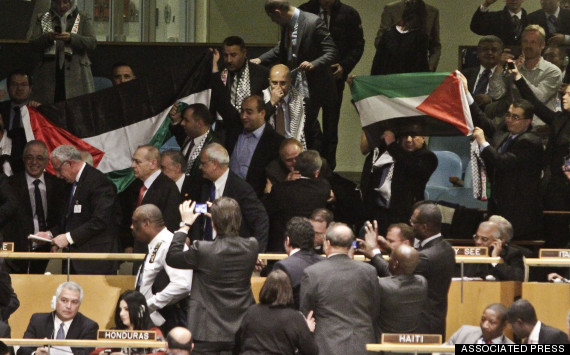 A Palestinian flag is displayed after the U.N. vote recognizing Palestine as a state on Nov. 29, 2012 in New York. (AP Photo/Bebeto Matthews)
BEFORE YOU GO
PHOTO GALLERY
Palestinian Statehood Bid