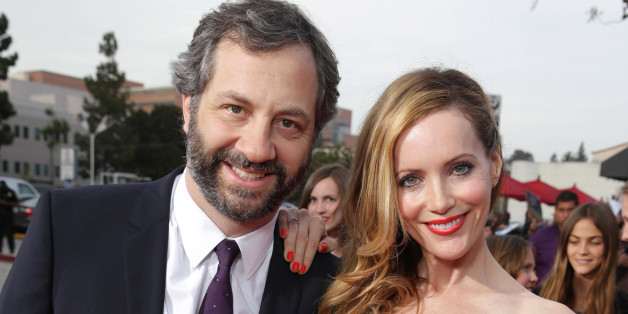 Saturday is Judd Apatow's birthday, and the highly sought writer and director turns 47. Everyone knows he's responsible for an endless parade of hit movies like "Superbad," "The 40-Year-Old Virgin" and "Forgetting Sarah Marshall," as well as TV shows like "Freaks and Geeks," "Undeclared" and HBO's critically acclaimed "Girls."
But there are some things you probably don't know about Apatow, things that even his 1.2 million Twitter followers don't know. Here are some of those things...
1. He interviewed dozens of famous comedians on his own radio show ... at age 16.
Judd Apatow hosted a radio show called "Club Comedy" while attending Syosset High School in New York, using their tiny 10 watt radio signal. But the talent he booked was anything but tiny. With the help of his mother, who worked at a Southampton comedy club, the teenaged Apatow landed interviews with Jerry Seinfeld, Jay Leno and Gary Shandling, among others.

Photo: Imgur/Judd Apatow
To hear 16-year-old Judd Apatow's interview with an up-and-coming young comedian named Jerry Seinfeld, head over to The New York Times for the audio.
2. He wrote a Simpsons' spec script back in 1989, and it's actually airing in January 2015. Judd Apatow is often quoted as saying his spec script for "The Simpsons" is the first thing he ever wrote. And he wrote it in 1989 after only five or six episodes of the series had aired. Now, over 20 years later, the show has blown the dust off Apatow's script and will in fact air the episode in January.
Much like his films, Apatow's original Simpson script deals with adults not wanting to grow up. In Apatow's episode, entitled "Bart's New Friend," Homer is hypnotized and made to believe he is only 10 years old. And when the hypnotist suddenly dies, Homer is left in this childlike state indefinitely.
So, don't lose hope, aspiring TV writers. Sometimes it takes few decades for your script to get accepted.
3. He lived with Adam Sandler, and once a month they ate at Red Lobster.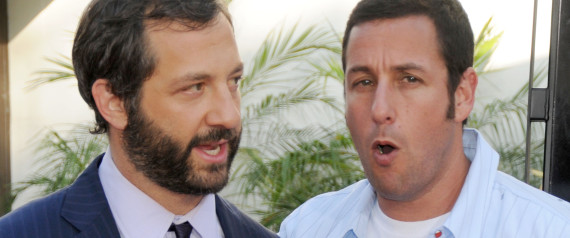 Photo: AP
After dropping out of college, Judd Apatow moved in with Adam Sandler, who he'd met through improv classes. They lived in Los Angeles (across the street from Rob Schneider) and both worked as comedians. They weren't broke, but doing just good enough to get by.
"We could eat at Red Lobster once every month," said Sandler. "That was a big night out." When Sandler took a job at a little show called "Saturday Night Live," he left all his stuff in the LA apartment and continued paying rent, just in case New York didn't pan out. But he never came back. For years, Apatow held onto a few of Sandler's possessions, including his NYU student ID, his New Hampshire driver's license and a fake Delaware ID that Sandler insists he used to do standup in comedy clubs that required you to be 21.
And knowing that Apatow might still be walking around with Adam Sandler's fake ID is pretty magical.
4. He cowrote a Disney movie. And perhaps you've heard of it: "Heavy Weights."
"Heavy Weights." It's the endearing 1995 Disney film about kids being bused off by their parents to lose weight at a fat camp, run by a psychotic fitness instructor. It starred well-known actors like Keenan Thompson, Paul Fieg and of course Ben Stiller, whose deranged character is a clear preview to his White Goodman character in "Dodgeball."
You know it, you love it. But what you may not know is that "Heavy Weights" was cowritten by none other than Judd Apatow, the godfather of the "Bromantic Comedy." And he was just 26 years old at the time.
5. He was once presented with a watch as a gift from Tom Arnold and Roseanne Barr. At night, in the couple's home, while they were in bed.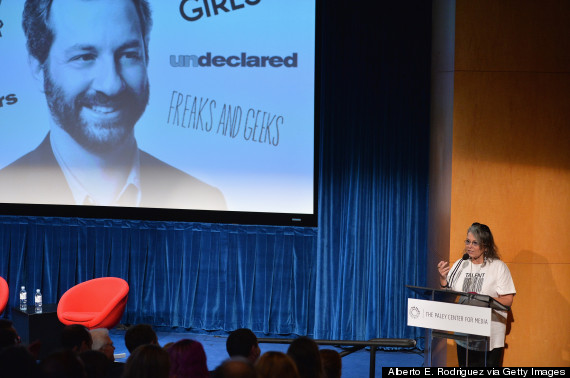 One of Judd Apatow's first writing gigs was writing jokes for Roseanne Barr. And Barr seems to have nothing but love and respect for Apatow, saying she's so proud that she's "the person who's getting the credit for discovering Judd."
Judd says that early on, when he was writing jokes for Barr and then-husband Tom Arnold, the couple invited him over to their home one night. When he got there, they yelled for him to come upstairs:
And they're like in bed watching TV at 9 o'clock at night, like under the covers. 'We got you a watch! Thanks for the jokes!' It was like the greatest day of my life, I've never worn it, it's still like in a place of honor.
BEFORE YOU GO
PHOTO GALLERY
The Judd Apatow Family