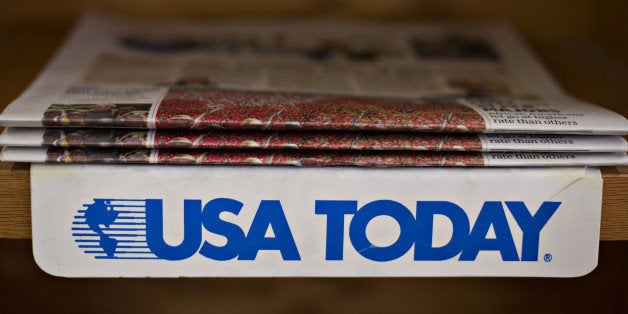 USA Today is calling it quits on its weekend magazine, USA Today president and publisher Larry Kramer announced in a memo to staffers Friday. USA Weekend, which is currently the nation's second-largest news magazine, will print its final issue on Dec. 28.
The closure will reportedly result in approximately 30 layoffs for staffers, though the exact number is not yet confirmed.

The company underwent significant layoffs in September, cutting some 70 jobs following news that the paper's owner, Gannett, would spin off and separate its publishing business from its broadcasting and digital entity. In 2011, the company underwent an even greater overhaul, cutting about 9 percent of employees, in an effort to focus on its digital strategy.
USA Today issued the following statement Friday:
"USA WEEKEND Magazine will end publication effective December 28. Over the past year, USA TODAY has developed a weekend Life product for local publications, which has been well received by millions of readers nationwide due to its timely entertainment and lifestyle news coverage. We look forward to offering our existing USA WEEKEND affiliates the opportunity to bring this exciting product to their readers.​"
Dear Colleagues:

After careful consideration, we have decided to close USA WEEKEND Magazine. The December 28 issue of USA WEEKEND Magazine will be its last.

Over the past year, we've talked often about the success of our partnership with U.S. Community Publishing in the 35 markets where USA TODAY is included in their daily news products. After evaluating the research, many of our readers have told us that they enjoy the addition of the USA TODAY content into their local publications, and they have especially enjoyed the expanded weekend Life content, given its timely entertainment and lifestyle news. With the success of our weekend Life offering, we believe it provides our readers and affiliates with a superior product to USA WEEKEND Magazine. Over the next few weeks, we will be working with USA WEEKEND affiliates to discuss the weekend Life product.

With the closure of USA WEEKEND, many of you will say farewell to great colleagues. We are extremely grateful for the contributions made by each of those individuals – they will be missed.

If you have questions, please do not hesitate to reach out to me or to your manager.

Sincerely,

Larry Kramer