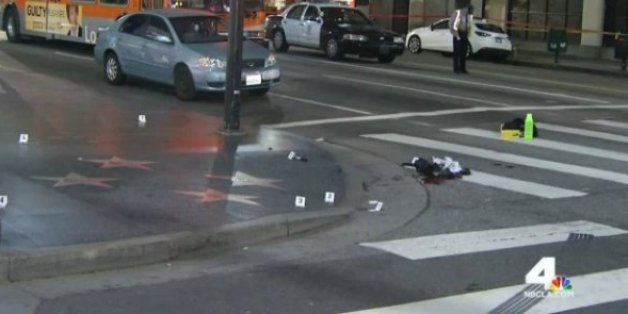 LAPD officers killed a man who they say approached them with a pocket knife on Friday night in a tourist-heavy part of Hollywood, according to local reports.
Police said they were responding to a call reporting an assault with a deadly weapon at the corner of Hollywood Boulevard and Highland Avenue. When they arrived at the intersection, they found a man with a combination pocket knife, who allegedly approached officers, according to NBC Los Angeles,. Bruce Cherry, a witness to the incident, told CBS Los Angeles that "when they told him to get down and comply, he did not at all." According to Cherry, cops fired when the man reached his hands into his pockets.
The man was taken to a local hospital and died before 9:30pm.
Many locals and tourists witnessed the shooting, and some posted photos to Twitter or took cellphone video.
The LAPD posted a picture of the knife they say the man was carrying.
KTLA reports that protests were scheduled for Saturday. An LAPD sergeant told the network that about 20 protesters had congregated at the scene of the shooting Friday night, chanting "Hands up. I can't breathe," a reference to the high-profile police killings of Michael Brown and Eric Garner.