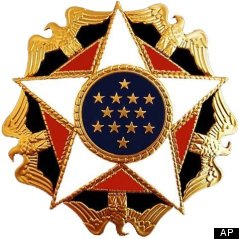 On November 24th, AOL's own Marlo Thomas was awarded the 2014 Presidential Medal Of Freedom, America's highest civilian honor, at a ceremony at the White House, hosted by President Barack Obama. One of 19 recipients of this year's medal (including Tom Brokaw, Stevie Wonder, Meryl Streep and, posthumously, civil rights activists James Chaney, Andrew Goodman, and Michael Schwerner), Marlo was cited by the president for her "trailblazing" career, including her groundbreaking role on "That Girl," her creation of "Free to Be...You and Me," her co-founding of the Ms. Foundation, and her tireless work on behalf of St. Jude Children's Research Hospital.
As President Obama draped the medal around Thomas' neck, the official proclamation was read: "Through her words, deeds and characters," it said, "Marlo Thomas has taught us to be true to ourselves, and to lead our lives with confidence and compassion."
"I can't help but think of my immigrant grandparents, and how proud they would be of their granddaughter receiving this wonderful recognition from the President of the country they so dearly loved," Marlo said after the ceremony. "And so I humbly accept this honor in their name, and in the spirit of the American dream."
The formality of the ceremony notwithstanding, Marlo kept her iPhone handy throughout the day to record the exciting event. Here is her personal scrapbook.
PHOTO GALLERY
Behind The Scenes: The Presidential Medal Of Freedom Award
Add Marlo On Facebook:
Follow Marlo on Twitter:
Sign up to receive my email newsletter each week - It will keep you up-to-date on upcoming articles, Mondays with Marlo guests, videos, and more!