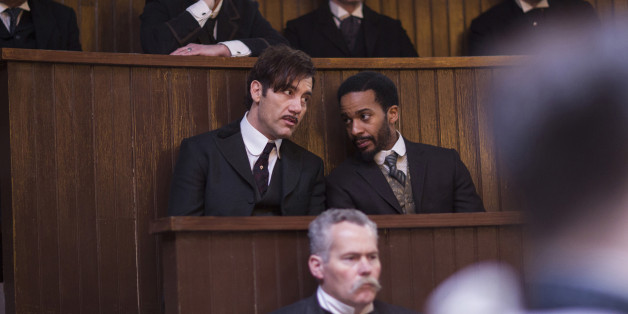 The other day I published my list of the Top 10 TV Shows of 2014, but it was a list that cried out for a sequel or two. There was just so much great TV this year that one list could not possibly hold it all, hence this roster of Best New Shows and another list citing the Best Returning Shows.
You're going to look at this list of my favorite new shows and say, "But that show should have been on your Top 10 list!" And I will reply, "You may have a point. Please invent the kind of TARDIS that will allow my Top 10 list to be bigger on the inside and let me know when it's ready for use."
Without further ado, here are the Best New Shows of 2014:
"The Affair," Showtime: I can't disagree with those who think this drama has run into some trouble as the season has progressed (I'm a couple of episodes behind, but the show's sluggish pace and one-dimensional supporting characters definitely became problems as the first season progressed). That said, the drama has a fantastic core cast and, at times, its examination of the tenuousness of "the truth" is well-realized and thoughtful.
"Benched," USA: This is a nicely calibrated workplace comedy with a wonderful cast. Jay Harrington and Eliza Coupe are terrific together, and everything else about the show just works.
"Black-ish," ABC: It's not easy to create a show that works as a family comedy and as a smart examination of class and race, but "Black-ish" manages to efficiently hit all those notes more often than not.
"Cosmos," Fox: Easily the year's best piece of televised entertainment in the nonfiction division. At once magical, wondrous and scientifically rigorous, this new version of "Cosmos" retained the original's energy and intelligence and merged those qualities with lovely visuals and Neil deGrasse Tyson's avuncular presence. It was just a delight. (Is this show actually "new" or does it belong on my Best Returning Shows list? I couldn't quite decide, but the point is, watch "Cosmos.")
"Death Comes to Pemberley," PBS: Men in waistcoats, women in Empire-waist dresses, fabulous country homes and a diabolical murder mystery. Yes, please, sign me up for all of that. Beyond those attractive accessories, the performances by "Pemberly's" cast, especially by Matthew Rhys, Matthew Goode and Anna Maxwell Martin, were intelligent, nuanced and effective. I say, "Downton Abbey," old chum -- you got served.
"Enlisted," Fox: Written up in my Top 10 of 2014 list.
"Fargo," FX: It was a little chilly for my tastes, but this smart expansion on the world of the film was certainly worth watching, and it undoubtedly did a couple of wonderful things: It gave us a terrifyingly great performance by Billy Bob Thornton and it introduced the world to the fantastic Allison Tolman, who should be in everything, always.
"The Flash," CW: It's fast, it's fun and it's light on its feet, which is all you can ask of the story of Barry Allen. Like its older cousin "Arrow," this is solidly crafted entertainment (and the crossover between the two shows has supplied a ridiculous amount of fun).
"The Game," BBC America: A well-crafted spy story with fine work from a host of canny character actors, who apparently grow on trees in the U.K.
"Happy Valley," Netflix/BBC: Written up in my Top 10 of 2014 list.
"The Honorable Woman," Sundance Channel: This thriller could be a tad pompous about its own intelligence, but overall, it provided a nicely calibrated examination of the collision of the personal and the political.
"Last Week Tonight with John Oliver," HBO: Oliver is the latest "Daily Show" graduate to take what he learned on that platform and capably evolve those skills in fruitful new directions. Oliver's concise takedowns are must-see TV (or must-watch-on-YouTube), not just because they're entertaining, but because they're thought-provoking and unafraid.
"The Knick," Cinemax: A smart, cynical show that nonetheless finds the energy of the dawning 20th Century intoxicating. Clive Owen showed great commitment and an even greater lack of vanity in the lead role, and the world Steven Soderbergh constructed around him was bleak, exciting and fascinating all at once. I'm not sure if Soderbergh has much faith in the idea of progress, but he clearly believes in the possibilities of televised drama. Welcome to the club, sir.
"Jane the Virgin," CW: Written up in my Top 10 of 2014 list.
"The Missing," Starz: This is a hard-to-watch but well-made drama, and the lead performances are fantastic.
"Olive Kitteridge," HBO: Frances McDormand owned the complicated and contradictory title role and made the lead character unforgettable, and she was backed up by a brilliant supporting cast. This is one of those stories that lingers in the mind for weeks.
"Outlander," Starz: Pacing could be a problem in this adaptation of the successful novel, but "Outlander's" gorgeous visuals were a treat, its world-building showed promise and I'm hoping for good things when the first season concludes next spring. All in all, "Outlander's" greatest quality was its earnest desire to honor its complex lead character's desires, sexual and otherwise.
"Penny Dreadful," Showtime: Written up in my Top 10 of 2014 list.
"Review," Comedy Central: Written up in my Top 10 of 2014 list.
"Silicon Valley," HBO: The first few episodes of this show wowed me; it seemed to have a pitch-perfect take on the preposterous and eminently mockable aspects of tech culture. So I was quite disappointed when, from the middle of the season onward, the gender issues on the show took a turn toward the deeply stupid. Not only were some subplots just insulting and dumb, they ignored dynamics that could have served as useful satirical fodder. Here's hoping the second season of the show is as consistently smart and knowing as "Silicon Valley" can be at its best.
"Too Many Cooks," Adult Swim: I still don't know what this was, but whatever it was, it was executed very, very well.
"Transparent," Amazon: Written up in my Top 10 of 2014 list.
"True Detective," HBO: I was transfixed by parts of this show, most notably its lyrical visuals and the philosophical ruminations of Rust Cohle, who was brilliantly played by Matthew McConaughey (Woody Harrelson was excellent as well). Yet in the rearview mirror, this show's problems become even more apparent: The finale was a mishmash of things that often didn't work; the murder mystery didn't hang together in a meaningful way; and of course, it's hard to think about "True Detective" without pondering the lazy, bro-flavored sexism that pervaded the whole thing. Aspects of it were brilliant -- in part thanks to Cary Joji Fukunaga's direction, which gave the show a unified aesthetic -- but the various parts of "True Detective" ultimately, for me, didn't quite add up to a truly meaningful whole. That said, I'm very curious about what Nic Pizzolatto has coming in Season 2 and whether it will work without a big helping of McConau-sauce.
"Worricker," PBS: Bill Nighy. Winona Ryder. Christopher Walken -- alas, this time without a crocodile or dance routines. They all acquit themselves well in this generally enjoyable high-class rant from David Hare.
"You're the Worst," FX: Written up in my Top 10 of 2014 list.
"The 100," CW: For the last couple of months, I've gotten messages from people who have begun Netflix binges of this show and gotten hooked. I told you! I also told you this time and this time and that one other time. But honestly, I enjoy banging the drum for this underrated dystopian tale, which displays welcome energy, moral complexity and intelligent resourcefulness. If nothing else, it's never caused me to experience "Walking Dead" syndrome, which can be described as that moment when you realize some of the characters on a show are so dumb you actually want them to die.
Ryan McGee and I discussed "Hannibal, "Marvel's Agents of S.H.I.E.L.D." and "Cosmos" in the most recent Talking TV podcast, which is here, on iTunes and below. On the podcast page, you can find many more discussions of the shows mentioned above.
BEFORE YOU GO
PHOTO GALLERY
True Detective saison 1