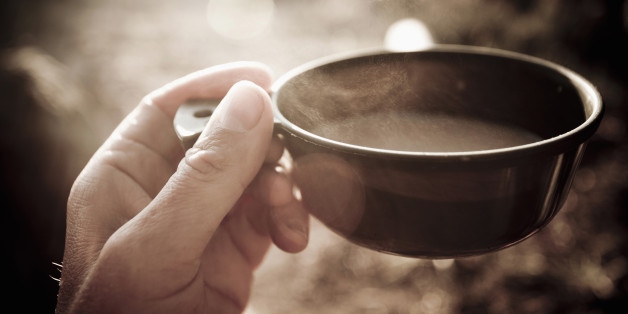 It's an an ancient tradition, but over the past few months, boiling animal bones has become a health craze.
Devotees and nutrition experts say that bone broth's benefits may include shinier hair, improved digestion, and reduced joint pain and inflammation, according to Yahoo! Health.
And it seems everyone wants to try it. New York City chef Marco Canora opened a takeout window called Brodo in November that serves grass-fed bone broth in coffee cups, and nutrition expert Sally Fallon Morrell released a book on its benefits called "Nourishing Broth: An Old-Fashioned Remedy For The Modern World" in September.
So what is bone broth, anyway? It's exactly what it sounds like: broth made by boiling poultry, beef or fish bones until they break down. They can be boiled for as little as four hours or as long as 48, personal chef and nutritionist told Ariane Resnick told Refinery 29, and you can make it yourself in a soup pot or slow cooker. And when the bones are boiled long enough, they start to disintegrate and release nutrients and proteins -- like calcium phosphate and collagen -- in higher quantities than what's found in regular broths.
Dawn Jackson Blatner, a registered dietitian and author of The Flexitarian Diet, agrees that bone broth has a number of benefits, but she's not exactly calling it the next superfood.
"It's not a miracle cure like some outlets talk about, but still a good-for-you food," she told The Huffington Post. "It is hydrating, contains veggie and herb anti-inflammatories and the bones provide collagen, a protein which may help with our own bone, joint and skin health."
Nutritionist and New York University adjunct professor Dr. Lisa Young said that while the reported benefits are good ones -- almost no actual clinical research has been conducted on bone broth, according to Refinery29 -- she's not sure bone broth has as much staying power as other health trends such as kale.
"The advantage of kale is that you can have it in so many ways -- a salad, sauteed, as a drink," she explained to HuffPost. "Bone broth is also not an exciting name. Nonetheless, it is a trend right now. It's certainly good as a soup for winter in cold climates."
We doubt we'll see Beyonce sporting a "Bone Broth" sweatshirt anytime soon, so kale wins for now. But bone broth could certainly be worth a try.

BEFORE YOU GO
PHOTO GALLERY
100 Soup Recipes