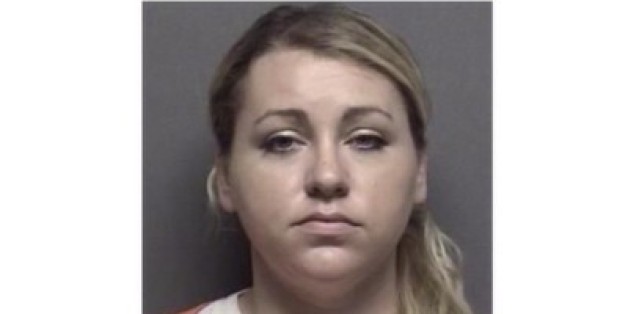 A former counselor at a Kansas middle school was sentenced to more than 13 years in prison for the rape of a 13-year-old student.
Brooke Dinkel, 33, broke down as she spoke before a judge at her sentencing on Thursday, reiterating her testimony that the victim had forced himself on her, and then continued to coerce her into sex by threatening to get her in trouble.
"He raped me. I don't know what happened after that. I can't explain my actions," Dinkel said in court, according to KSAL. "I am not a sexual predator. I have a 4-year-old and a 6-year-old daughter that right now do not have a mother... Let them have their mother back."
But prosecutors argued that evidence showed the boy was not the aggressor. Assistant county attorney Christina Trocheck said that Dinkel's actions included:
...Lavishing cash, gifts and food on the boy, sneaking him out of his house to pursue a sexual relationship despite warnings from family and co-workers, sharing intimate details with friends, manipulating him to try to prevent him from telling others and defying a court order while out on bond and re-establishing contact with him.
"[Dinkel] doesn't have the right to libel and slander others in order to help herself," Trocheck said, according to the Salina Journal.
Trocheck asked a judge to impose the maximum sentence under Jessica's Law, life without the possibility of parole for 25 years. The woman's defense attorney said that Dinkel needed mental health treatment, not prison. In the end, the judge sentenced her to 165 months and lifetime supervision for two counts of rape.
Dinkel pleaded not guilty to 10 counts of rape and 10 counts of aggravated criminal sodomy. She was convicted on two counts of rape in June, and acquitted on the other counts.
Police said sexual encounters between Dinkel and a student at Smoky Valley Middle School in Lindsborg began in 2012 when the boy, described as the relative of a close family friend, went to the counselor's house to help her with a wallpapering project.
The victim, now 14, testified that the encounters continued until shortly before Dinkel was arrested in March 2013.
Like Us On Facebook |

Follow Us On Twitter |

Contact The Author
BEFORE YOU GO
PHOTO GALLERY
Teacher-Student Sex Abuse Cases