Crepe cakes are gorgeous by nature. Layer upon layer of cream or mousse spread between layer upon layer of silky crepes, the very construction of a crepe cake is enough to make our hearts melt. Biting through the stacks of the final product is nothing short of heavenly, the layers creating an incomparably fluffy mouthful that tastes almost cloud-like. As huge fans of crepe cakes, we thought we'd seen it all, until we stumbled upon quite possibly the most beautiful crepe cake in the universe. The sight of it alone could brighten even the darkest winter afternoon.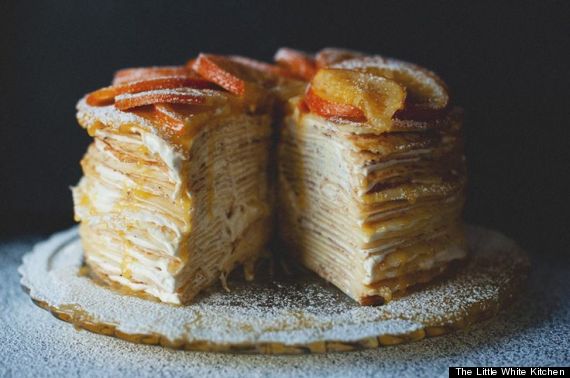 This wintertime stunner comes from author, photographer and food blogger Michele of The Little White Kitchen. The cake consists of layers of gluten-free crepes, orange pastry cream, orange butter, candied oranges and sifted confectioners sugar. Michele offers recipes and directions for each component, including the xanthan-gum-free, gluten-free flour used for the crepes. The cake calls for about 30 crepes -- that's 30 layers of fluffy goodness plus 29 layers of cream in between, so you get the idea -- and the pastry cream is made with real vanilla beans, of course.
As if the cake could get any better, you're supposed to "generously" pour caramelized orange butter over the whole thing, so that it "drips down the sides." The final touch is the candied oranges, which are way more approachable than they sound. In fact, if you're feeling intimidated by the sheer beauty of this cake, you shouldn't. It's entirely more approachable than it looks. Take it step by step, making each piece separately, and then it's just a matter of assembling.
Based on the classic crepe Suzette, this cake is at once the no-brainer of crepe cakes and a complete revelation.
For the recipe for this divine crepe cake, go to The Little White Kitchen.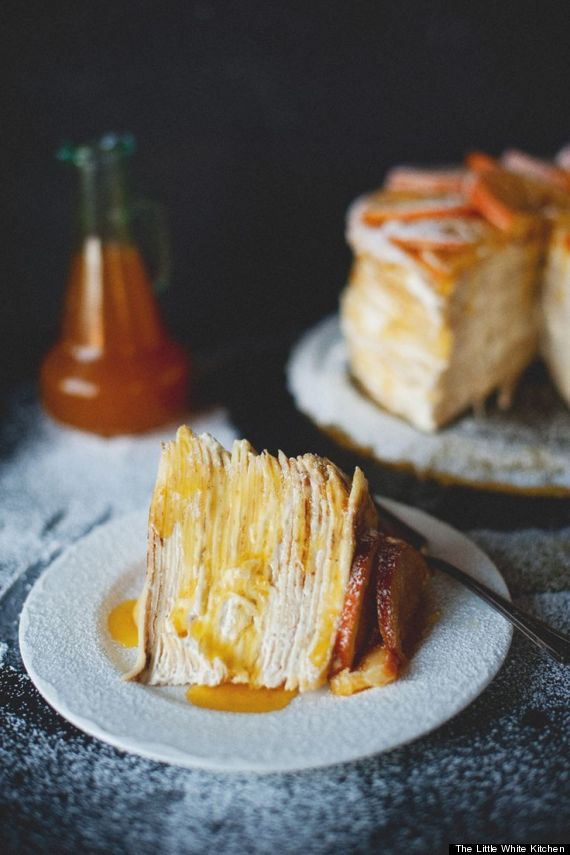 Want to read more from HuffPost Taste? Follow us on Twitter, Facebook, Pinterest and Tumblr.
BEFORE YOU GO
PHOTO GALLERY
Crepe Cakes