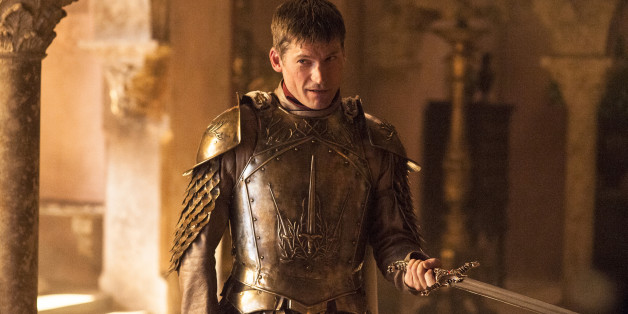 Leaked set photos from Season 5 of "Game of Thrones" have so far revealed a major change to one character's storyline and teased another bloody wedding scene. But one of the biggest discussion points has been the appearance of metal nipples.
In recently leaked set photos of the Sand Snakes, who are Oberyn's daughters, fans quickly spotted that their armor was embellished with nippled breastplates. While this may not seem like the biggest deal, Vulture noted that author George R.R. Martin has never been a fan of the metal nipples. Throughout his "Song of Ice and Fire" series the author frequently repeats the phrase "as useless as nipples on a breastplate." So why then has the show decided to neglect Martin's belief?
Emmy-winning "GoT" costume designer Michele Clapton recently discussed the story behind nipple-gate with New York magazine, which she admitted was "a bad move." Clapton explained that the nipples were on the breastplates from the molds they created, but were supposed to be sanded off. By the time the costumes needed to be ready for shooting, the nipples hadn't be completely removed. "I was surprised when I saw the picture," Clapton said of the leaked photos, "but I didn't notice them when I was there."
While we can agree with Clapton that there's "something slightly cheesy" about nipple armor, it definitely could've helped Grey Worm during that one brutal nipple moment from Season 3.
For more, head to New York Magazine.
BEFORE YOU GO
PHOTO GALLERY
"Game Of Thrones"