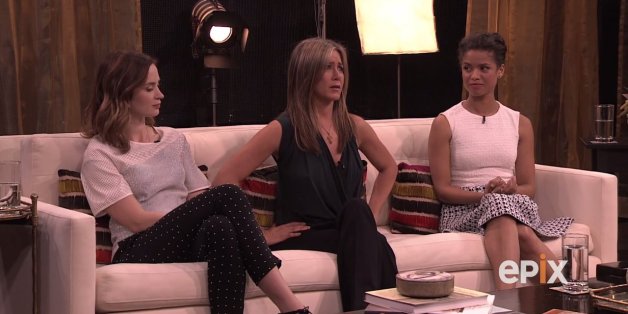 Putting Oscar contenders in the same room is one of awards season's greatest pastimes, and now Epix has joined the parade. The network will air the first of five Oscar roundtables on Monday night as part of a new series called "Hollywood Sessions," in which Los Angeles Times film reporters Rebecca Keegan and Mark Olsen sit down with a select group of awards hopefuls. First up is Best Actress, which features Jennifer Aniston ("Cake"), Emily Blunt ("Into the Woods"), Jessica Chastain (representing "The Disappearance of Eleanor Rigby," "Interstellar" and "A Most Violent Year"), Gugu Mbatha-Raw ("Belle" and "Beyond the Lights") and Shailene Woodley ("The Fault in Our Stars") in an hour-long, free-form conversation about the movies in which they starred this year and the state of Hollywood.
HuffPost Entertainment has an exclusive look at tonight's premiere. In the clip, Aniston spoke about the physical transformation she underwent to play a pill-popper who suffers from chronic pain and hallucinations in "Cake," including wearing a back brace. "There would be times when I would have to do a take over because I knew I moved too easily, but what's odd is that after about two weeks of walking and taking on a physical state, that starts to become sort of your natural state of being and moving," she said.
The "Hollywood Sessions" premiere airs tonight at 8 p.m. on Epix. Subsequent roundtables will air each Monday through Jan. 5.
BEFORE YOU GO
PHOTO GALLERY
Celebrity News & Photos