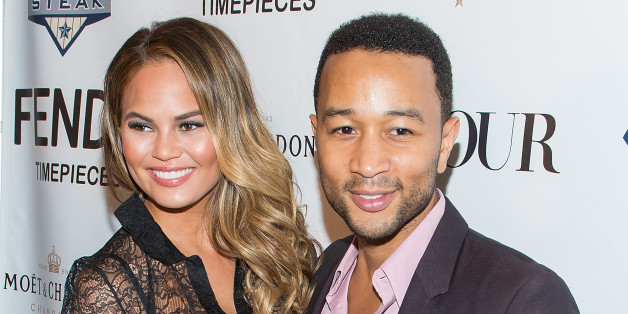 Braving near-freezing temperatures, the crowds of demonstrators and activists who thronged the streets of New York City on Sunday to protest the deaths of Eric Garner and Michael Brown may have been cold, but thanks to singer John Legend and his wife, model and food blogger Chrissy Teigen, they did not go hungry.
According to reports, Legend and Teigen offered their support to the protesters by generously hiring several food trucks to provide demonstrators with a free hot meal.
Big thanks to @ophelporhush @johnlegend for feeding thousands of activists/organizers/NYers today! #BlackLivesMatter pic.twitter.com/vbk7vcFZB6

— Ted Alexandro (@tedalexandro) December 7, 2014
NewsOne reports that the food trucks hired included the popular Kimchi Taco Truck and Milk Truck NYC, which is said to have given out "over 500 helpings of Mac & Cheese." Activist group Operation Help or Hush reportedly helped with the distribution effort.
Mac'n cheese @milktrucknyc courtesy of @johnlegend & @chrissyteigen via @ophelporhush. @NYC2Ferguson march to follow pic.twitter.com/eJ1zVTONuH

— Edna Ishayik (@The_IshList) December 7, 2014
On Sunday, Teigen confirmed to BuzzFeed that she and her husband paid for the food trucks.
@KimchiTruck @johnlegend wish we could be there!! thank you for being a part of it!

— christine teigen (@chrissyteigen) December 7, 2014
Legend has been vocal about his thoughts on the events in Ferguson, Missouri, where Michael Brown, an unarmed black man, was killed by a police officer in August.
The Grammy-winning musician also co-wrote a song recently for the the upcoming movie "Selma" -- a film about the campaign for black voting rights in 1965 -- that references Ferguson.
The song, entitled "Glory," contains the lyrics: "That's why Rosa sat on the bus, that's why we walk through Ferguson with our hands up. When it go down, we woman and man up. They say, 'Stay down,' and we stand up." (Listen to "Glory," co-written by Common, below.)
BEFORE YOU GO
PHOTO GALLERY
HuffPost Celeb Awards 2014: Hero/Heroine