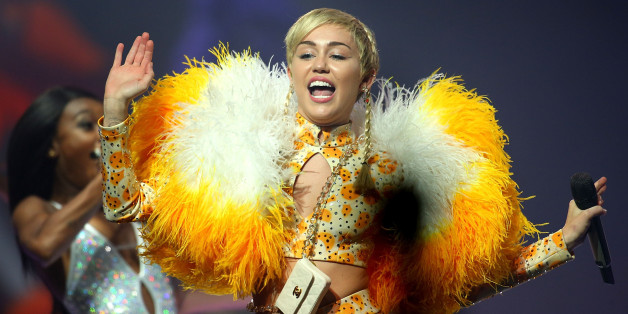 During her performance at last Wednesday's Art Basel, Miley Cyrus performed a new song titled "The Twinkle Song." Wearing a sparkling silver wig, Cyrus sat down at the piano to perform by herself onstage for the first time, telling the audience that the song was inspired by a dream about her friend's dead cat.
"I write about death a lot. But this ... my friend, she lost her cat, and I had these crazy dreams," Cyrus explained during the performance. "I feel like her cat kind of told me what I was supposed to say to get her through it ... It was more therapy to me than anything."
According to Billboard, Cyrus' performance also included smoking weed, a duet with a topless woman and a guest appearance by her close friend and frequent collaborator Wayne Coyne of the Flaming Lips. Cyrus is a well-known animal lover, having gotten a tattoo of her dog Floyd who died earlier this year.
Watch the stripped-down performance below.
BEFORE YOU GO
PHOTO GALLERY
Miley Cyrus at Art Basel