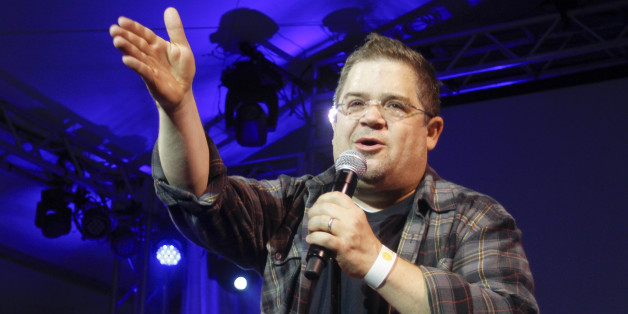 Comedian Patton Oswalt is as versatile as they come, lending his talents to edgy, alternative shows like Adult Swim's "The Heart, She Holler" and Netflix's "Bojack Horseman," while also popping up on the Disney Channel's "Doc McStuffins" and forever being known as a gutsy little rat named Remy.
But no matter who the audience, Oswalt's commitment to quality in his work and a deep respect for the art of comedy shines through, especially when it comes to his female colleagues. He is a true feminist.
In a recent interview with The Huffington Post, Oswalt caught us up on the third season of his Adult Swim show and his mind-boggingly demented character Hurlan Heartshe, spoke about his favorite women in comedy right now and explained why he hopes his kid-friendly roles will help curb the negative messages so often sold to little girls on TV. He also gave us some insight into how he got through his epic "Star Wars" filibuster on "Parks And Rec," and illustrated why he's like the "Hank Azaria" of "Bojack Horseman."
I've been catching up with the new season of "The Heart, She Holler." Somehow it got even darker than before!
They keep digging deeper, finding new dimensions of horribleness. The fact that they've gotten three seasons out of this thing ... That they can continue the story ... It's fucking crazy.
Do you find it easier to play that kind of character than a more, say, sophisticated one?
It's easier, obviously, because you get to go broad and big, but there are times when it's hard, only because you can [end up] going so broad that you're "winking" at it. I never want to look like I'm being ironic. The only way it works, is if the characters all take themselves 100 percent seriously. If your snarkiness towards it starts to break through, that hurts it. It's hard. You want to stay as dumb -- as beautifully dumb -- as the character is, and you never want to betray that because that would be cheap.
You basically have to play a completely crazy character as a straight one.
Not only play a crazy character straight, but a dumb character who is operating at the peak of their abilities -- and is pleased with themselves for doing so.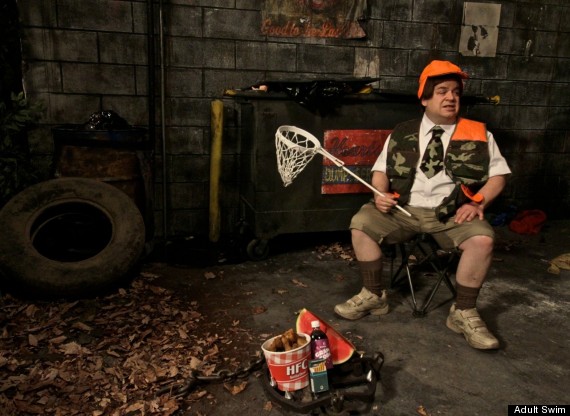 Your sister on the show, Hurshe Heartshe, was originally played by Kristen Schaal but the role has since been taken over by Amy Sedaris. How was the transition on set?
For me, it was great, because I got to work with two different, great actresses. And not only are those two great, they're great in such specifically personal ways that you have to up your game for both of them. You can't say, "Oh, I upped my game with Schaal because of her total commitment and uniqueness, okay I've got that covered when I work with Sedaris" -- no, it's a different kind of upping of the game every time and it really keeps you on your toes. Just because you upped your game for Kristen Schaal doesn't mean you're ready for Amy Sedaris. That I really liked.
They are both so talented, but Amy seems particularly perfect for this show.
Jesus Christ. Scary talented, those two. Oh, my God. Amy has a commitment to never, ever getting above the character; she totally embodies the character, never winks at it, and in a way respects the awful character that she's playing.
It almost feels like Hershe Heartshe is a distant cousin of Jerri Blank.
[Laughs] Oh yeah! Oh, wow. It's like they're on the same spectrum. I like that!
Who are some of your other favorite women in comedy right now?
Well, Jenny Slate. She's always been one of those people who would guest star on things in little supporting roles and almost, how do I say it, derail what was going on, because she was so interesting. Everything she does, "Kroll Show," "Parks and Rec," and then this "Obvious Child" movie. It's like oh, not only is she an amazing [comedian], but she's on the same trajectory as say, a Kristen Wiig. Also, Amy Schumer, but that feels so obvious. The writing and acting that [Amy] is doing is just ridiculous. It's so fucking funny.
Then the girls on "Broad City." They, more than anyone, have run with that baton that Ricky Gervais started with, which is comedy of total awkwardness. You're laughing at how much you're cringing. They do stuff on that show where you can tell that they clearly looked back on their twenties in a way that I realize I don't. I tend to look back at the cool stuff and they just hone in on the dumbest shit that you do when you're in your twenties that you think is totally normal at the time. It's amazing to me, watching that show.
And then, I mean, Amy Poehler. I wrote in The New Republic about how she needs to do a drama someday, not now, but when she feels like doing it. She would be an amazing dramatic actress, don't you think?
Absolutely. I think her book showed a lot more people how complex, smart and deep she is.
She's soooo fucking smart. She's scary smart! And, I hate to sound like I'm talking about an amorphous mass right now, but the female cast of "SNL" is just killing it right now. They're killing it. It's almost like the guys are running to catch up. And it's a strong male cast, but good God, it's so exciting to see Kate McKinnon and especially Aidy Bryant and Cecily Strong do their stuff. Goddamn are they good!
Yeah, it's such a strong ensemble. The "Back Home Ballers" video they did for Thanksgiving killed me.
Yeah, and Aidy can get a laugh even [without saying anything]. Like when they did the "Guardians of the Galaxy" parody and she's just being Pam. She's just walking and looking around, kind of the way your mom would look at the inside of a spaceship, like, "Ohhh, this is niiiice!" There's so much expression and character in her face and body language, you always know exactly what she's going for. Oh, she kills me.
Speaking of Amy Poehler, will you make any appearances on the final season of "Parks And Recreation"?
If I'm going to be on, I'll be told at the last minute. [Laughs] I would do anything they told me to do on that show. I've said it before, but on that show, every week, for free, you get a 22-minute Tom McCarthy film.
The "Star Wars" filibuster you did was amazing. The Internet went crazy for it.
Aw, man, well thank you! That came out of absolute terror on my part, of them not yelling "cut!" and me not wanting to get fired from the show. That was all me going, "I guess I'll just keep talking ... I don't want to get fired ... I don't want to get fired." That's where that came from.
Another show I've been obsessed with this year, and I'm so glad you were a part of it, is "Bojack Horseman." How did you get involved with that?
They asked me! I've been a fan of Lisa Hanawalt for a long time, of her comics and stuff. The whole visual aesthetic is hers, and good God, she's great. I wish there was a better story, but I was a fan of Lisa's and I just said, "Fuck yeah!" And I'm going to drop a name that I don't deserve to drop, because I'm not on his skill level, but I'm sort of the Hank Azaria the show, where they had to me do like 18 different parts. That felt really good to just fill out little side characters for that universe. They showed me some of the sketches [when we recorded] and that maggoty funeral director was one of the most horrifying things I had ever seen in my life! [Laughs] But again, that's their design aesthetic, just, "Let's go for it."
That first season went to some dark places, maybe not as dark as "The Heart, She Holler," but it's interesting that you can do shows like that and also voice children's characters. Do you enjoy mixing it up or do you prefer the edgier stuff?
See, I've never looked for edgy or G-rated, I just look for stuff that's really unique and good. I have a 5-and-half-year-old, so I'm trying to be discerning with what she watches, and while there are a lot of children's shows that I don't think are good, there are some, like "Doc McStuffins," "My Little Pony" and this show "Wild Kratts," that are actually trying to help kids and make better people and make them more aware. So you can find good at any level. "Sesame Street" and "Mister Rogers'" are a lot more valuable than some of the stuff on HBO and Showtime."
Which children's shows do you not like?
There's just a couple where they, and I know this sounds like I'm beating a dead horse, but the way they portray little girls and women and what they assume are already their values. It's like, "Uhh, why don't we break away from that shit for a little while?" Because of the stuff they're putting forward as valuable, I don't see it among my daughter and her friends. And it pains me that a lot of that stuff becomes valuable to girls only because it gets beaten into their heads over and over again by what they watch. That is a little alarming to me. So, if I have a chance -- not to stop it -- but offer a detour, I'm going to take it.
Well, that's a noble effort.
Well, it's a noble effort but we'll see if it works out. I feel like I'm talking back at the ocean sometimes, but, God, it's fucking everywhere. Everywhere! And it's so gross.
Season 3 of "The Heart, She Holler" premiered Monday, Dec. 1, at 12:30 a.m. ET on Adult Swim.
BEFORE YOU GO
PHOTO GALLERY
150 Funny Women, Past and Present